Stylish Outdoor Lighting Ideas For Backyard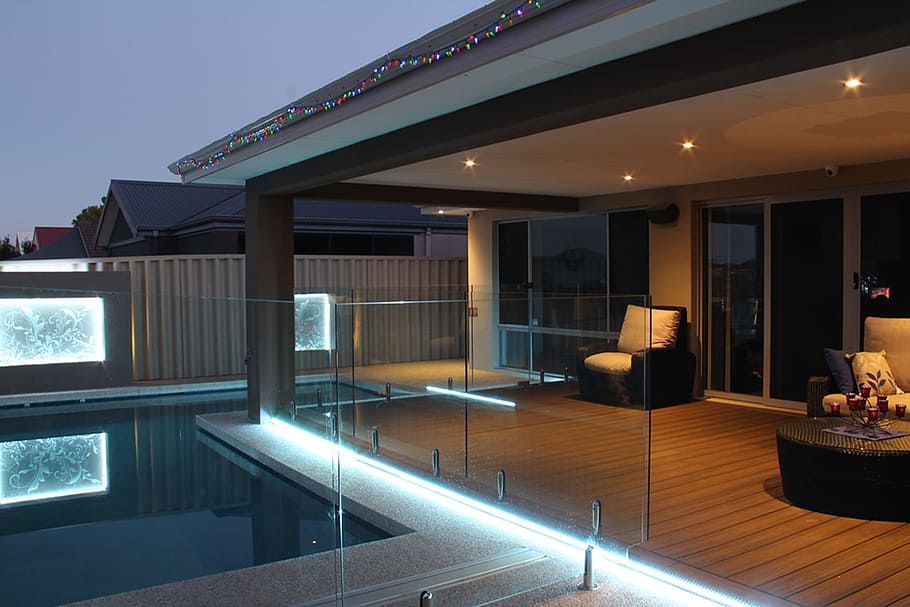 Mood lighting is a real thing. When it comes to setting the right vibe, lighting plays a major role. The right outdoor lighting ideas can change the look of your backyard or patio. Sunshine and moonlight are the best light sources, but having a backup always helps.
Keeping the mood lighting in mind, we have listed the best lighting ideas for your backyard and patio. Read to learn the best ways of creating stylish, safe, comfortable, and well lit balconies, backyards, outdoors, and porch.
If you like barely-there kind of lighting in the backyard or porch area, then opt for recessed lights built into the ceiling. Recessed lights blend in without being visible. You only notice the shine.
When thinking of Outdoor lighting ideas, the safety aspect should be taken into consideration as well, especially near the stairs. Choose the build-in downlights to brighten up the path areas and complement the facade.
Your balcony will feel like an extension on the interior area with metallic, bold pendant lighting in your backyards. These lights jazz up the outdoor area of the house. But don't confuse this with the living room area; use the lights in the right context. When buying light look for nature-inspired materials like rattan or burled wood.
Alfresco dining feels great, but have you thought about cooking outside? In the west, the houses' outdoor kitchen cabinets are made with cypress shutters and tropical prints to bring a pop of fun colors. You can add hurricane candles everywhere to provide soft lighting and give a romantic feel to the outdoors or backyard.
If you have a slatted roof on your patio, installing recessed lighting is not the right idea. Instead, you can opt for minimal floodlight to secure the frame and structure. Floodlighting will light up the entire porch area. The floodlights are a bit noticeable but are the best option for safety purposes in the driveways and front of doors. You can even attach sensors to make them detect motion automatically.
This is one of the best outdoor backyard lighting ideas. Dress up your tree and show some love by hanging beautiful lanterns from the branches. This lighting idea will create a magical outdoor space in your home. The lights ook aesthetic and also add a bit of style.
Make your garden feel like an extended part of your home bu attaching string lights. The outdoor area of your house will look completely dreamy with this lighting idea.
If you want to make your backyard feel like an outdoor living room or sitting area, choose traditional lighting ideas like a good old floor lamp. The idea is to buy a nature-inspired material and using it in a resilient way. You still need to make the outdoor porch are bright with lights.
Make your backyard modern yet minimalistic using the right lighting ideas. Pool lights can be a game-changer if you like night swims. These can instantly brighten up the food space and add extra light to the outside.
Suppose you wish to make your porch comfortable. Inviting, ornate, and elaborate all at once, the chandelier lights are your answer. Add metal chandeliers along with warm terracotta tiles, and pop of colors in the furniture.
Want to make your backyard look chic? Check out some Underglow Led lighting ideas to give your outdoor backyard a sultry mood.
Garden lights, shaped like little torches or spotlights, are perfect if you are looking for some bright shine in the outdoor area and highlight the gardening skills even after the sunset.
If your backyard does not have a ceiling or any overhead structure, you need to ensure proper lighting source. Sconce works best in such cases; these can be attached to your home.
If you have a porch that gives genuine tropical feels with only one thing missing: lighting, then this outdoor lighting idea is for you. Install a ceiling fan that also doubles as a light to provide both air circulation as well as light.
Add a row of lanterns in your patio for proper lighting. It will give a vintage and sleek look to the outdoors.
If your porch is your personal place to unwind and relax, then try this lighting idea. Garden lights shape like bollards are a perfect addition to your porch along with a floating seating some big cushions to make it cozy and truly relaxing. These will add proper shine and brightness in every direction of your patio.
Final Words:
Lighting can make a huge difference in both indoor and outdoor settings. Proper lighting can be a game-changer and can transform the aesthetic of your patio, backyard, driveway, etc. we have shared some modern and classy outdoor lighting ideas to illuminate your backyard or patio. You can easily install outdoor lighting to make your backyard bright and well lit.
Let us know in the comments which of these outdoor lighting are you going to install in your outdoor space.