Small Toilet Ideas – 50+ Best Toilet Designs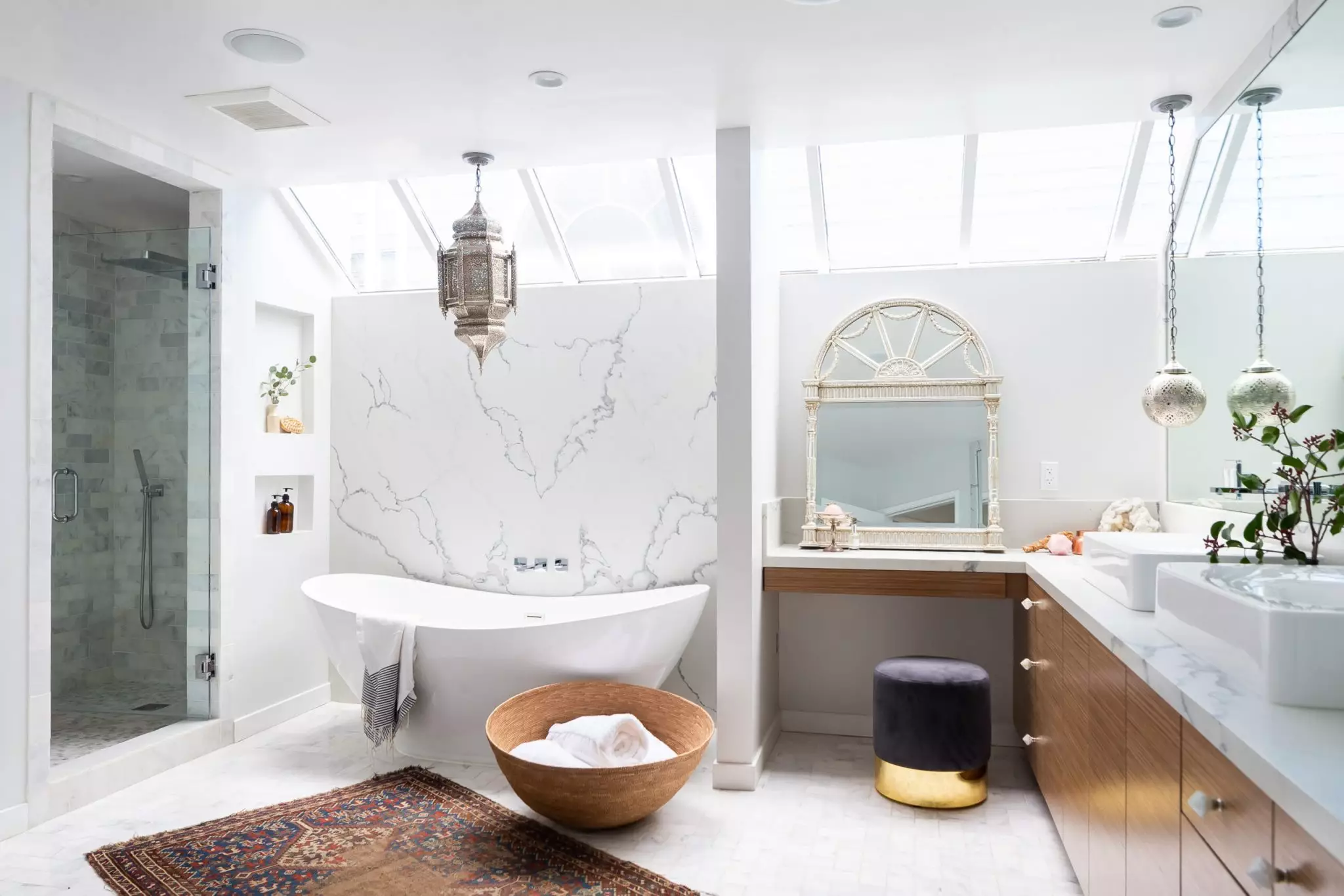 Small toilet design ideas for 2024 and best toilet examples. Creative small toilet decor ideas that'll save your space and give your bathroom an attractive look. Wall decoration, toilet furniture work, and lightning ideas. Check these 50+ stylish and modern toilet design ideas...
Explore the most recent trends in small toilet ideas for 2024, featuring a range of exceptional examples. Discover a wealth of inspiration for embellishing compact bathrooms, encompassing furniture selections, wall decor possibilities, and innovative lighting ideas. Dive into this curated compilation of small toilet design ideas to revamp your space.
Small bathrooms, often referred to as guest toilets, are spaces that are sometimes overlooked when it comes to interior design. But don't underestimate the potential of these compact areas. With a few cost-effective changes, you can turn your small toilet into a stylish and elegant space that rivals those found in luxury hotels and restaurants.
Are you ready to make a significant impact in these tiny spaces? In this article, we'll provide small toilet ideas and showcase exceptional toilet designs that can inspire your transformation. Whether you're looking for practical tips or design inspiration, we've got you covered. Let's get started on creating a beautiful and functional small toilet.
Amazing Small Toilet Ideas
If you have a smaller bathroom or cloakroom, there's no need for concern. You can consider these four small toilet ideas to maximize the utility of your confined toilet area.
Short Projection Toilet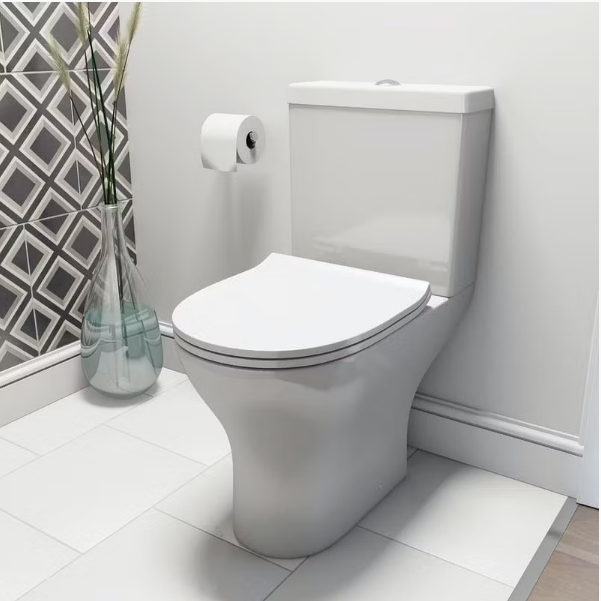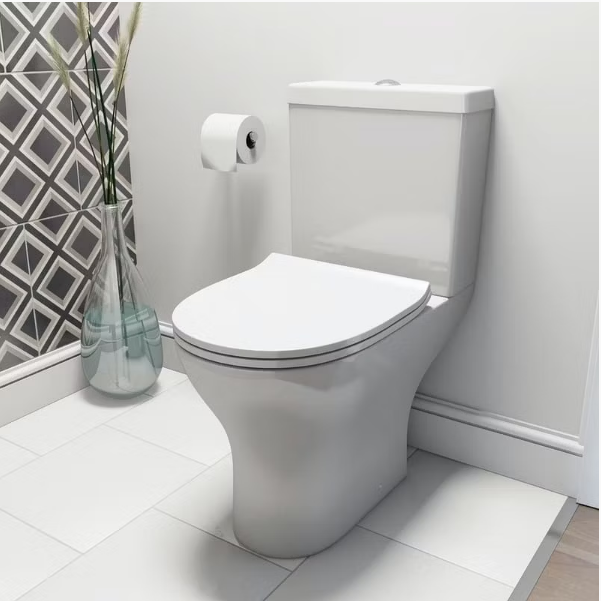 Consider a short projection toilet if you have a small bathroom and want to save space. These toilets have a shallower depth, usually less than 650mm from the front of the bowl to the wall.
They're becoming more popular for replacing older toilets because they take up less room. The cistern's slim design, often as narrow as 150mm, still ensures effective flushing.
For instance, take a look at the Orchard Derwent round compact close-coupled toilet, which comes with a comfy, slim, soft-close seat. It's one of the smallest models with a projection of just 600mm. Making it a great small toilet idea.
Fully Shrouded Toilet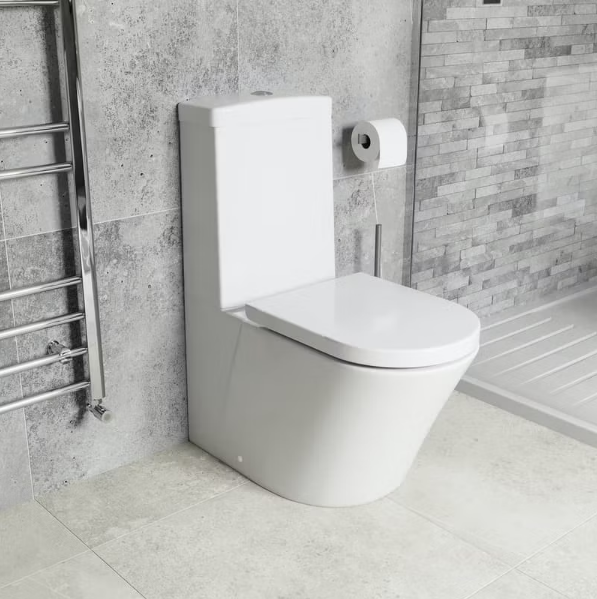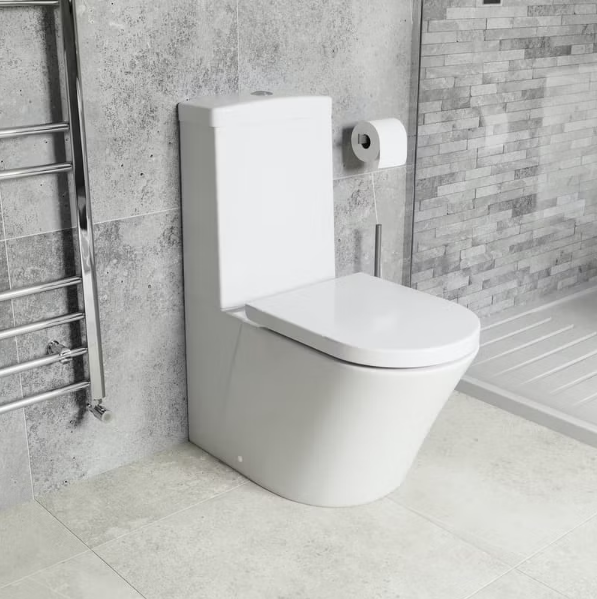 Curious about what a fully shrouded toilet is? Let's break it down for you.
A fully shrouded toilet is a type of close-coupled toilet designed to fit snugly against your bathroom wall.
What's great about this design is that it gives your bathroom a clean and tidy look and simplifies the cleaning process. There are no tricky corners or hidden spots where dust and dirt can build up, which means a more hygienic space for you.
Now, here's where it gets interesting. Fully shrouded toilets have a unique design that encloses the waste pipe. This clever feature allows them to have a shorter projection compared to traditional close-coupled toilets.
Why is this important? Well, it makes them a fantastic choice for smaller bathrooms or powder rooms where space is at a premium.
Back-To-Wall Or Wall-Hung Toilet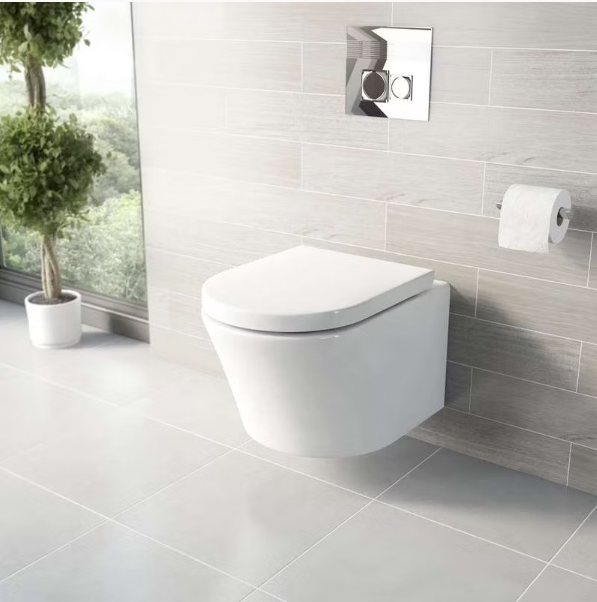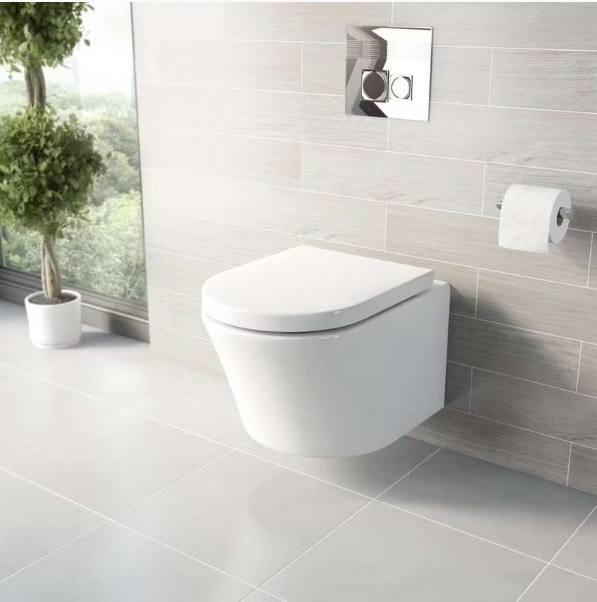 When it comes to designing your bathroom, every toilet has a cistern, but there's a clever way to save space and make things look neat.
Here are two popular options:
Back-to-Wall Toilet Unit: You can hide your cistern inside a back-to-wall toilet unit. This keeps it out of sight and gives your bathroom a sleek and modern look. It's a great choice if you want a tidy and organized appearance.
Stud Partition Wall: Another option is to conceal the cistern behind a stud partition wall. This completely hides the cistern, creating a seamless and minimalist design in your bathroom.
Now, you might be wondering about maintenance. What if you need to access the cistern for repairs or maintenance?
The good news is that it's easy. With a concealed cistern, you can simply remove the flush plate to reach it. This means you can keep your bathroom looking stylish while still having convenient access to important components.
Whether renovating a small bathroom or just wanting a modern and clean look, consider hiding your cistern. It's a smart design choice that saves space and enhances your bathroom's overall aesthetics.
Innovative Space Saving Small Toilet Ideas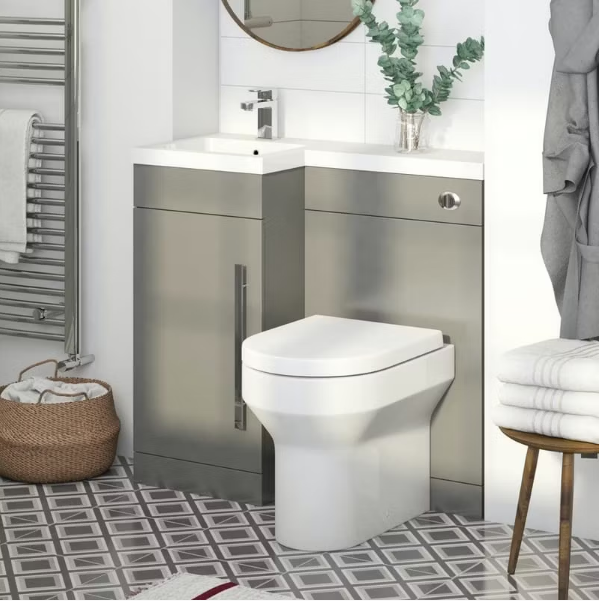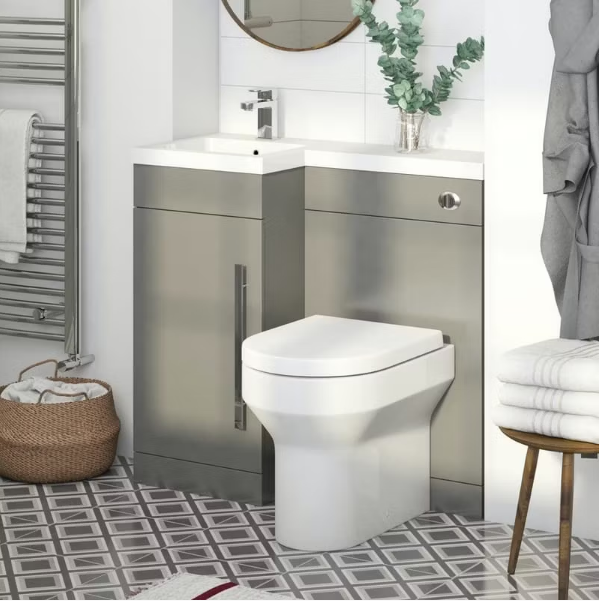 Here's a truly innovative small toilet idea to consider when it comes to designing small bathrooms. Combination units are a fantastic solution, seamlessly integrating a toilet, basin, and storage cupboard into a single piece of furniture.
This clever approach allows you to maximize your bathroom's space efficiently while maintaining a clean and organized appearance.
Plus, these combination units are available in a variety of colours and wood-effect finishes to complement your bathroom's decor.
Let's take a closer look at the slate matt grey left-handed combination unit with the Wharfe back-to-wall toilet.
This all-in-one unit has a compact projection of just 725mm, making it a perfect fit for even the cosiest of bathrooms. What's more, it comes fully assembled, saving you time and effort during installation.
So, if you're dealing with a small bathroom and want a practical and stylish solution, consider the Combination Units. It's a smart way to make the most of your space while enhancing your bathroom's overall look and functionality.
Small Toilet Ideas 2023
Small Toilet Wall Decor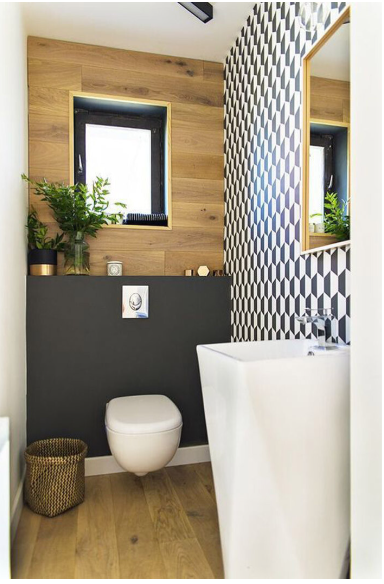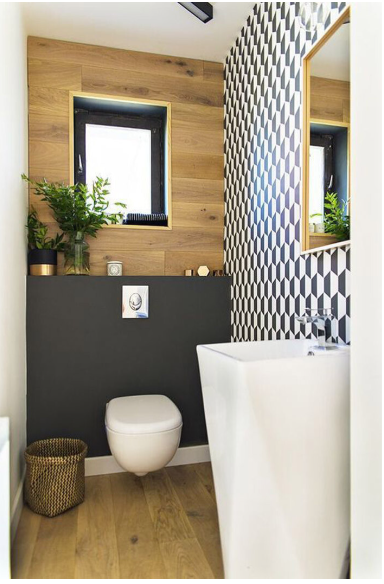 Designing a small toilet can be a game-changer, whether you're giving your current one a makeover or starting fresh. The key lies in focusing on the wall decor.
You have various small toilet design ideas, from waterproof wallpapers and tiles to natural stone veneer, and you can choose the perfect wall paint colour.
What's exciting is that you can get creative by mixing and matching different materials to achieve a unique and visually appealing result.
Consider printed wallpapers if you aim to infuse style into your small toilet. They not only serve a practical purpose but also have the remarkable ability to change how you perceive the size of the space.
For instance, going for wallpapers with small patterns can make your toilet seem more spacious, while larger patterns can have the opposite effect.
This principle also applies when selecting ceramics. In smaller toilets, opt for tiles or ceramics with smaller patterns or those that create the illusion of a seamless surface, such as wood or marble.
To take the feeling of spaciousness to the next level in your small toilet, you can go a step further by using the same type of ceramic for both the floors and walls.
Another creative twist is to experiment with different materials for the upper and lower parts of the walls. These small toilet design ideas can enhance the open and inviting vibe of your small toilet, making it stylish and highly functional.
So, whether you're giving your small toilet a makeover or planning a new one, these small toilet ideas can help you make the most of this often-overlooked space in your home.
Toilet Furniture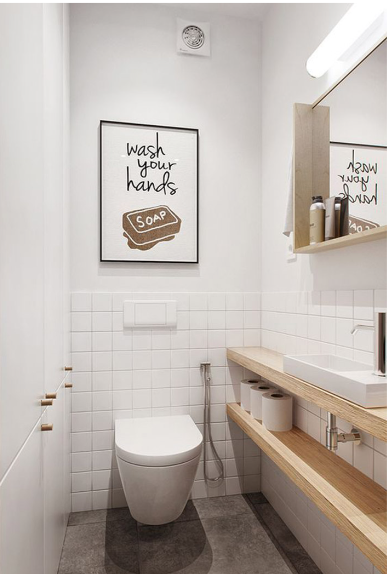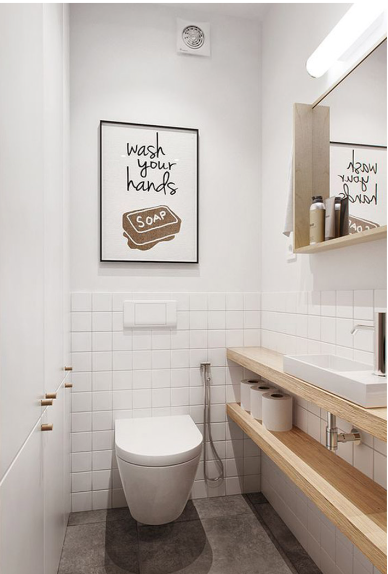 Small bathrooms can pose a storage challenge, but fear not. You can make the most of your space and keep things organized with these small toilet ideas:
Open Shelves: Forget bulky cabinets with doors. Install open shelves on the walls to save space and create a more open feeling. Use them for towels, toiletries, or decorations.
Baskets and Bins: Keep those open shelves looking neat by using baskets and bins to group similar items. It not only prevents clutter but also adds a stylish touch.
Floor Shelves: Don't overlook the floor if wall space is tight. Low, open shelves near the toilet or tub can hold extra toilet paper, towels, or even a magazine basket.
Portable Storage: Think about portable solutions like multi-tiered metal shelves. They're flexible and can be moved around as needed, giving you extra storage without taking up space.
Hanging Cabinets: Hanging cabinets are a great choice if you prefer hidden storage. They keep essentials out of sight and maintain a clean look.
With these tips, your small bathroom can stay organized and functional without feeling cramped.
Lighting and Accessories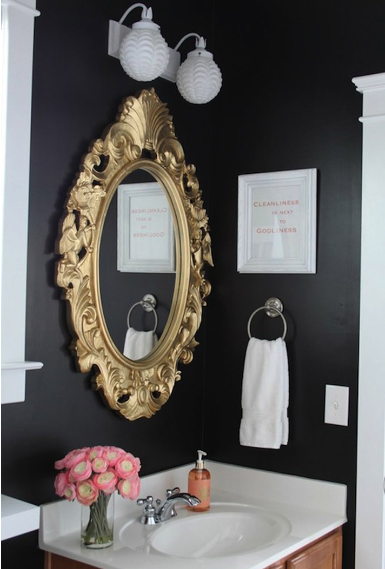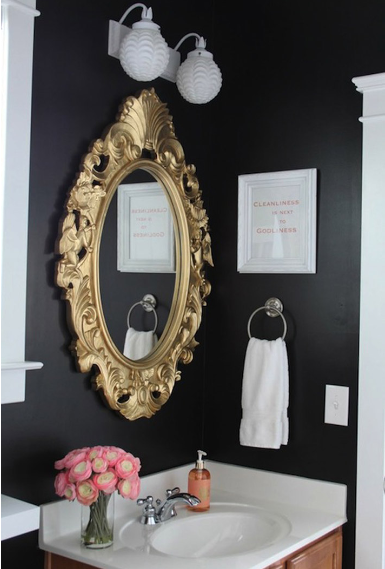 Small bathrooms often lack natural light, creating a dim atmosphere. Lighting plays a crucial role in transforming these compact spaces. Consider these tips:
Spotlight Brilliance: Opt for spotlights, ideal for small areas. They provide focused, efficient lighting. Arrange them strategically for even coverage.
Wall Lamps: Supplement spotlights with wall-mounted lamps around the mirror to prevent shadows and ensure balanced illumination.
Charming Chandeliers: Feeling adventurous? Add a chandelier that suits your style for a touch of sophistication.
Elevate Your Small toilet Decor
Enhancing your bathroom isn't just about lighting. Elevate it with these creative ideas:
Framed Mirrors: Replace plain and framed mirrors instantly to add luxury and personality.
Artwork and Decor: Hang art and decorative ornaments to infuse character and style into your bathroom.
Stylish Storage: Keep things organized and chic with decorative storage boxes.
Greenery and Fragrance: Add life to real or artificial plants and create a pleasant ambience with scented sticks and candles.
Explore modern small toilet designs and small bathroom decor ideas for inspiration in your WC design.
Best Small Toilet Decor Ideas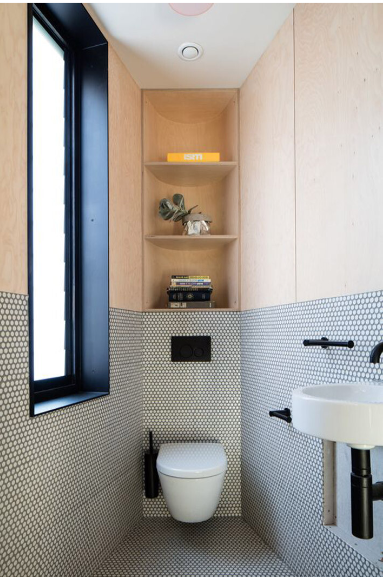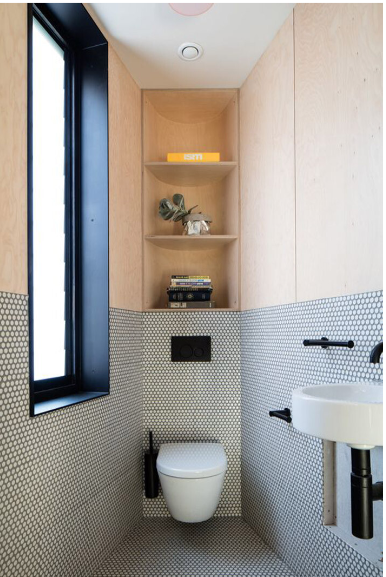 Small toilets often present design challenges, but there are smart tricks that can make them feel more spacious and stylish.
One effective strategy is to use a different wall material for the upper portion of the walls. Consider incorporating a mosaic with a small geometric pattern, like the example shown above.
This choice not only disguises the tile seams but also gives the illusion of a continuous surface, creating the impression of a larger space.
To brighten the area further, you can combine frosted glass windows with plywood paneling, giving your small bathroom a modern and airy look.
This small toilet design will give your bathroom a sleek and modern look.
Now check these modern toilet design and small toilet decor ideas that are specifically for WC design:
Designs for Small Toilets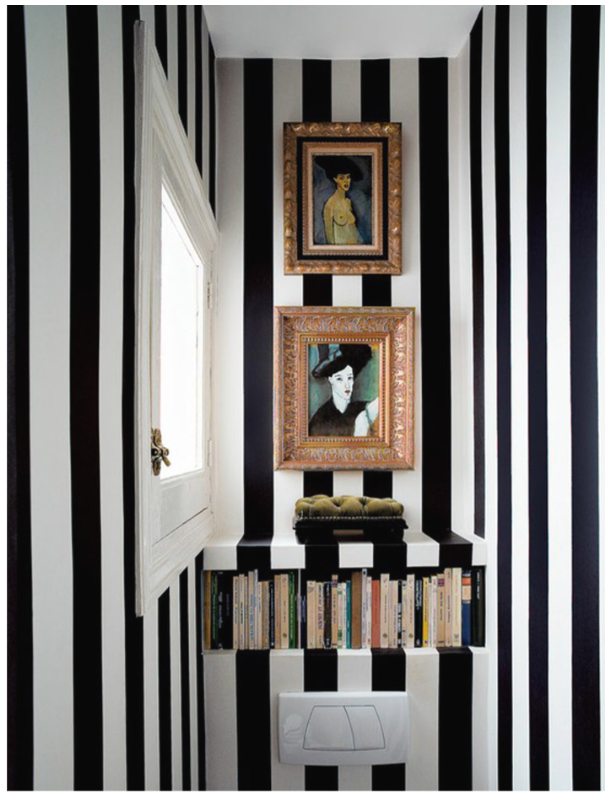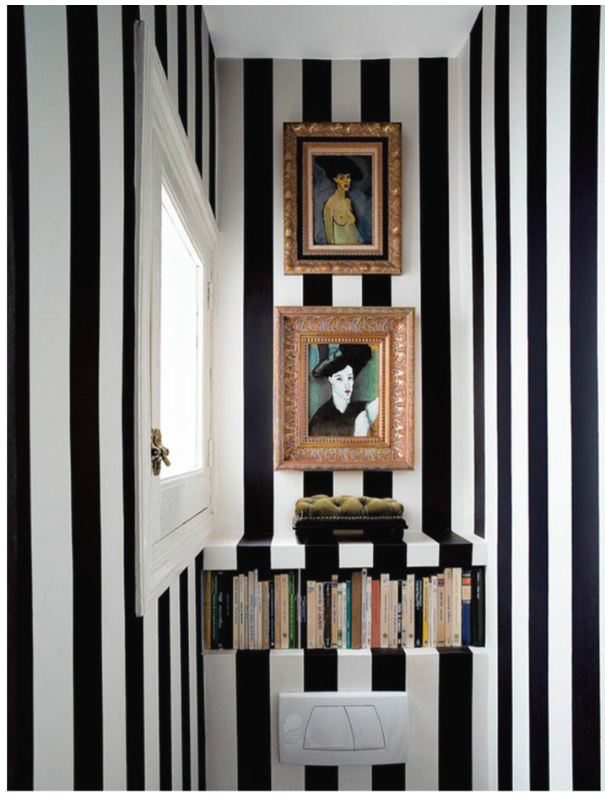 The small bathroom showcased here serves as a testament to the idea that even the tiniest spaces can be turned into stunning and stylish environments.
In addition to adding wallpaper and artwork, a thoughtful touch is the inclusion of a bookshelf, catering to those who enjoy some leisurely reading during their restroom visits.
With the right small toilet design choices, your small bathroom can be transformed into a functional and attractive space.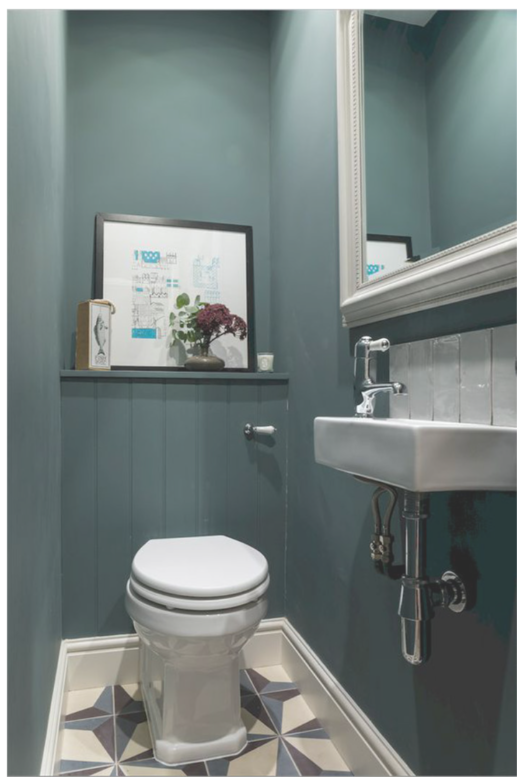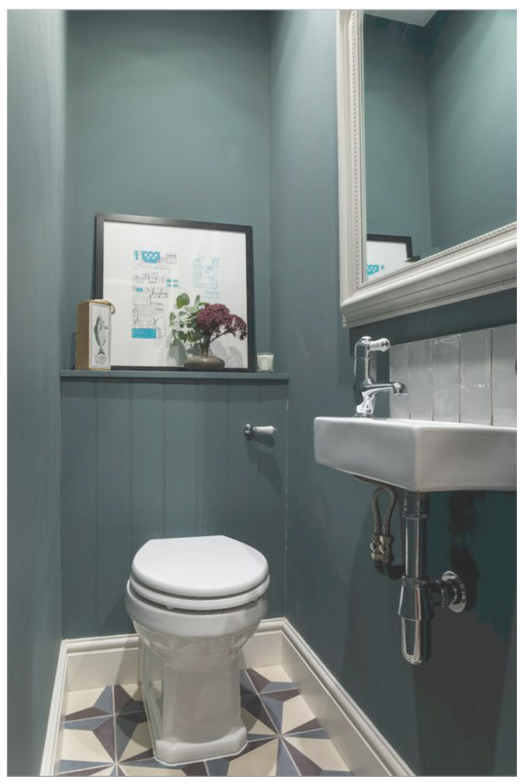 In this small toilet, you'll notice moss green walls that perfectly complement the vibrant floor tiles, along with a compact shelf for your bathroom essentials.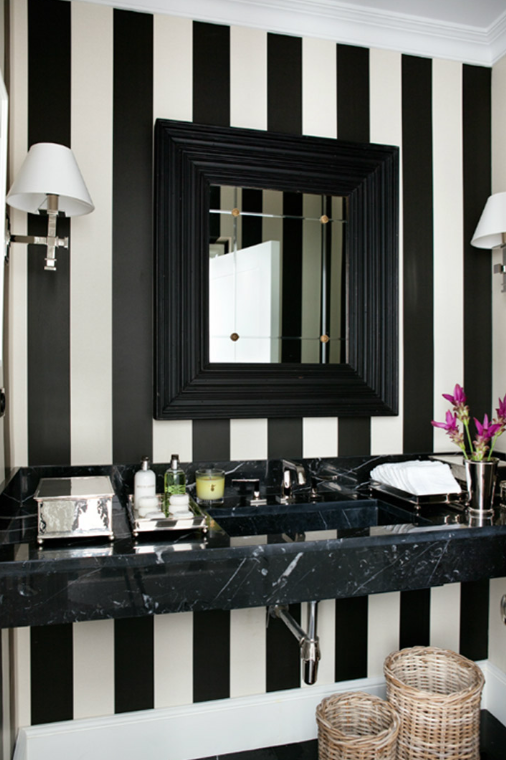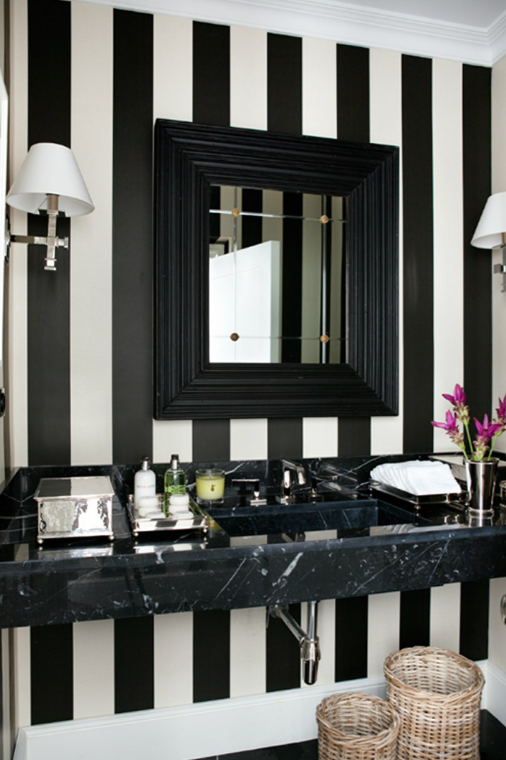 Black and white bathroom designs are a classic choice for bathroom and toilet decoration. These timeless colors can make a small toilet look stunning.
By simply using black and white striped wallpaper on the walls, you can give your space a special touch.
To elevate the small toilet design further, consider adding a black marble sink, a well-framed black mirror, and stylish wicker baskets like the ones shown here. This combination can create a truly striking look for your small bathroom or toilet.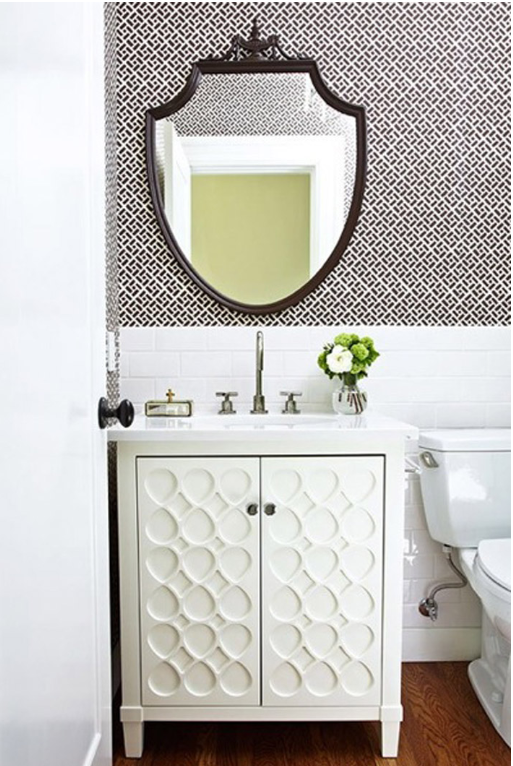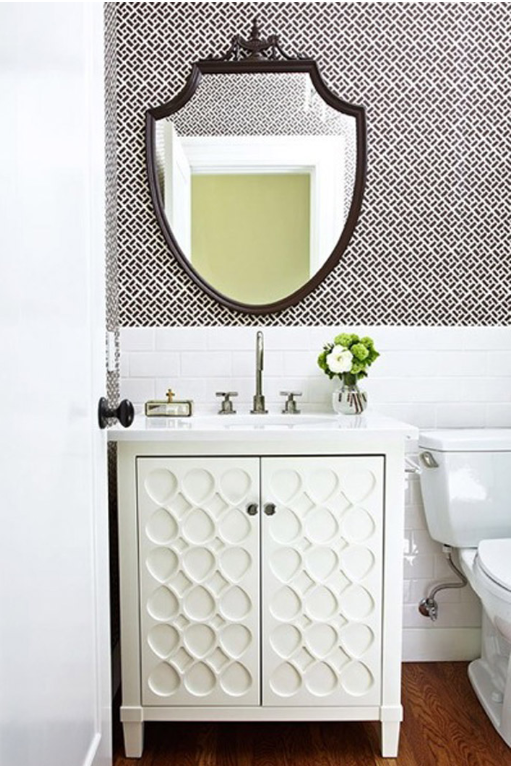 Using wallpaper with small patterns can make a small space appear larger.
In the example above, white cabinets and tiles are paired with wallpaper featuring a small geometric pattern, along with a stylish mirror.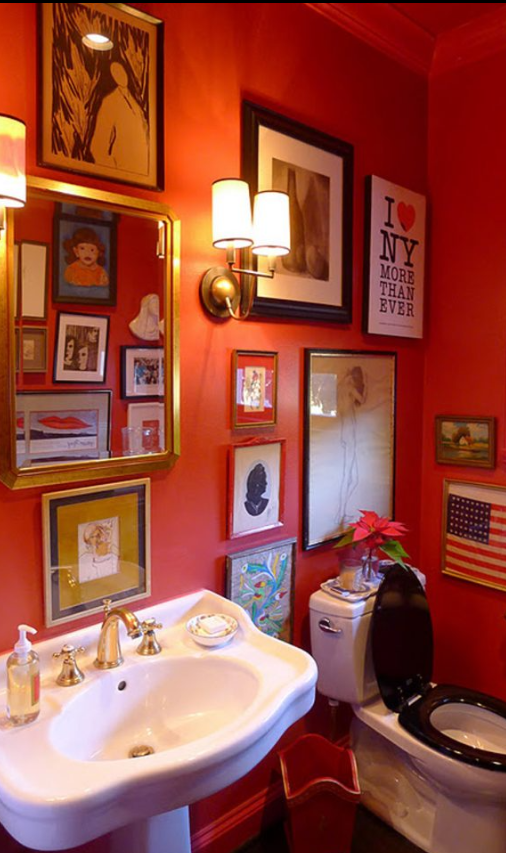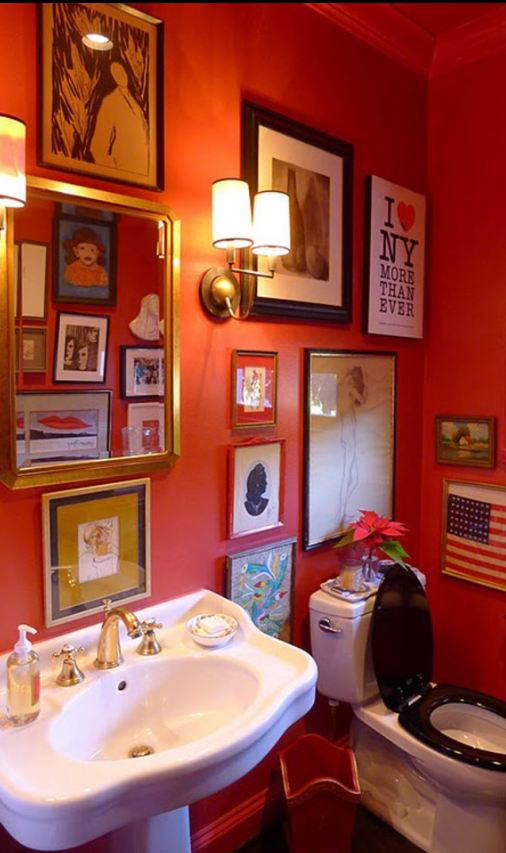 This colorful toilet design incorporates a playful concept with its vibrant red walls and eclectic decor. Transforming all the walls with artwork can help create an ambiance reminiscent of an art gallery.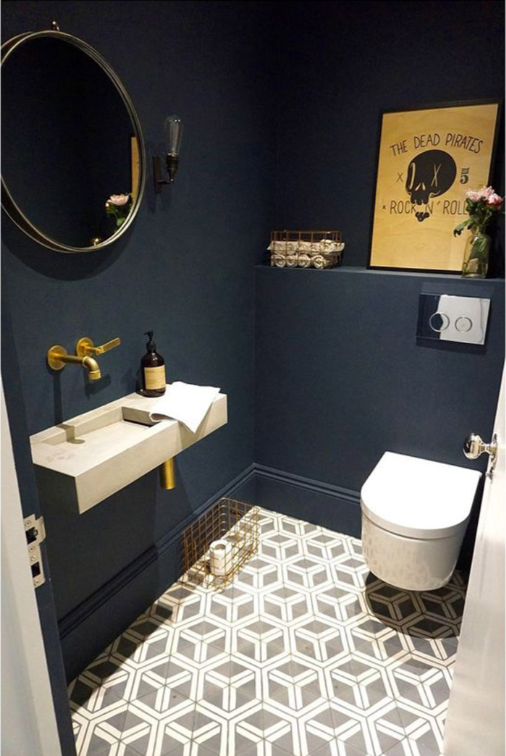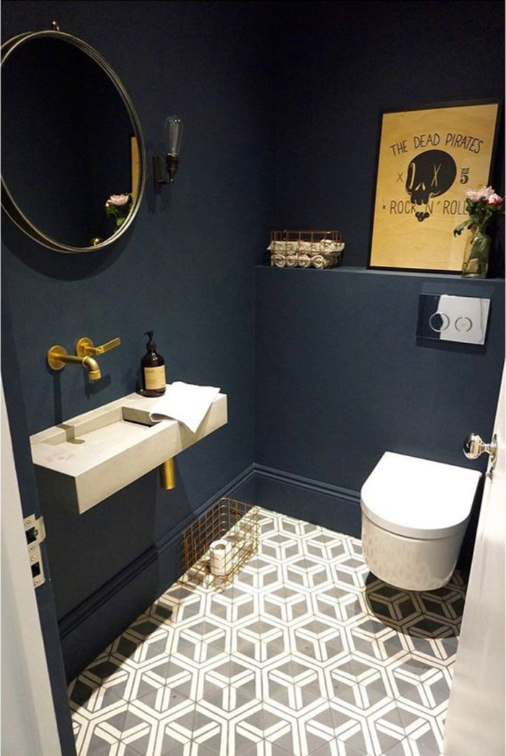 Opting for deep hues in your small toilet wall decor can be a stylish choice, especially since bathrooms are generally not spaces where you spend a lot of time.
For example, consider using a dark navy blue for the walls, as mentioned earlier, and pairing it with brass fixtures and accessories.
Chic Small Toilet Ideas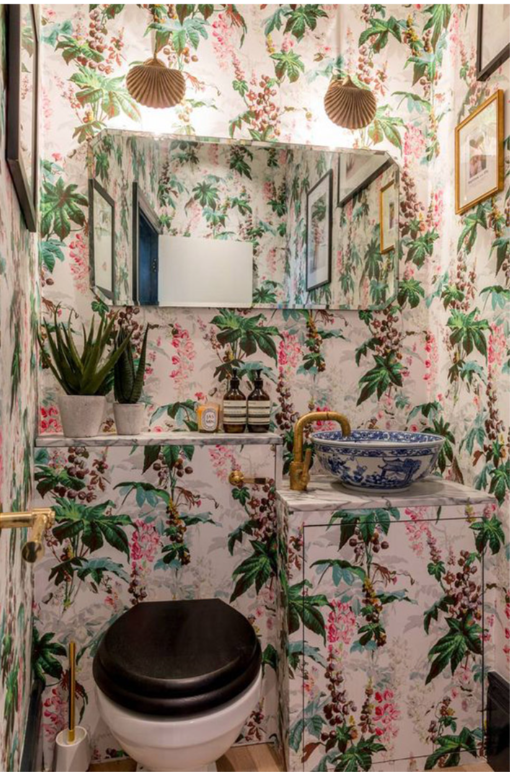 How about considering the idea of using floral wallpaper not only on the walls but also on the closets?
Take inspiration from this bold toilet design that resembles a vibrant botanical garden. Another noteworthy element in this delightful design is the handcrafted ceramic sink.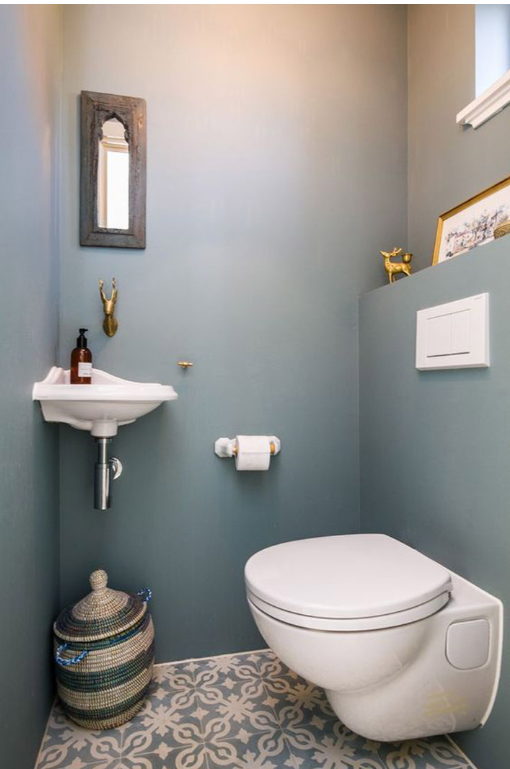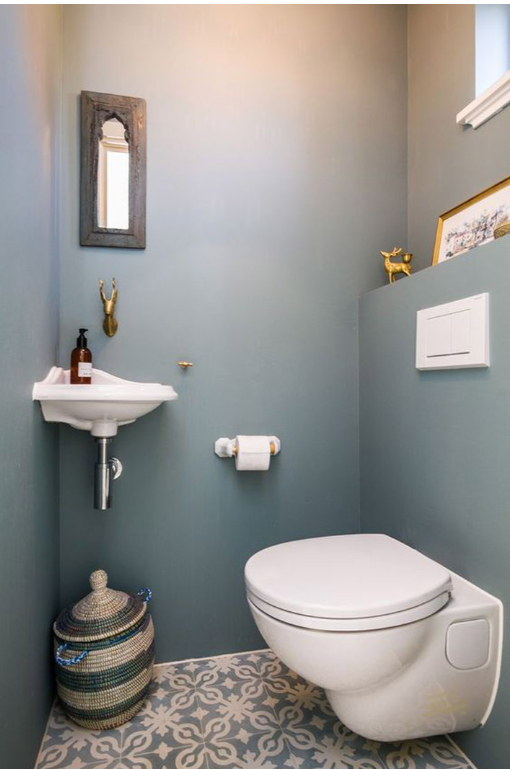 This stylish toilet design catches the eye with its remarkable wall color and ceramic features. It incorporates classic details such as the sink, basket, toilet paper holder, mirror, artwork, and an array of accessories.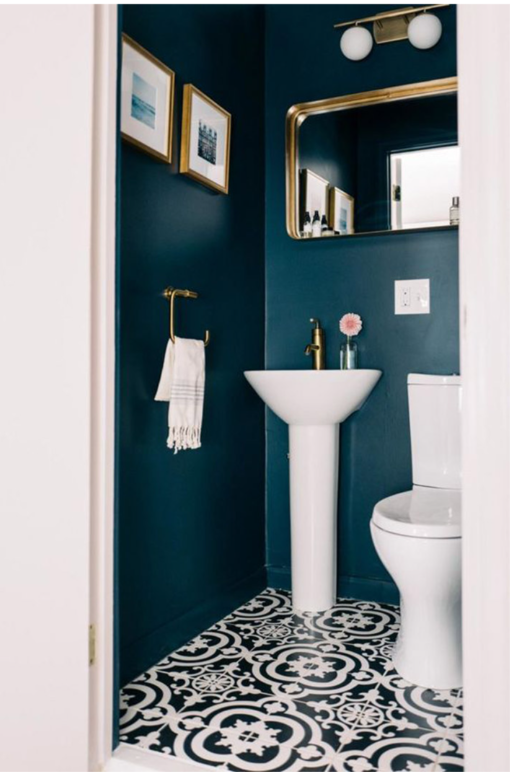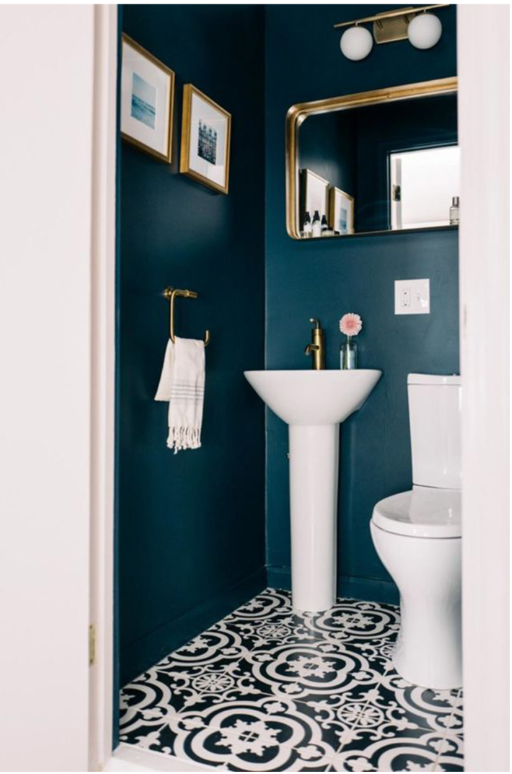 The striking and stylish impact of pairing petrol blue with brass is elevated by the presence of patterned black and white floor tiles and a washbasin.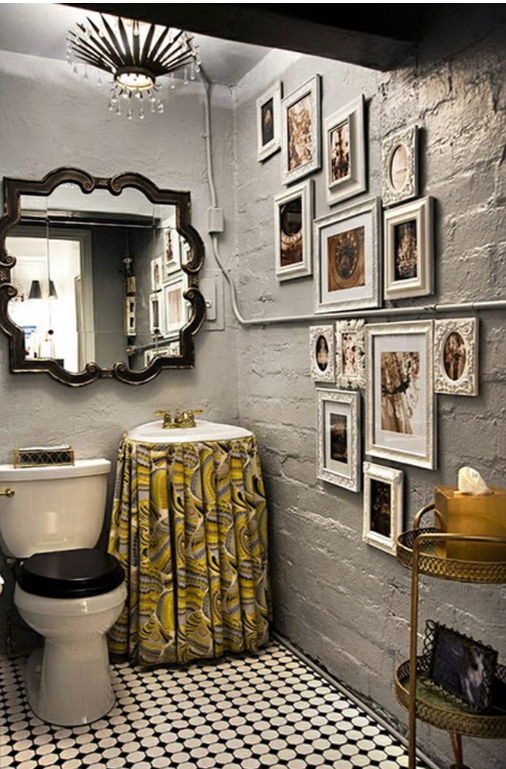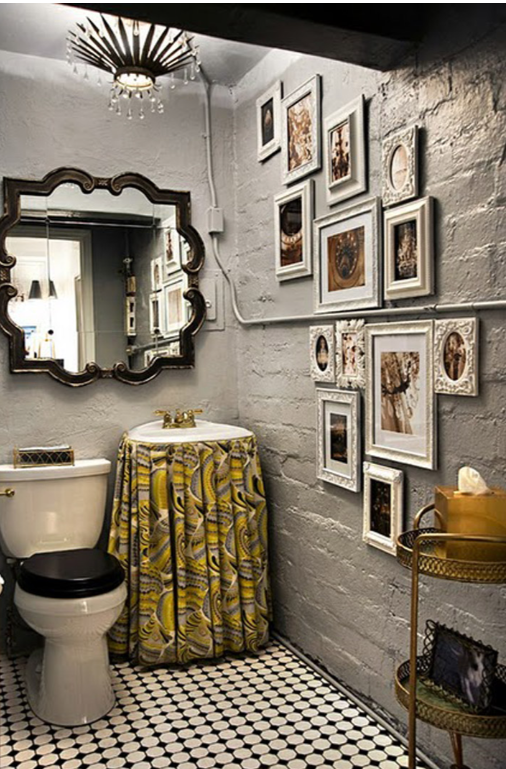 If you have an affinity for bohemian interior design, this small toilet design is tailored to your taste. The gray-painted brick walls serve as a backdrop to accentuate the lively yellow patterned fabric.
A combination of black and white tiles, vintage framed mirrors, and an assortment of paintings creates a visually captivating atmosphere.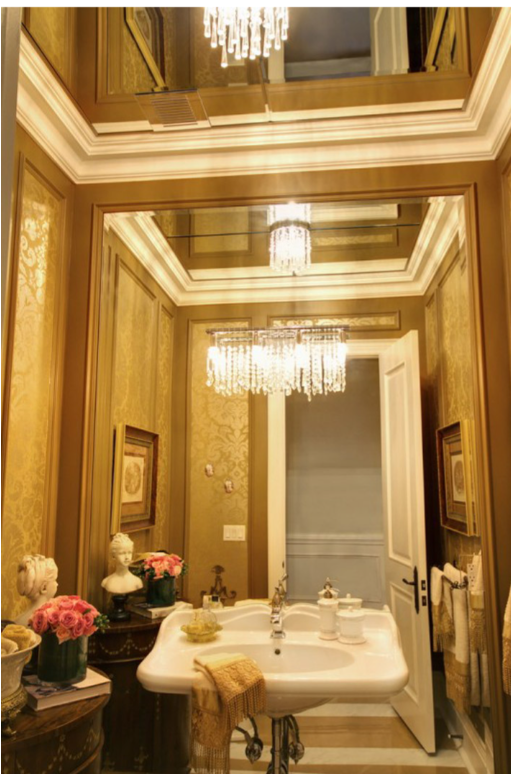 If you have a classic decorating style, do you want to incorporate it into your small toilet design?
Utilizing a gold-printed wallpaper like the one mentioned, incorporating mirror finishes on the ceiling and walls, adding a stylish crystal chandelier, along with sculptures and fresh flowers, can create a classic atmosphere effortlessly.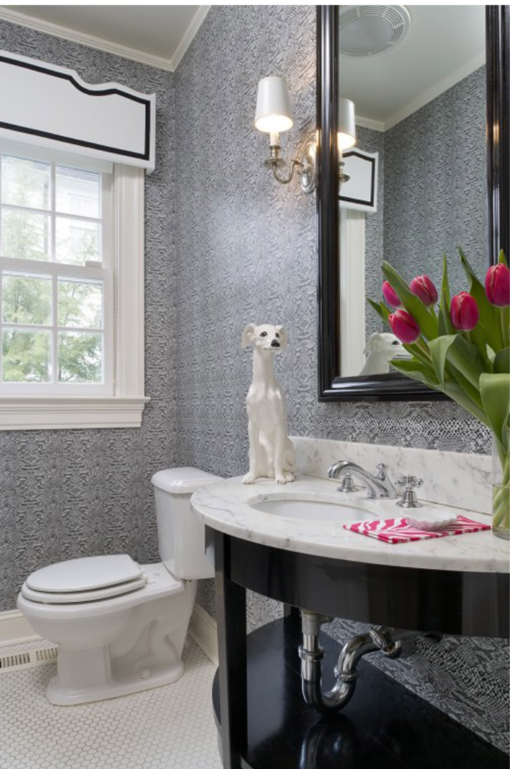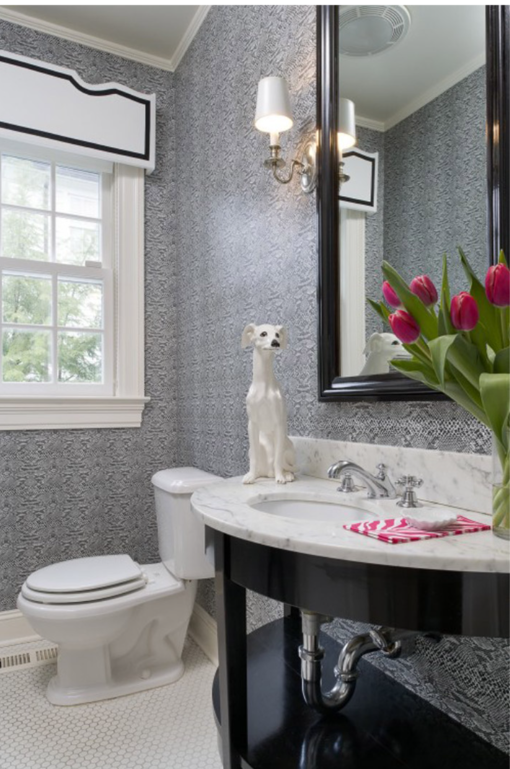 This small toilet, entirely covered in wallpapers, features some captivating decorative elements such as a marble countertop with black accents, a charming dog figurine, and stylish sconces.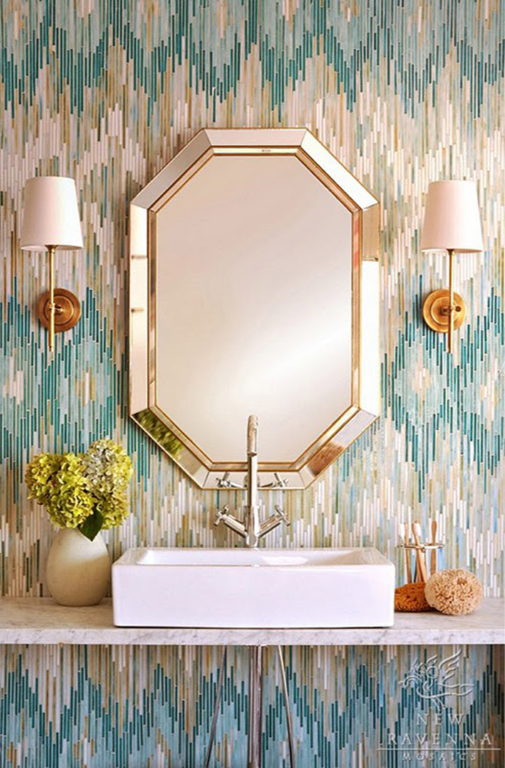 The lively wallpaper pattern in this example provides a striking backdrop for the octagonal mirror and the sconces.
Modern Small Toilet Ideas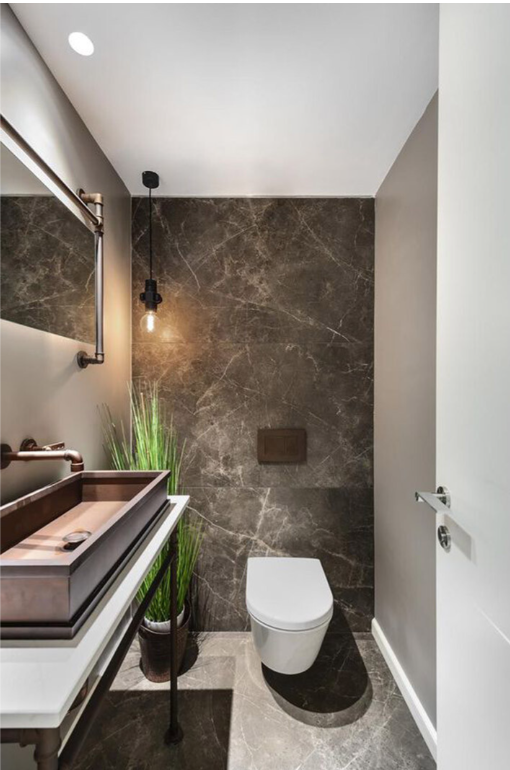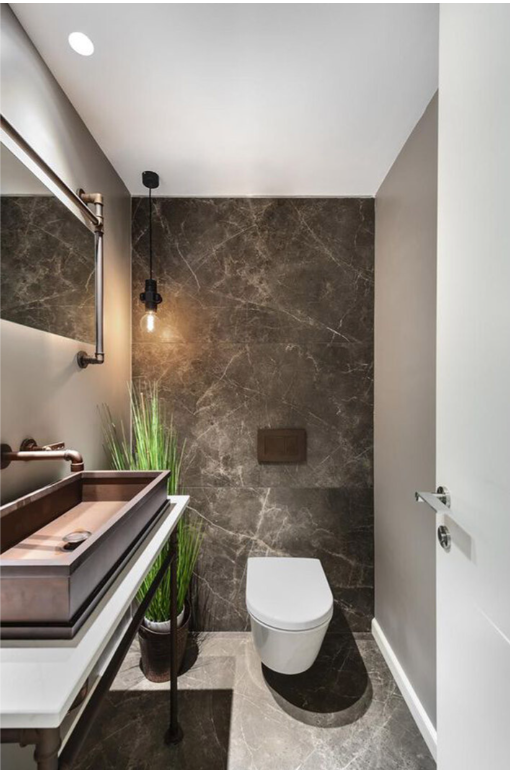 Despite its modest size, this small toilet creates the illusion of greater width and height. It achieves this effect by featuring marble-like ceramic flooring that extends along the floor and the opposite wall.
The copper sink and pipe details seamlessly blend with the marble-like aesthetic, introducing an industrial touch of elegance to the space.
Additionally, the inclusion of an artificial plant brings vitality to the environment. Also Feng Shui plants can bring in the positive energy.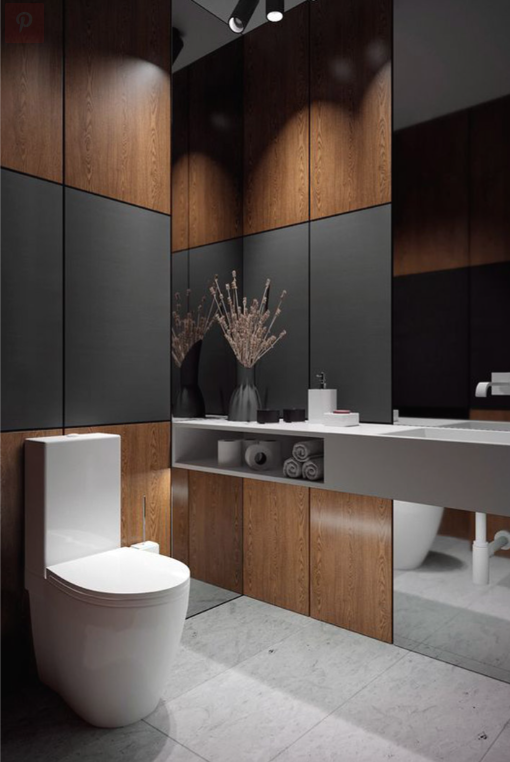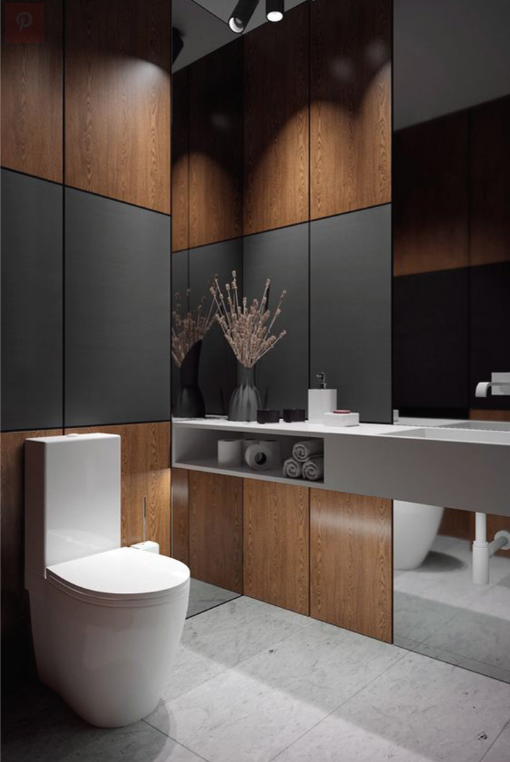 In this modern toilet design, you'll find a combination of dark wood and black panels harmoniously integrated.
Despite its compact size, this small toilet exudes a modern and eye-catching aesthetic, featuring sleek lines, mirror accents, and strategically placed spotlights.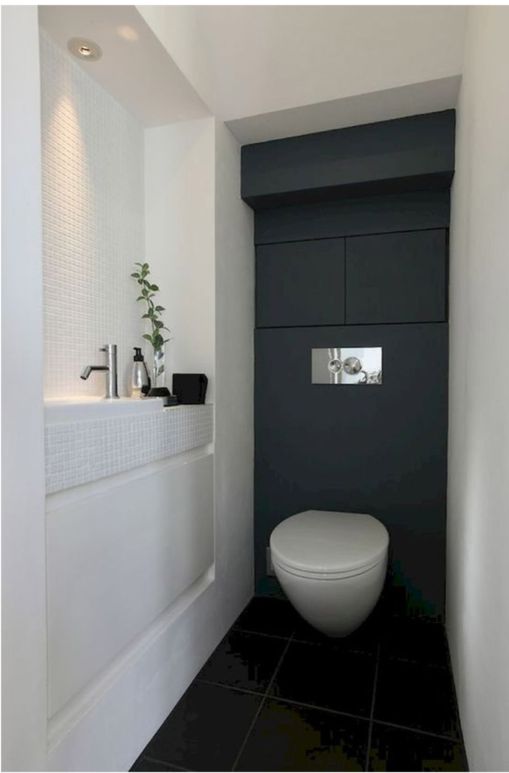 This restroom design showcases a modern and minimalist style, thanks to its elegant recessed washbasin detail and the incorporation of black and white elements.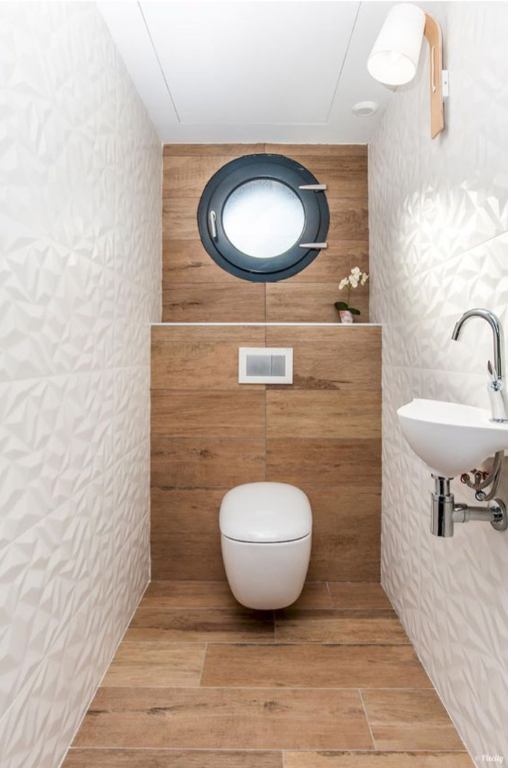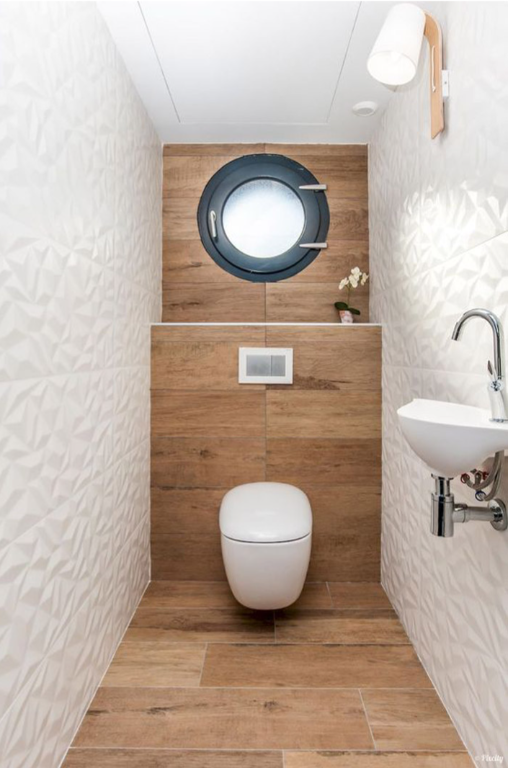 This small toilet design, featuring simplicity and thoughtful details, draws attention with its wood-like ceramic coating.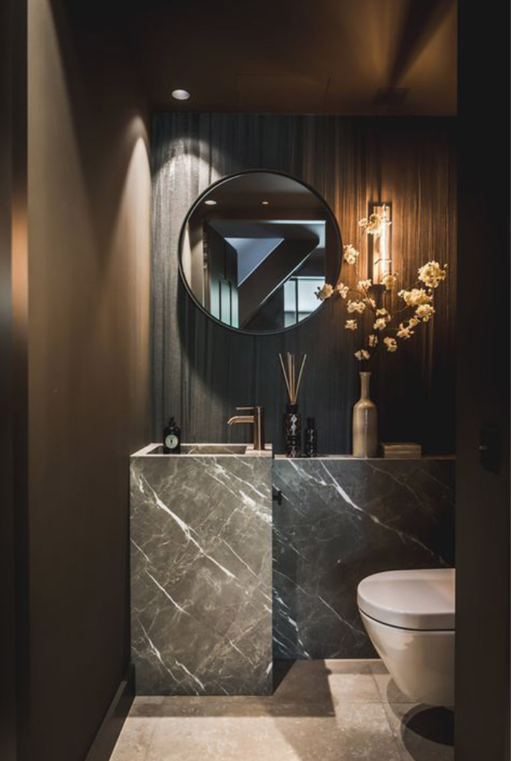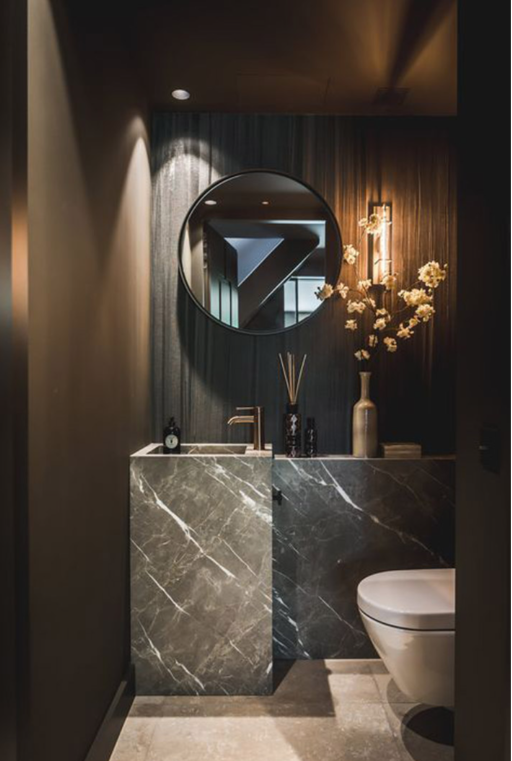 This stylish small toilet design, featuring simplicity and thoughtful details, draws attention with its wood-like ceramic coating.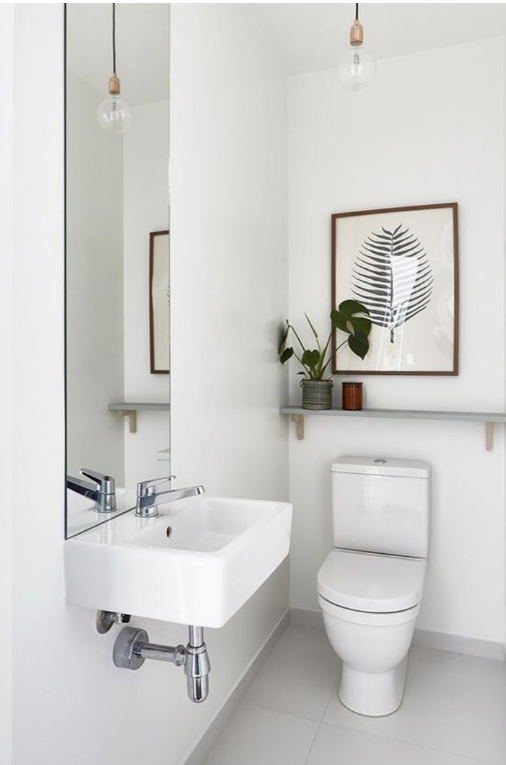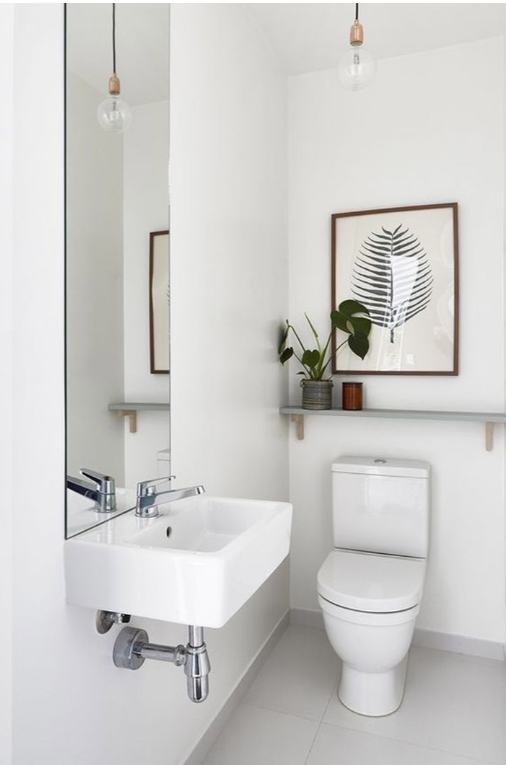 In a minimalist toilet decor, the limited number of small accessories made a substantial difference.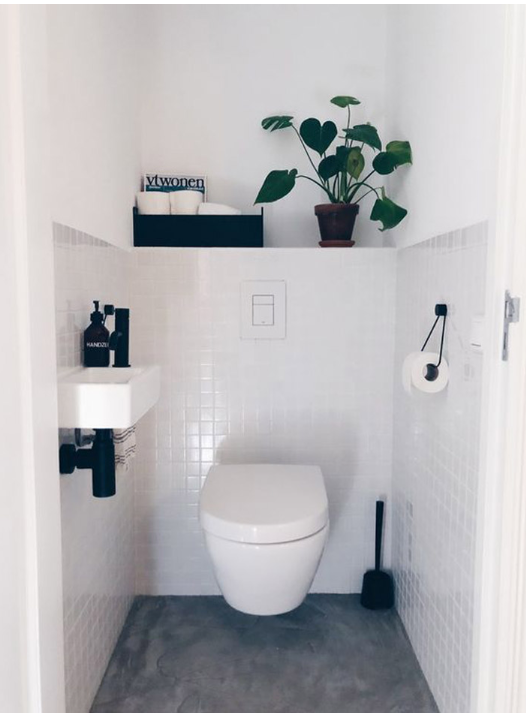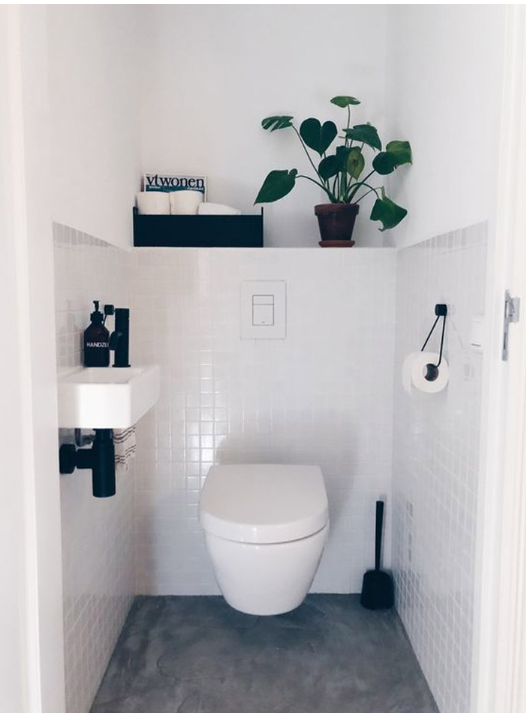 In this small toilet design, the upper section of the wall serves as a shelf. The presence of a toilet paper holder, a green plant, a basket, and various black accessories injects character and style into this relaxed white bathroom.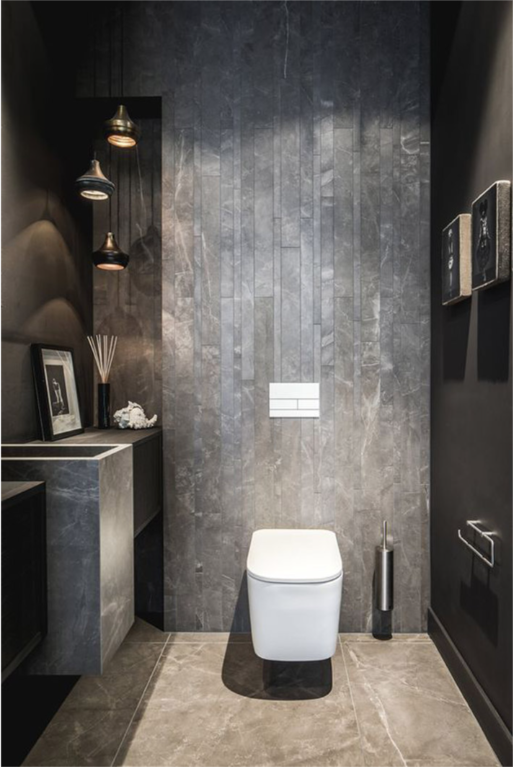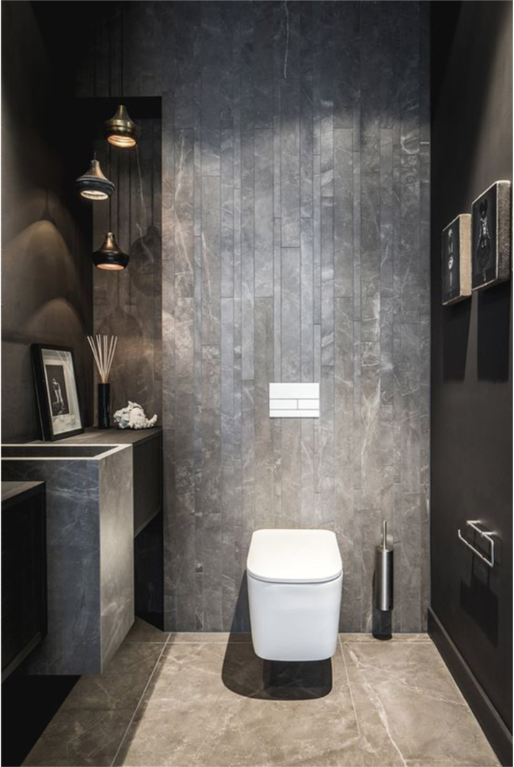 This modern toilet design, sporting a ceramic finish that resembles concrete, incorporates stylish details like pendant lamps, paintings, and a variety of accessories.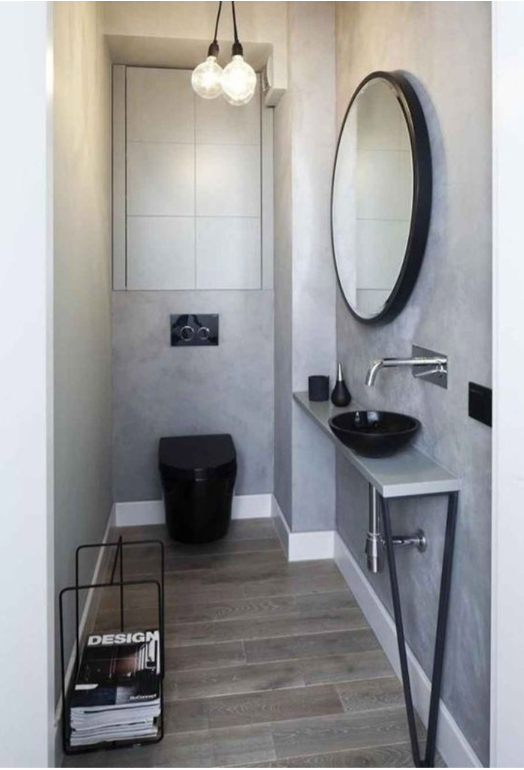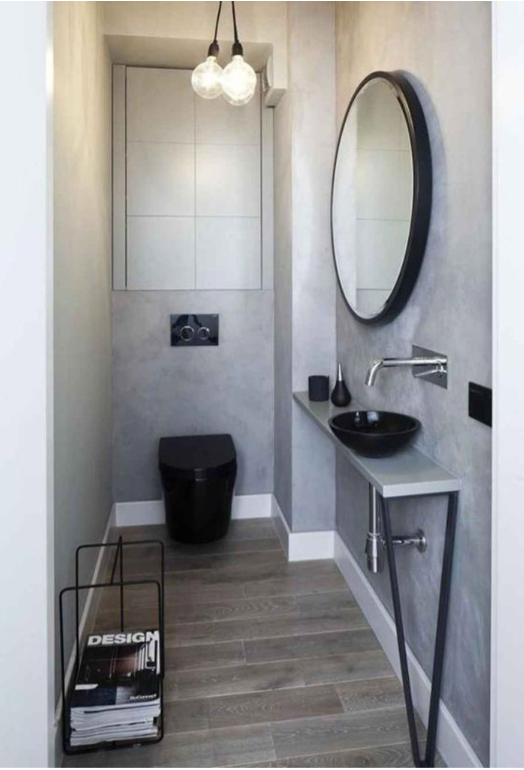 Enhanced by gray textured wallpaper, black metal accents, and a sleek, uncomplicated design, this small toilet exudes an industrial sense of elegance.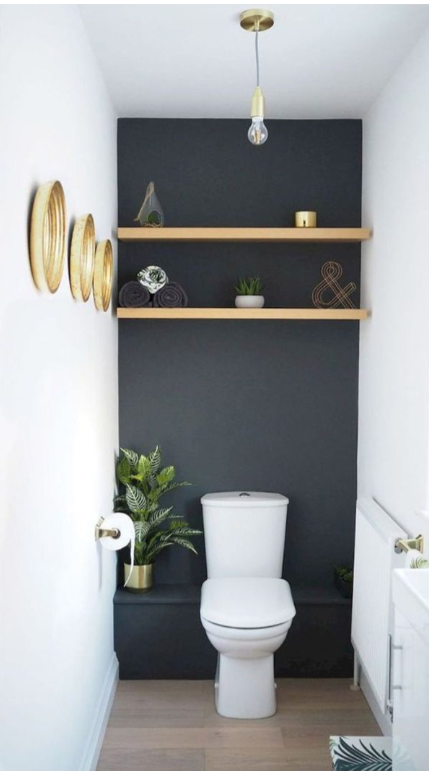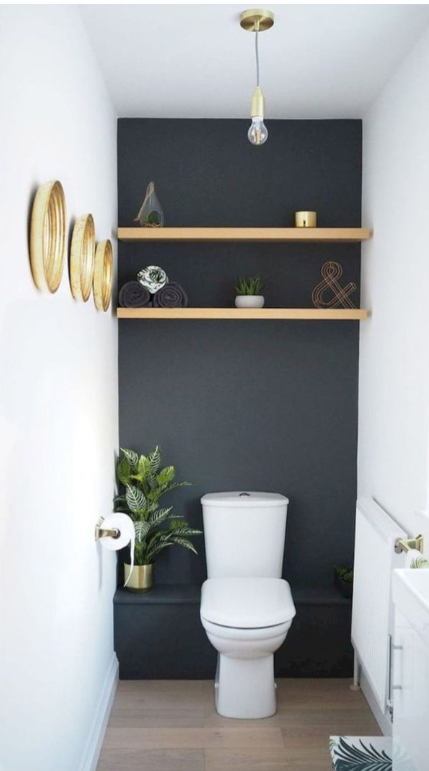 Here's another example of a simple, minimalist, and stylish small toilet idea. They chose to paint the wall behind the toilet in an anthracite color, accentuating the wooden shelves and brass accessory details. Adding a touch of vitality to the space, there's a green plant in the corner.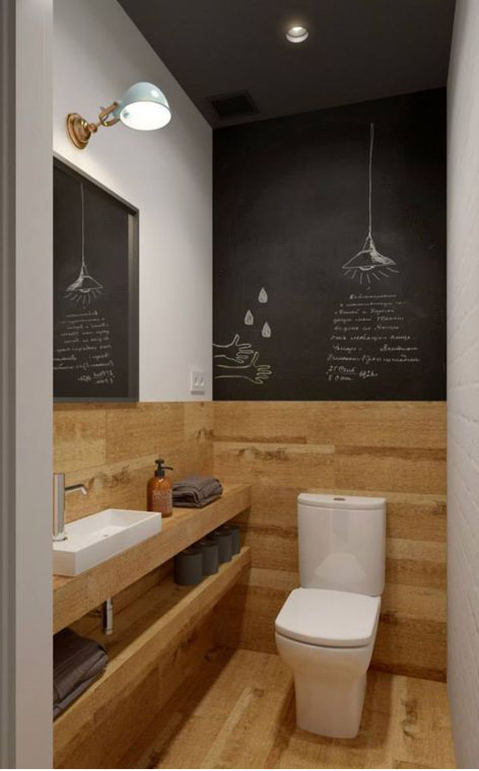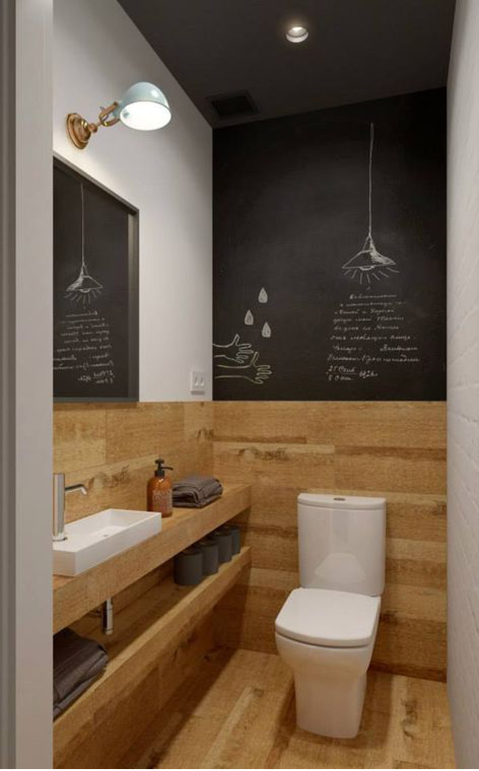 This bathroom, characterized by its lively and youthful design, stands out with its unique combination of half wooden tile covering, chalkboard wall, and entertaining lighting.
FAQs
Q: What are the advantages of a fully shrouded toilet for a small bathroom?
A: A fully shrouded toilet is advantageous for small bathrooms because its design, which encloses the waste pipe, allows for a shorter projection. This means it takes up less space, making it an ideal choice for compact restroom areas.
Q: How can I enhance the visual appeal of a small toilet?
A: To improve the visual appeal of a small toilet, consider using light colors, such as white, throughout the space. Light colors can create the illusion of a larger and brighter room. Additionally, you can add interest with a few contrasting tiles or decorative elements.
Q: What exactly is a privacy toilet in a bathroom?
A: A privacy toilet, also known as an enclosed toilet or commode cave, is a dedicated and separate room within a bathroom that is designed exclusively for the toilet. It provides privacy and isolation, allowing individuals to use the toilet in seclusion.
Q: Which colors work best for small toilets?
A: For small toilets, white is an excellent choice as it can make the space appear more spacious and well-lit. Alternatively, light grey is another option if you prefer a neutral color. To add character, you can introduce pops of color or incorporate mirrors to create a sense of expansiveness.
More To Read
How to clean kitchen sink drain: A Step-by-Step Cleaning Tutorial
How to Clear a Clogged Shower Drain?
How to Install a Shower Drain?
Conclusion
Small bathrooms and guest toilets have untapped potential for stylish transformation. Clever space-saving toilet options, innovative combination units, and smart wall decor ideas can make a significant impact in these compact spaces. Proper lighting, thoughtful furniture choices, and creative small toilet design ideas can maximize functionality and aesthetics. Modern toilet design offers versatility to suit various styles, from bold and vibrant to classic and minimalist. Don't overlook your small toilet's potential; with the right small toilet ideas, you can create a beautiful and functional space.
We hope you liked our 50+ best small toilet design ideas 2024, please let us know in the comments if you want to add anything.
More Small Toilet Ideas