BEST STRANGER THINGS PARTY IDEAS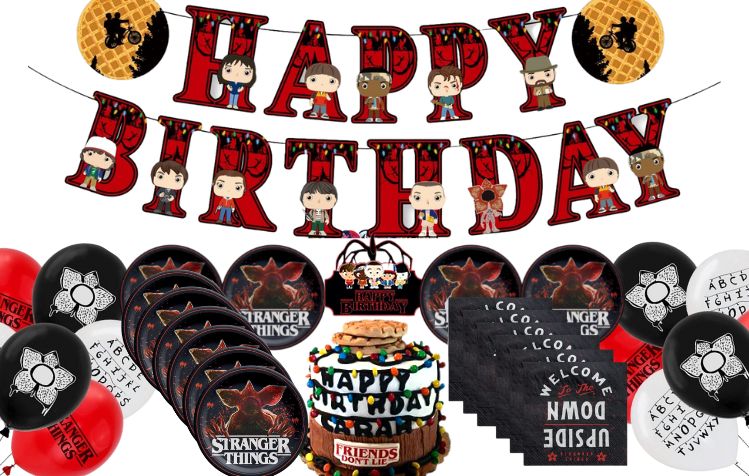 Stranger Things party ideas – Ready to step into the extraordinary world of Hawkins, Indiana and create a one-of-a-kind celebration?
Spice up your party celebration by immersing your guests in the fascinating world of the Upside Down. Planning a Stranger Things-themed party may require some effort, but it's bound to satisfy the cravings of your inner fan.
If you're on the lookout for some Stranger Things party ideas to make your gathering truly memorable, check out these unique suggestions we've put together just for you.
How to Throw A Stranger Things Party
A fantastic Stranger Things-themed party is all about creating a spooky yet enjoyable atmosphere. To make your gathering a hit, be sure to offer tasty snacks and drinks that keep everyone happy.
You can also suggest Stranger Things costumes in your party invitation to get your guests excited about dressing up as their favorite characters from the show.
Transform your space with decorations that make it feel like you've stepped into the world of Stranger Things. And for added fun, consider incorporating some party games or simply indulge in a Stranger Things binge-watching marathon.
Stranger Things Party Ideas to Throw a Stranger Things Themed Party
Stranger Things Party Invitation Ideas
Make sure your chosen theme is not just present at the venue but also clearly depicted on the invitation cards. You can design these cards to showcase the Upside Down world and the main characters [1].
To make it even more special, the person celebrating can dress up as their favorite character and pose for a picture on the front cover of the invitations. This personal touch adds a unique and fun element to your event.
Customized Stranger Things Party Cake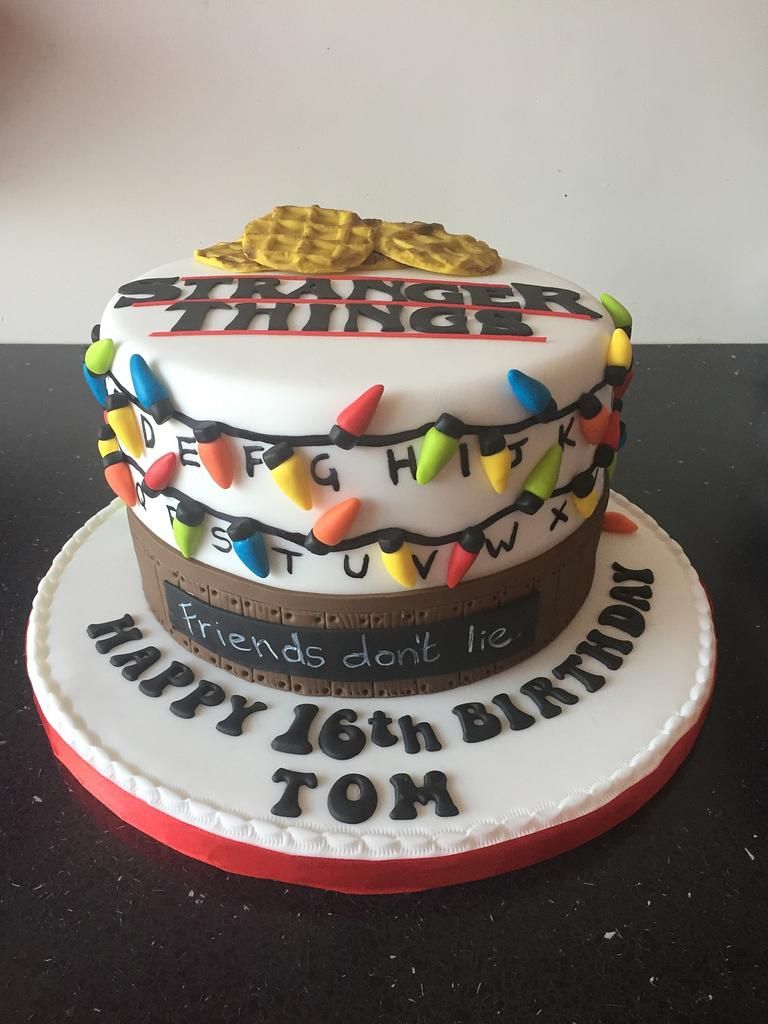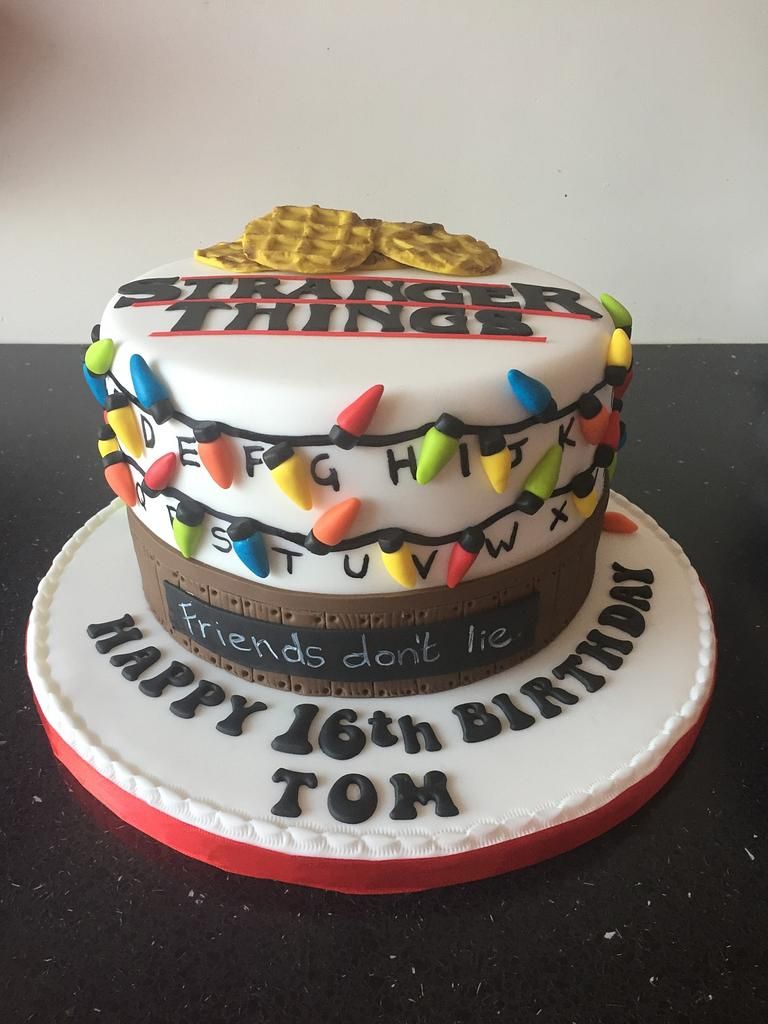 You can make your Stranger Things cake special in various ways. One idea is to create a light-up design inspired by what Will's mother made in Season 1.
Another fun option is to make a layered cake with the Demogorgon on top and the main characters below, like they're getting ready for a big fight. These creative touches can make your cake a standout centerpiece for your Stranger Things-themed party.
Stranger Things Party Decoration Ideas
To throw an amazing Stranger Things party, you want to make your guests feel like they're actually in the show.
That means transforming your house into familiar settings from the series, like the Upside Down, Hawkins Middle School, the Starcourt Mall, or even the spooky Hawkins National Laboratory if you're up for it.
Here are some great Stranger Things decoration ideas to make your party feel even more immersive and exciting.
Tree Trunk Portal
Create a design that features the tree trunk, which used to be a portal to the Upside Down world.
Placing this design in your party venue will make your guests feel the same sense of curiosity that Nancy did when she first found it. Plus, it can make for a fantastic background for taking photos.
To capture the '80s Hawkins atmosphere with its peculiar, web-covered tree-trunk portals to the Upside Down, you can replicate the effect using Halloween party spider webs and LED strip lights wrapped around an opening in a large cardboard box.
You have the option to set the LED lights to glow in a spooky all-red color, or you can choose all-white to closely mimic the appearance of the actual portals.
Setting up the LED strip is easy: just peel off the backing, wind it around your "tree trunk," and be sure to keep a safe distance to avoid any encounters with Demogorgons.
Cassette Tapes and Vinyl
"Stranger Things" transports us to the year 1983, a time when cassette tapes and vinyl records were iconic symbols of the era.
If you want to recreate that nostalgic, retro atmosphere at your event, consider using these items as decorations on the walls or tables in your venue.
It's a simple yet effective way to immerse your guests in the spirit of the '80s and make your gathering truly memorable.
Red Nebula and Star Lights
You can create a spooky atmosphere at your event by using red and nebula starlight. These lights remind you of the eerie feeling when Vecna came back to Will.
They're a great choice, especially if you're hosting a Halloween party. You can easily buy them at local stores or online and hang them on the walls to set the mood.
Mind Flayer Wall Decoration
To create a captivating ambiance at your venue, consider featuring a prominent Mind Flayer decoration in the center.
This formidable creature has been a significant challenge for the group in different seasons. You have two options: you can use stickers for a quick wall application, or, if it's allowed, you can paint a wall mural of the Mind Flayer using black paint.
This creative addition can bring an eerie and exciting element to your Stranger Things-themed party.
Alphabet and Christmas lights
To enhance the red theme at your Stranger Things party, think about using alphabet and Christmas lights in fun ways.
For example, wrapping Christmas string lights around your tree trunk portal can give it that iconic red glow.
You can also use alphabet lightboxes or marquee letter lights to spell out messages, whether they're spooky or short and sweet. These lighting ideas let your creativity shine, just like The Party did during their exciting D&D adventures.
Flashlights
A great idea for your Stranger Things-themed party is to have a game that takes you into the Upside Down world. To make it easier, use flashlights as decorations.
Put a few around your party area to make it feel more mysterious.
When it's time to play the game, you can grab these flashlights for better visibility, making the experience more enjoyable and reducing the chance of getting tangled in vines.
Stranger Things Party Snacks Ideas
Retro Candies
It's important to have sweets on the table, especially if there are kids at your event. To add a touch of nostalgia, you can get candies with a retro look and put them in buckets on each table.
Make sure to offer a variety of sweets so everyone has choices to satisfy their sweet cravings. This simple idea can make your event even more enjoyable.
Cupcakes
Remember to have cupcakes at your party. To make them stand out, you can decorate them with small, colorful candies to resemble the lights from Season 1.
You can also get artistic and use fondant icing to create the Demogorgon's mouth or the characters' faces as cupcake toppers. These tasty treats will be a crowd-pleaser at your Stranger Things-themed event.
Pizza And Soda
When you're throwing a fantastic party, you can't go wrong with soda and pizza. And who could overlook the classic Surfer Boy's pizza?
You've got options like meat lovers, pineapple jalapeno, and pepperoni to satisfy different tastes.
If you have the time and want to make it special, consider crafting your own pizzas with your favorite toppings. This way, everyone at your event can enjoy a tasty treat.
Eggo waffle bar
Make your gathering more enjoyable with an Eggo waffle bar, just like The Party's favorite breakfast. It's easy to set up – plug in your toaster oven, have a box of frozen waffles nearby, and gather your favorite toppings.
You can go for more grown-up choices like maple syrup, whipped cream, and berries, or go back in time to a fun, kid-friendly breakfast by being creative.
Think about adding ice cream and other sweet treats that melt into the waffle for a delicious twist. This waffle bar will be a hit at your event, offering something tasty for everyone to enjoy.
Toaster pastries
For a simple and nostalgic breakfast-for-dinner snack, think about serving toaster pastries like Pop-Tarts at your event.
You and your guests can enjoy them right out of the box or pop them in the toaster for a warm treat. It's an easy way to take everyone down memory lane and immerse them in the world of Stranger Things' young heroes.
If someone is dressed as Dustin at your gathering, serving white and blue Pop-Tarts can be a fun nod to his iconic hat. This snack idea adds a playful and delicious element to your event that everyone can savor.
Stranger Things Party Costume Ideas
It's all the more enjoyable when your party guests dress up as your favorite characters, fully immersing themselves in the Stranger Things universe.
To make it simpler, here are some fantastic costume ideas designed for your Stranger Things-themed party.
These suggestions can be a handy guide to ensure everyone has a great time and looks the part at your event.
Eleven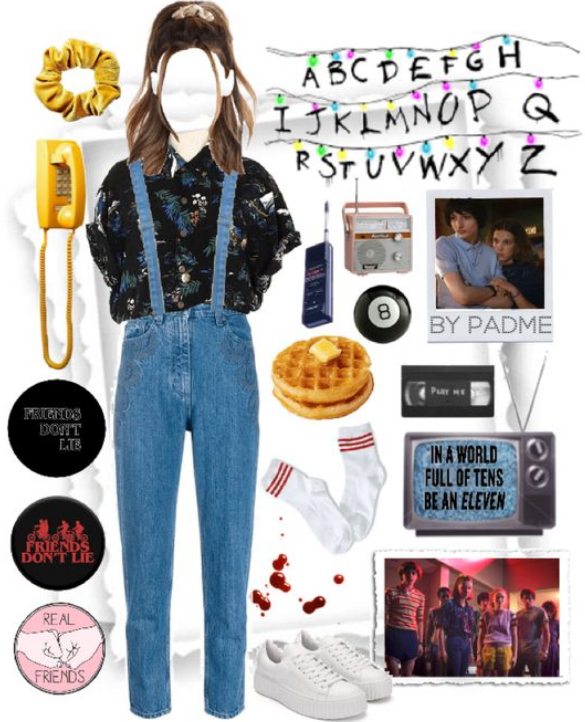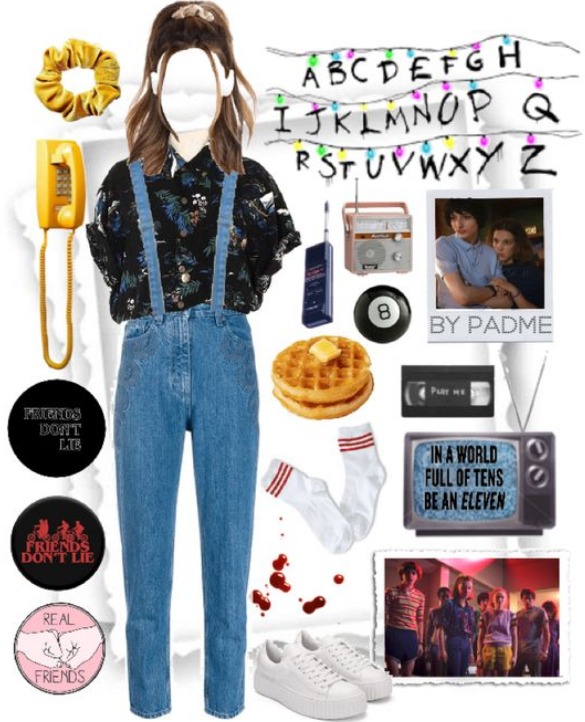 When it comes to dressing up as Eleven, you have plenty of options to choose from. Whether it's the sensory-deprivation Eleven, the typical-teenager El from season three, or the gothed-out "The Lost Sister" Eleven, there are various versions to explore.
It's even possible for more than one person to show up as the beloved psychokinetic teen, so feel free to get creative. Just be prepared to occasionally flicker the lights on and off to mimic her telekinetic abilities.
Mike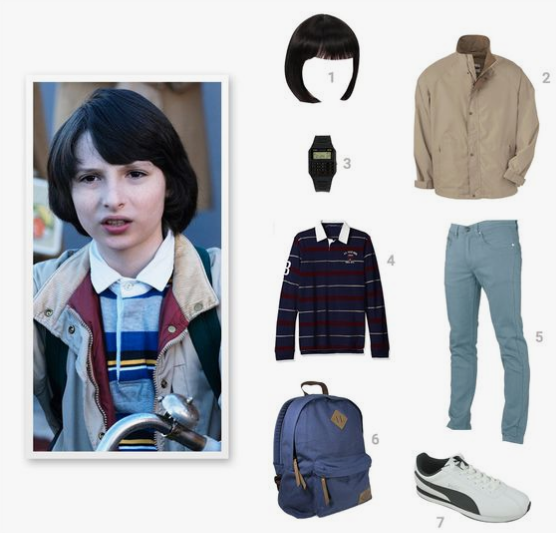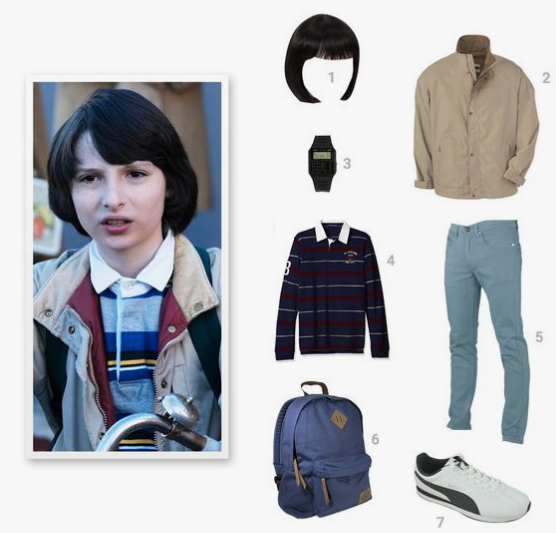 For a season-one Mike costume, all you need are a bowl-cut wig, a yellow tee, a denim vest, and regular tan pants. Donning striped polos, especially those with a retro feel, can also help capture his style.
If you're aiming for the older Mike from recent seasons, consider swapping the bowl cut for shoulder-length wavy hair. And, of course, don't forget to stay dedicated to finding Will.
Lucas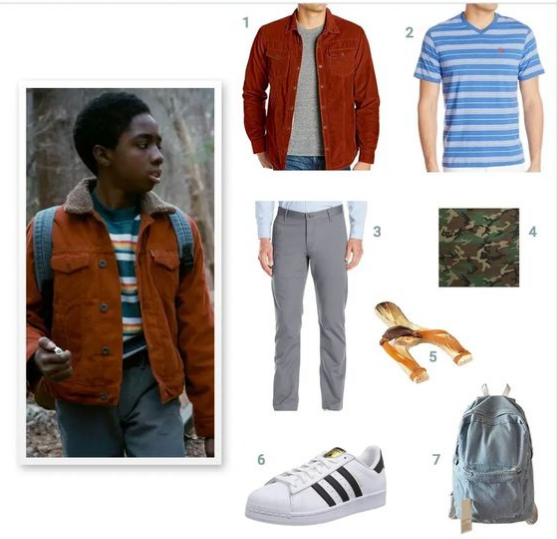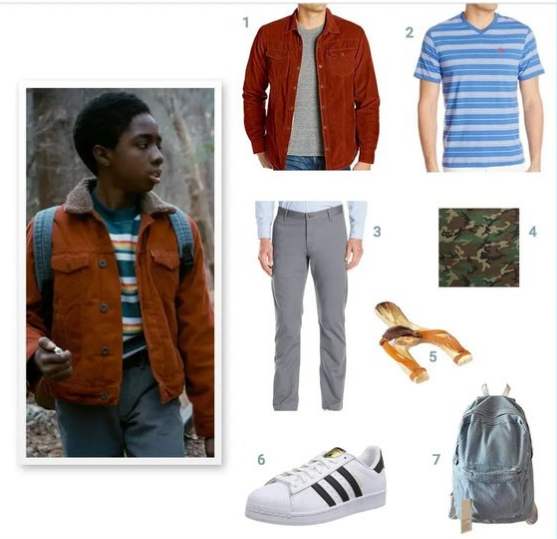 Transforming into Lucas is as simple as wearing a camo headband, a reddish-brown jacket with a fur collar, and carrying a trusty backpack.
If you're dressing up as this Stranger Things character, consider making time for a few rounds of Dungeons and Dragons to fully immerse yourself in the experience.
The more characters you have in the room, the more immersive your Stranger Things adventure will be.
Dustin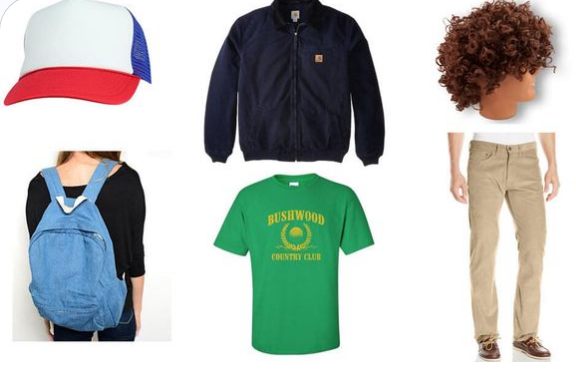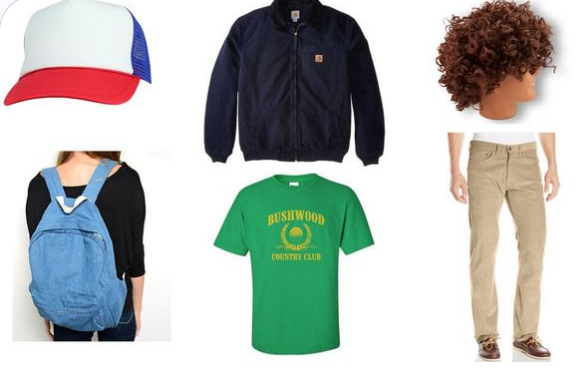 Among the Stranger Things kids, Dustin's fashion sense really stands out. His red, white, and blue hat, along with his curly hair, is something you can't miss.
To get this costume right, you'll need a wig, a hat, a tee, and a vest that screams '80s adolescent style.
To make it even more convincing, consider adding one of those headsets with a big microphone, just like Dustin's. Just make sure your Dustin doesn't accidentally bring Dart into your house.
Steve
Your guests have two Steve options to choose from. They can dress as the early-seasons Steve, transforming from bully to hero in real-time. Or they can go for the iconic ice-cream parlor Steve look from season three.
This costume is easy to put together, with Scoops Ahoy costumes readily available online.
However, be prepared for the possibility that those short shorts might leave you feeling a bit chilly if your decorations successfully transport everyone into the eerie world of the Upside Down.
Robin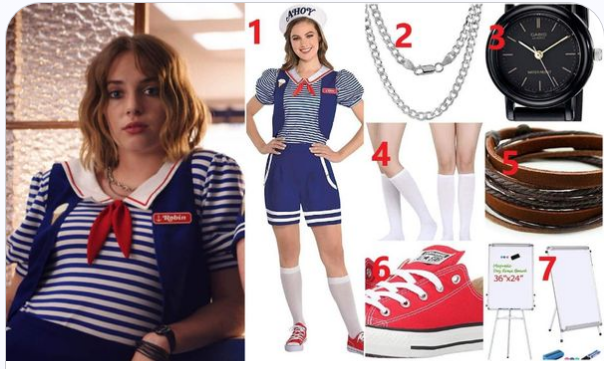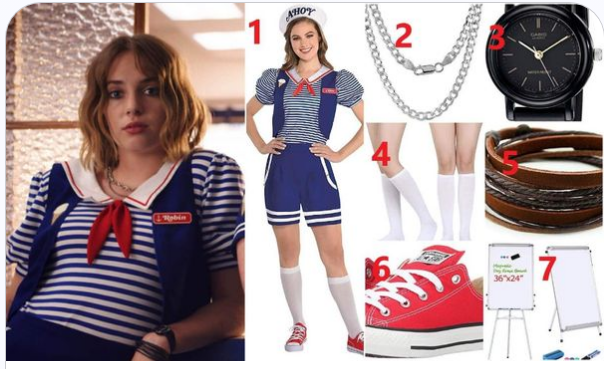 Steve's loyal co-worker and best friend, Robin, is the one who truly made the Scoops Ahoy outfit iconic.
Her version of the outfit includes a white-and-blue striped tee, that unforgettable blue vest, and a red bandana. Encourage anyone dressed as Robin to perfect that "so over it" stare and vocal fry.
Alternatively, you could have them take charge of scooping ice cream at your waffle bar, adding a fun and interactive element to your party.
Nancy
Dressing up as Nancy is a versatile and creative choice. Her hairstyle and fashion change throughout the seasons, giving you the chance to embody different sides of her character.
To rock this costume, make sure to carry a pen and pad for that investigative journalism style. Plus, going as Nancy provides a fun opportunity to chat and connect with fellow partygoers.
Billy Hargrove
Going as Billy Hargrove puts a unique Stranger Things spin on the classic lifeguard costume. Just show up with a whistle, sepia-tinted shades, and curly auburn hair, and you're all set.
But remember, leave Billy's attitude behind. It's better to channel the heroic version of him who, as a spoiler alert for those who haven't seen Season 3, sacrificed himself for Eleven at the Starcourt Mall.
Hopper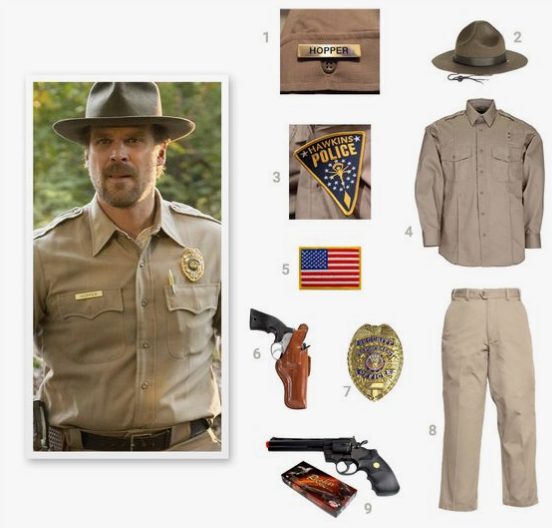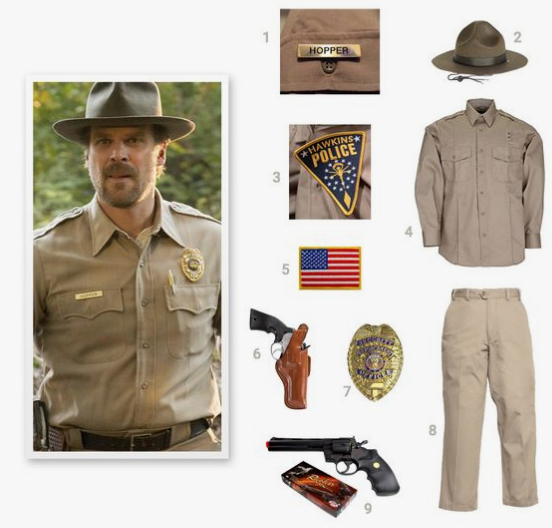 Arguably one of the most iconic Stranger Things characters, alongside Eleven, Hopper is a must-have at any memorable Stranger Things gathering.
Hopper offers a versatile costume choice – you can go as Chief of Police Hopper, Russian prisoner Hopper, or anything in between.
To pull off this costume, be ready to face all the terrifying Demogorgons and Mind Flayers at your party with confidence.
Maxine Mayfiled
It might have taken a while for the Hawkins gang to warm up to Billy's step-sister, Max, but she's become a vital part of the Stranger Things universe.
If you have red hair, you're in luck – to nail a convincing Maxine Mayfield costume, all you need is a retro striped tee, denim shorts, and maybe a skateboard to complete the look.
Stranger Things Party Games
Dungeons And Dragons
One of the games the main characters in the series love to play is Dungeons and Dragons. (2) It's a role-playing game where a Dungeon Master takes on the role of the game's referee and storyteller.
The fate of the game is determined by the roll of the dice, giving you the freedom to shape the story as you play. The best part? You can enjoy this game with a group of more than five people!
Guess That Stranger Things Quote
In Stranger Things, each character, notably Dustin and Hopper, has delivered some truly unforgettable lines throughout the series.
Here's a creative party idea: split your guests into teams and have them guess which character uttered a particular quote.
To add an extra layer of challenge and excitement, you can also encourage them to identify the episode and season in which the quote appeared.
This activity is not only enjoyable but also an excellent way to assess your guests' familiarity with the show and ignite discussions about their favorite scenes.
80s Trivia & Board Games
Because Stranger Things is all about the 1980s, why not have an 80s-themed trivia and board game night? This works especially well if most of your guests are adults.
You can play classic board games like Monopoly and Checkers or have fun guessing 80s tunes. It's a sure way to have a great time and feel like you've stepped back into the retro 80s era!
Upside Down Marco Polo
We're all familiar with the classic "Marco! Polo!" game, right? Now, imagine how eerie it would be if your voices echoed in the mysterious Upside Down world.
Let's harken back to the intense search for Will. Here's a unique party concept: dim the lights and reenact that memorable scene.
Designate one person to be Will, and have others take on the roles of his friends who were frantically searching for him.
Then, start calling out to each other, just like in the show, until you're all reunited.
It's a thrilling way to dive into the Stranger Things universe and add an extra layer of excitement to your gathering.
Bike racing
While most parties happen indoors, here's a fun idea to set yours apart – plan an outdoor bike race. It's just like what The Party in Hawkins does for their adventures.
Imagine your whole group showing up in costumes, turning heads as you pedal through town.
After your bike ride, come back, relax, turn on the TV, and dive into the mysteries of the Upside Down.
This unique activity adds excitement and adventure to your gathering.
Stranger Things Party Favors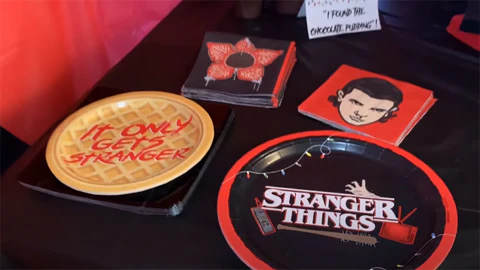 Fantastic Party Favors: Make sure your guests don't leave empty-handed; party favors are a must. Consider giving them unique Stranger Things-themed keepsakes like Demogorgon keychains or small figurines featuring the main characters.
The best part is, you have choices. You can easily order these online, or if you're up for it and have the time, get crafty and make them yourself.
These party favors are a thoughtful way to thank your guests and make your Stranger Things-themed party even more unforgettable.
But do you know when did Stranger Things come out on tv?
Frequently Asked Question
Q1: What food options can you serve at a Stranger Things party?
A1: You can serve a range of themed foods at a Stranger Things party, including Demogorgon Strawberries, Pumpkin Spice & Maple Walnut "Eggos" Waffles, Evidence Bag Bloody Popcorn, Demogorgon Cake, and Demogorgon Dip.
Q2: How can I decorate my party to resemble the world of Stranger Things?
A2: To recreate the ambiance of Stranger Things, consider using wood panels, thick carpets, checkered patterns, and string lights in your decor. These elements can help capture the typical room decor seen in the series.
Q3: What kinds of beverages do characters in Stranger Things typically consume?
A3: In Stranger Things, you'll notice some teenage characters drinking beer in season 1. The character Hopper frequently smokes cigarettes and drinks beer during the first season, and there are hints of prescription pill abuse, suggesting possible addiction.
Q4: What role does Eleven play in the party?
A4: Eleven's role in the party is tied to her friendship with Mike, Dustin, and Lucas. In their Dungeons & Dragons party, she takes on the role of the Mage. During the first season, Eleven spends much of her time evading the lab workers, often referred to as the "bad men," and hiding from them.
Recommendation
Celebrate Your Kids' First Birthday Party
Conclusion
Hosting a Stranger Things-themed party can be an exciting and immersive experience. From invitations and cakes to decorations, snacks, costumes, games, and party favors, there are plenty of creative ways to bring the world of Hawkins, Indiana, to life at your gathering. Whether you're a dedicated fan of the show or simply looking for a unique and entertaining party theme, these Stranger Things party ideas can help you throw a memorable event that transports your guests to the intriguing realm of the Upside Down.
References:
1. https://www.thewrap.com/stranger-things-what-is-the-upside-down-explained/
2. https://www.polygon.com/deals/21294556/dnd-how-to-play-dungeons-dragons-5e-guide-spells-dice-character-sheets-dm