What Is a Firefighter Endorsement? Do You Need One?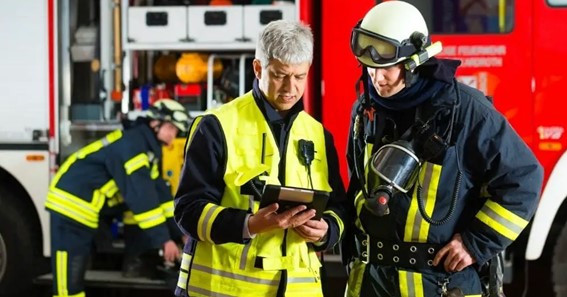 You might think a firefighter endorsement means supporting local fire departments or politicians backed by them, but that's not the case. So, exactly what is a firefighter endorsement?
A firefighter endorsement is a special addition to your driver's license issued by some states through the DMV. It allows career and volunteer firefighters to drive fire engines or trucks, even if they have a regular class C driver's license.
In the rest of this article, we'll explain everything you need to know about firefighter endorsements and help you decide if you need one. Keep reading for more details.
What Is a Firefighter Endorsement?
To drive those big fire trucks and engines, firefighters need proper training and licenses. In most U.S. states, they use something called a "firefighter endorsement" to make sure firefighters can drive these vehicles.
In simple terms, firefighter endorsements are important because they let firefighters and fire engineers drive fire department vehicles without needing a special Class A or B driver's license. This makes it easier for fire departments to train their drivers, especially in smaller areas where volunteer firefighters are common.
The importance of firefighter endorsements becomes clear when we look at a specific state like California. California has seen some really bad wildfires in recent years, and they're known all around the world for it.
In 2018, there were huge wildfires that burned nearly 1.9 million acres of land, caused the tragic deaths of 97 civilians and six firefighters, and resulted in $3.5 billion in damages. Even in 2019, it was just as bad. There were 260,000 acres of land destroyed, five people lost their lives, and they spent $163 million to fight these fires, especially in places like Northern California's Plumas National Forest, where almost 44,000 acres were burned by early September.
So, California always needs well-trained firefighters. In smaller areas served by volunteer firefighters, it's much easier for them to get a firefighter endorsement compared to the old requirement of a Class A or B license. This makes it a lot more convenient and helpful for everyone involved.
Driver / Engineers
A Driver/Engineer, Fire Engineer, or Driver/Operator all describe the same role in the fire department. These individuals drive and operate fire engines and trucks. In larger fire departments, firefighters get promoted to this position after serving as regular firefighters. However, in many smaller fire departments, even new recruits might be responsible for driving the fire vehicles, depending on the department's staffing and needs.
In the past, the Department of Motor Vehicles (DMV) required anyone operating a fire engine or truck to have a Class A or B driver's license. While some states still have this requirement, most have changed the rules for firefighters.
Different states might have slightly different definitions, but let's consider California as an example:
Class A: With this license, you can drive any combination of vehicles, including those weighing over 10,000 lbs, and even vehicles that tow multiple trailers or certain other types of vehicles.
Class B: This license allows you to operate single vehicles weighing over 26,000 lbs, single vehicles with three or more axles, certain buses, and more.
Now, the firefighter endorsement is an additional certification that's added to a standard Class C driver's license. Getting a Class A or B license is a more complex and demanding process compared to obtaining a firefighter endorsement. This change makes the training and certification process much easier for firefighters. It's especially helpful in small counties with volunteer fire departments.
To put this into perspective, take Plumas County, a small community in California's Sierra Nevada with a population of just over 20,000 as of 2010. It's a small area, so it's manageable for the local fire department. However, it's also prone to wildfires.
In September 2019, there was a significant wildfire in Plumas National Forest, one of the largest fires in California that year.
Until 2010, Plumas County required its firefighters to have a Class A or B driver's license to drive the fire engines. This meant taking extra tests and meeting specific requirements. Engineers (the drivers) also needed a Class B commercial driver's license with a "Firefighter-restricted" endorsement.
This endorsement wasn't always available at local DMV offices. Firefighters often had to travel long distances to take the necessary tests. In some cases, they had to travel across the state because their local DMV didn't offer the right tests. All of this made it harder for firefighters to qualify as engineers.
So, the change to the firefighter endorsement has made life a lot easier for firefighters, particularly in small counties and volunteer fire departments.
ALSO READ – Things to Do After a House Fire
2011 & the New Driver's License
Endorsement
In 2011, there was a significant change in California's driver's license requirements for engineers. Before, engineers needed a Class B license with a "FireFighter Restricted" endorsement. However, the rules were updated to allow them to get a "Firefighter" endorsement on a Class C driver's license if they met certain qualifications.
During a seminar about these changes at the DMV, Ed Ward, the President of the Plumas County Fire Chiefs Association, learned something surprising. He discovered that there was no special permission for regular firefighters to drive fire engines during emergencies. This lack of an exemption made it harder to find qualified drivers, especially in volunteer fire departments.
New Endorsement Requirements
Driving a fire engine to an emergency is a big responsibility and requires the right training. You can't just let anyone with little experience handle these heavy vehicles. When they made changes to the rules, they set clear requirements.
To get this special endorsement on your driver's license, you now need an "Original Firefighter Employment and Training Verification" letter.
This letter should show:
Proof that you work as a firefighter or that you're registered as a volunteer firefighter.
Proof that you completed a training program for operating fire equipment (usually the State Fire Marshal's Driver 1A Class).
Your fire chief's official signature.
You also have to finish driver training from the fire department that meets certain standards:
It should meet the guidelines set by the National Fire Protection Association (NFPA) 1002 or the Fire Apparatus Driver/Operator 1A course approved by the Office of the State Fire Marshal.
This training should prepare you to drive the specific fire department vehicles you'll be using.
It includes 16 hours of classroom training and 14 hours of supervised behind-the-wheel training.
This information is from the California DMV website. Many fire departments now require trainees in volunteer programs to get this endorsement as part of their graduation.
To become certified to drive fire trucks, a firefighter has to follow these steps:
Complete the necessary training with their fire department.
Show proof of their employment and the driver training they completed to the DMV.
Pass a written test at the DMV.
Once they pass, the firefighter endorsement is added to their regular Class C driver's license, and they don't need a commercial Class A or B license.
If you're getting ready to take the firefighter endorsement test at the DMV, there's a helpful study guide called the "Firefighter Endorsement Test Study Guide."
In most cases, fire departments can run their own training programs for engineers. They just have to make sure they follow the state-approved programs or meet the minimum requirements.
For example, in Plumas County, firefighters have to complete a 40-hour training program in Quincy, as required by their local DMV. This helps reduce accidents while responding to emergencies, which used to account for a large percentage of firefighter deaths each year. It's important to remember that the specific procedures might be different in other places.
Right now, Nevada is giving out the same driver's license endorsement as an exemption for a commercial driver's license. This exemption means you can drive emergency response vehicles like ambulances or SWAT team vehicles.
In Georgia, they use a similar kind of endorsement for both regular firefighters and volunteers. This endorsement adds an "F" label to your Class C driver's license, letting you drive fire department vehicles.
But there are still a few states that make engineers get a commercial Class B driver's license. This can be a concern considering the increasing need for emergency responses in today's world. Having well-trained firefighters can make a big difference in emergencies.
Remember the saying, "It's better to have it and not need it than to need it and not have it." It's always good to be prepared.
Recommendation
How To Change a Fuse In a Fuse Box: A Complete Guide
How To Replace A Shower Handle
How to Manually Open Garage Door After A Power Outage
Small Toilet Ideas – 50+ Best Toilet Designs
Choice Home Warranty | Is It Top Choice in Home Warranties with George Foreman Endorsement?
Conclusion
In conclusion, a firefighter's endorsement is not just about ensuring they can operate heavy vehicles during critical moments. It serves as a means to enhance the preparedness of fire departments and enables faster, more effective responses to community emergencies. Additionally, it reflects a community's commitment to self-sufficiency by simplifying the process for firefighters to acquire the necessary qualifications for driving fire engines, thus alleviating the burden on departments in their search for capable drivers.
FAQs
Q: Do you need a firefighter endorsement California?
A: You do not need to secure an "F" firefighter endorsement for the operation of firefighting equipment during training sessions, in non-emergency situations, or when you are under the direct supervision of a licensed fire department employee authorized by the department to conduct training.
Q: What are the requirements to be a firefighter in California?
A: To be eligible for this role, you should have reached the age of 21 by the time of appointment. You must possess a high school diploma or GED and hold a valid California Driver's License. Additionally, a California Emergency Medical Technician (EMT) Certificate is mandatory at the time of your appointment.
Q: Do you need a cover letter for a firefighter?
A: In the firefighter job application procedure, certain organizations might require candidates to provide a cover letter along with their resumes. These documents serve as a means for candidates to elaborate on their qualifications and make a compelling case to the hiring manager regarding their suitability for the firefighter position.
Q: How do I get a Class B license in California?
A: To secure an initial noncommercial Class B license, you need to follow these steps:
Pass the 45′ Housecars law test in the Driver's Examination, based on the content provided in the Noncommercial Handbook.
Complete a vehicle safety check.
Successfully pass the skills tests.
Take the driving test.
Submit a Physician's Health Report.