What is outdoor Security Lighting & Why is it Important?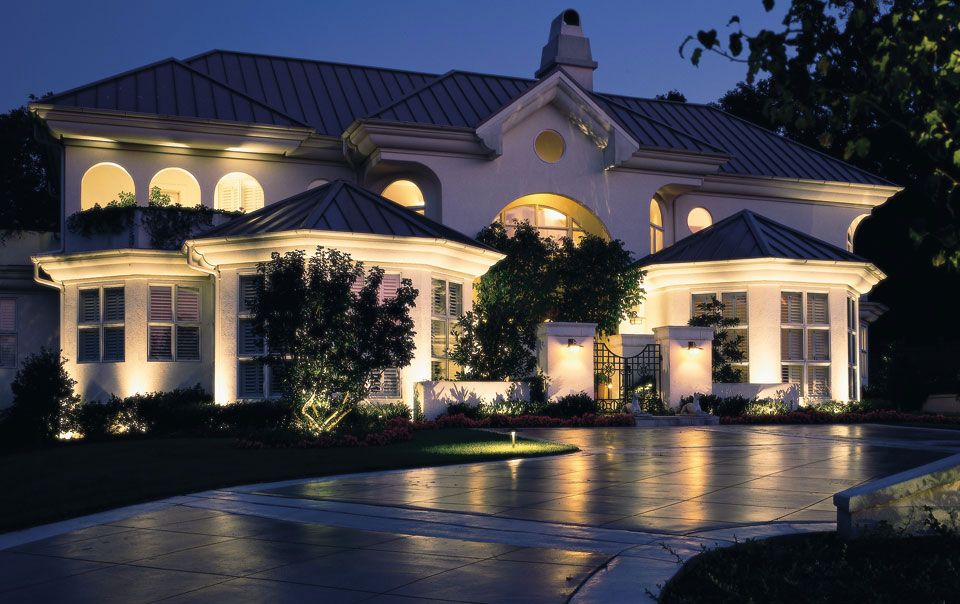 Outdoor security lights not only adds dimension and beauty to the home but is also an essential part of an effective security system. Outdoor security lighting is highly beneficial as it dispirits the would-be invaders from targeting your home by increasing the probabilities of being caught. The best part about high-quality lighting systems is that they allow facial recognition, physical detection, and reduces the nearby hiding spots, which in turn leads to an increased sense of safety. 
Main Purpose of Residential Outdoor Security Lighting
There are three primary purposes of residential outdoor security lighting systems. The first purpose is that it should be pleasing to the wonders of the house. Second is that it should allow the residents to navigate the perimeter and landscape of the house. In addition to this, it also allows them to identify potential hazards and obstructions. The third purpose is that it renders security to the homeowners by discouraging the would-be invaders. Below mentioned are some of the purposes of residential outdoor security lighting systems.
Improve the sense of security for the homeowners.
Make the tasks like walking the dog or retrieving the mail safer and easier.
Render a clear view of the neighboring area, including fences, barriers, walls, objects, and people. 
It provides facial recognition at a distance of a minimum of 30 ft. 
Help people in avoiding threats from criminals and also provide help in defending themselves when danger or threat is perceived. 
Different Types of Outdoor Security Lights
There are different types of outdoor security lights available in the market, which makes it quite difficult to choose the right one. When buying outdoor security lights, make sure to purchase the ones that are approved by authorities for damp or wet locations. Opt for buying luminaries that characterize weatherproof finishes and designs. Moreover, they should be able to withstand the elements like rain, snow, and humidity. Below mentioned are some types of outdoor security lights.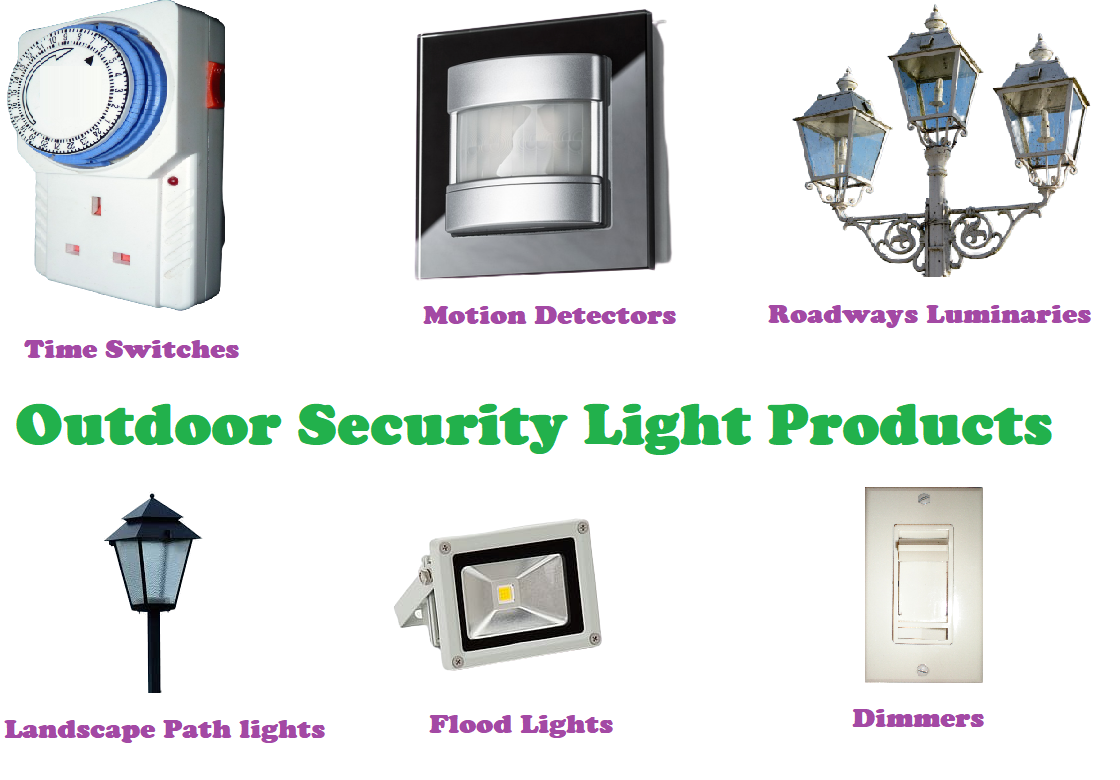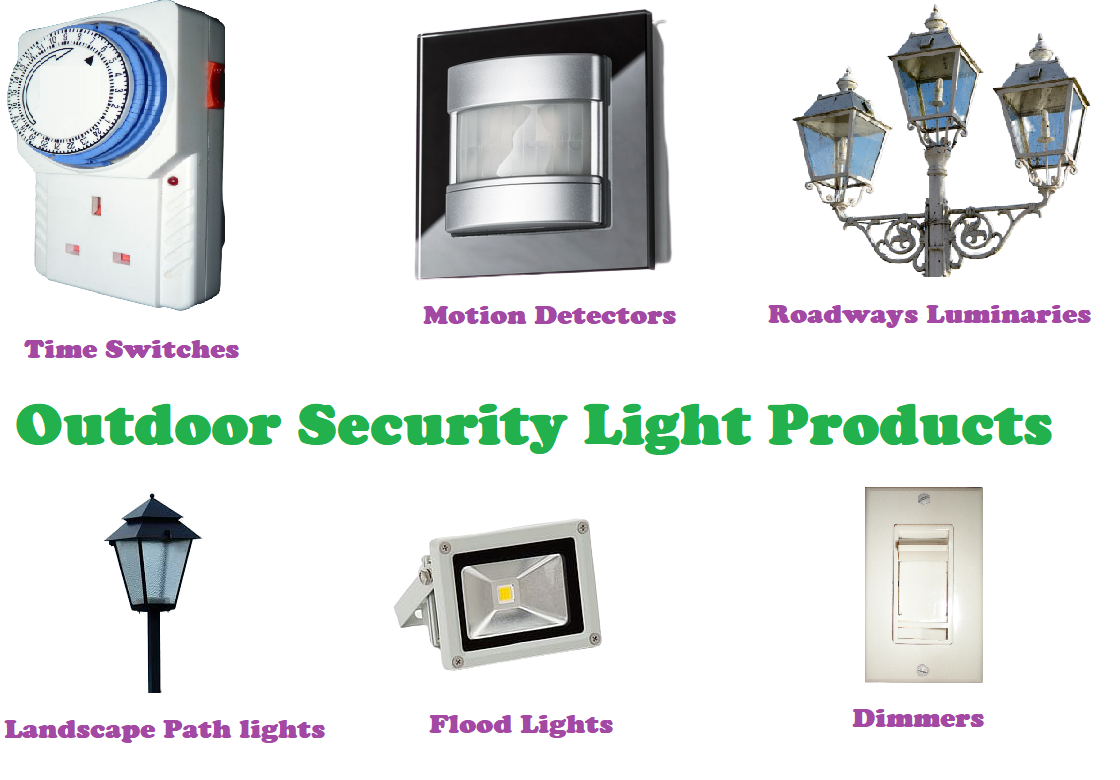 Landscape Path Lighting
These lightings are ideal for illuminating the frequently utilized walkways and paths. The light fixtures are also beneficial for illuminating architectural elements that are present around the house. The application of landscape path lighting, including both commercial and residential. The source of this lighting is metal halide, incandescent, fluorescent, and HPS. The mounting locations for this light include flower beds, deck, trees, ground, stairs, always, and trails.
Flood Lights
Floodlights are a perfect choice for illuminating large spaces as they distribute wide light cones. They contain versatile features and come with adjustable heads that allow precise illumination. You can use these lights for both commercial and residential purposes. The source of these lights includes HPA, halogen, metal halide, incandescent, and fluorescent. Mounting for this light include backyards, driveways, entryways, recreational areas, loading areas, porches, warehouses, patios, and many more.
Surface Mounted Luminaires
These outdoor lightings are perfect for general, decorative, and accent lighting in the exterior of your home. These lights can be used for residential purposes. The source includes metal halide, incandescent, fluorescent, and HPS. The mounting includes perimeter and entryway.
Roadways & Post Luminaries
These light fixtures are suitable for the identification of your house and general illumination. These lights render ambient lighting in order to warmly welcome guests. These lights can be used at storage, parking, residential and commercial areas. Sources of these lights include HPS and metal halide. The mounting includes streets, parking areas, and driveway.
Where to Place Security Lights?
Now that you know the purpose and types of automatic outdoor lights, the next question is where to place the security light bulb? In order to place the security lighting system properly, conduct a survey of the home's perimeter in order to identify the potential security and safety risks. You can also research the criminal history of the neighborhood and should also consider the impact of lighting in the neighboring areas. You should also consider the codes, such as energy conservation and light pollution. Below mentioned are some tips to determine the ideal locations to place security light bulbs.
Assessing the Neighborhood
Before buying a home, it is always a good idea to investigate the area and neighborhood properly. Ask the seller to collect information by speaking with the neighbors in order to get the real feel of the area. You should talk to the neighbors as they are an amazing source of information about the residents and the community. Below mentioned are some factors to consider while assessing the neighborhood and home.
Assess Your Value
Pinpoint the high-value and desirable items that are present in your property like vehicles, statues, or garden ornaments. In addition to this, you also need to make sure that all the valuable items are locked up and secure. You should keep the household tools like ladders, screwdrivers, and hammers in a locked shed so no one can use them to break into the house. 
PRO TIP
Using outdoor security lights at the right places can enhance the beauty of your home's exterior, so choose the sites carefully.
Stay Alert and Informed
You should be aware of the criminal activities in your city and neighborhood area. For this, you should read the newspaper, and you can also use varied apps in order to stay informed about the criminal activities in your neighborhood and area.
Always be a Good Neighbor
Stay in touch with your neighbors, and always be good to them. Establish trust with your neighbors by often speaking to them. Good neighbors can help you in keeping an appropriate watch over your home when you are away.
Examine the Landscape
In order to identify potential security and safety hazards, you should examine the perimeter and landscape of your house at different times. Carefully look for dark areas around your house, yard, and garage as these places could be hiding spots to prowlers.
Determine the Lighting Approach
Once you have assessed your home and neighboring areas and identified the security problem, the next step is to determine the lighting approach – active or passive. Outdoor security comprises active elements that respond to the movement or action by interacting with a person, and passive elements are static, and they do not respond to the movement or action.
Active Elements – These elements are responsive, and they include coded-entries, alarm systems, and closer circuit televisions. These security systems are activated by movements. 
Passive Elements – These elements include warning signs, barriers, and fences. Security lighting bulbs are included in passive security elements as they get activated every day at the same time due to automatic light timer and do not get activated by any specific activity. 
An effective security lighting system and design is the one that includes both active and passive elements. 
Impact of Security Lighting on Surrounding Area
The best automatic security lighting bulbs are the ones that account for the surroundings. Security lightings are effective if they do not create deep and glare shadows. In addition to this, they also allow clear observation of anything that is present in or around the home.
Controlling Outdoor Security Light
After choosing the light fixtures, the next step is to select the lighting control so that you can adjust the brightness level according to the requirements. One of the best things about the system of outdoor security lighting is that you can control them according to the requirement. If the light contains in-built controls, then you do not require to make any efforts. However, you can also make outdoor security lights by combining two or three lamp holders by using separate control units. The system that you create on your own provides more choices within each control. Below mentioned are two types of controls that you can use for light fixtures.
Automatic Controls – Almost all the outdoor security lighting systems contain controls that help in controlling the light fixtures and keeping them off when it is light outside. Some automatic light bulbs contain photocells, while others have timers. In addition to this, there are some that contain both. The photocell is present in the lower right corners. It is open when there is light, and other times it is closed. In case the photocell fails, the light stays on all the time. 
Manually Set Controls – Usually, a dial with a pointer and two slide buttons are present on the bottom plate of the controllers. The slide switch that is present next to the photocell's eye helps in setting the hours of operation. The other slide helps in setting the timing of how long the light will stay on. The slide switch also contains a TEST setting that renders the facility to turn on the light whenever you want. 
Below mentioned are some automatic light controllers that you can use. 
Dimmers
Light dimmers are one of the best automatic light controllers that adjust the level of light on the basis of traffic. Dimmers are beneficial for energy conservation and help in saving energy at home. Dimmers are also compatible with lamps, flush mounts, and pendants.
Time Switches
The Time switches are amazing automatic light controllers that are designed to tune the fixtures of light on and off at particular times, regardless of the fact whether the light is necessary. Time switches are used with roadway light, post-mounted lights, floodlight, surface-mounted light, and landscape path lights. 
Motion Detectors
Motion detectors are highly beneficial as they activate the light when they perceive the light. These automatic light controllers are compatible with landscape path light, surface-mounted light, and floodlight.
Photocells
Photocells are amazing light controllers, and they turn the light on when it is dark outside. They are paired with a specific outdoor light switch that can be used to turn the light on when it's dark and turn it off at a particular time. These light controllers are compatible with floodlights, surface-mounted light, post-mounted light, and roadway lights. They should be placed where they remain unaffected by ambient lighting.
Tips to Choose Light Sources
Distance and color perception is affected by light sources. Common light sources of illumination include fluorescent, LED light bulbs, incandescent, fluorescent, and halogen. Below mentioned are some of the tips that you should consider while choosing the light sources.
Color Rendering (CRI)
While choosing light sources, it is important to look for color rendering indexes. It helps in specifying how the colors would appear when they illuminate from specific light sources. Color rendering is essential in identifying the color of a suspect's clothing, or in case of a hit-and-run accident, it helps in identifying the potential color of the vehicle. The range of CRI is between 0 to 100. Keep in mind the greater is the CRI, the better is the capability of the source for color rendering. A CRI of 50 or more than that helps in the identification of color in a better manner.
The color temperature is beneficial to measure metal filament's heat. It changes the color until the lamp and the metal are of the same color. In this, the color temperature is categorized as cool or warm and is measured in kelvin. Warm light sources like high-pressure sodium, incandescent possess color temperatures that range from 1800K to 3200K. On the other hand, the cool light sources like metal halide and mercury vapor possess color temperature that ranges from 4000K to 7500K.
Spectral Power Distribution (SPD)
It refers to the ability of light to illuminate a particular color. For instance, light sources that have a poor red wavelength might lead the red colors to appear muted during the evening time.
Tips to Choose the Right Light Bulb
You might think that you can choose any bulb in order to control the outdoor security lights, but keep in mind that it is essential to choose the right one. All the security light bulbs can be controlled smoothly with the help of photocells. In order to maintain your outdoor security, you can install halogen, LED light bulb, or incandescent. But you should avoid installing a CFL light bulb. 
The reason behind not installing CFL lights is that like fluorescent light bulbs; it also needs full power control. On the other hand, photocells go full power only when it is completely dark outside. They require little power when the sky becomes cloudy or night falls. In fact, if you try to control the CFL light using photocell, then it could cause the CFL bulb to fail. However, dimmable CFL bulbs are an exception. If you dimmable CFL bulbs, then you can use them.
Security Light Installation Tips
If you are planning to install security lights, then it is essential to keep in mind that the installation might vary on the basis of light fixture style and architecture of the homes. While installing the light, you should refer to the installation instruction of the manufacturer for specific directions. Nevertheless, below mentioned are some guidelines and tips that you can follow.
In order to protect the fixtures, keep in mind to protect the light fixtures.
Test the sensitivity of light fixtures to motion so that it could be adjusted accordingly.
Keep in mind to select the locations where outdoor light bulbs and fixtures cannot be interfered with easily.
Make proper adjustments of the light fixtures, so they properly point down to your property and its surroundings and not your neighbors or street. 
When you outline the security lighting plan of your house, keep in mind to keep the exterior decor and indoor lighting into the approach. In order to manage a cohesive design, choose different styles of fixtures having the same finish.
Opt for playing the lamps in your kitchen, bedroom, and other sitting areas and add times to then so whenever you are away from your home, the lamps turn on automatically. It is beneficial to set a pattern of occupancy for your neighbors. It also makes the home look occupied to people trespassing the area.
Tips to Maintain Outdoor Security Lights
After installing the security lights safely, it is essential to maintain them properly in order to ensure security and safety. Below mentioned are some maintenance tips for outdoor security lights.
Use mild soap and soft cloth in order to clean dirty lenses. 
Replace the bulbs that burn out.
Replace the light fixtures that are damaged or broken.
Keep in mind to remove vandalism signs.
Prune the shrubs and bushes that are present near windows and doors.
In order to prevent light obstruction, trim the tree branches.
Replace the electrical components that are damaged like photocells.
If you want to add safety, security, and curb appeal to your home, then outdoor security lights are the best option. A well-designed system of security lighting can help in intimidating the would-be intruders and will help in assuring safety and security.
Seek professional help to install outdoor security lights—Research the right places to install the lights to enhance to beauty of your home's exterior.