How to Plan a Graduation Party?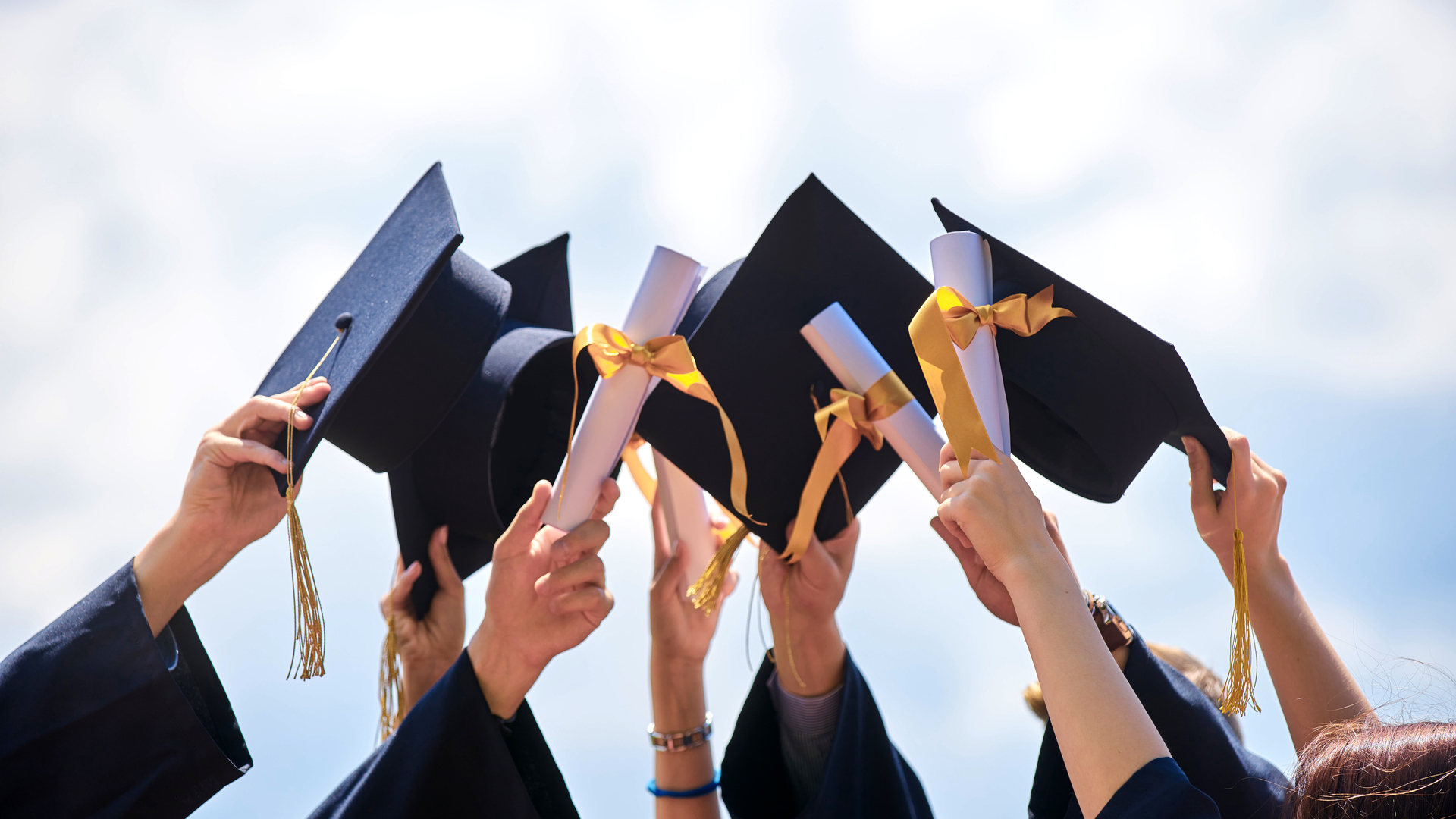 Are you struggling with the subject of how to plan a graduation party? There is no better way to celebrate a graduation than a graduation party. After all, your child deserves a party to celebrate the accomplishments and happy times with family and friends.
Graduation is meant to celebrate the accomplishments of the students, whether its high school graduation, college, or an advanced degree.
We are so proud of all the hard work and many hours of dedication students put into graduate, and you can't wait to share it with your friends and family.
Graduation is an exciting time filled with childhood nostalgia, reminiscing the past, and welcoming the future with open arms.
You have to make sure that children or students have the time of their life. However, we all know the success of a party is in proper planning, but many people do not know where to begin.
To help you and solve all your problems we are here with a guide on How to plan a graduation party.
Before you throw a graduation party, you should keep these things in mind for the smooth graduation party planning.
Pick Theme and Style for Graduation Party
The theme and style you pick will help you plant the other parts of the party better.
Some possible themes that you could go for are:-
Keep It, Fancy: make the graduation party a little fancy event. Ask all the kids and adults to dress fancy and formal. To decorate, use china dishes, linens, and floral arrangements for an elegant look.
Laid Back Theme: if you want your guests to be comfortable and relaxed, then let them free to wear whatever they like and what they feel comfortable in. use plastic servings and paper goods, also keep the food and decor pretty simple
Open house: Host a graduation open-house luncheon and celebrate your graduate star. For decor, you can incorporate twinkling decorations, and for food, you can even serve star cookies.
Aloha Magic– nowadays, the Luau theme is very popular for the graduation party. Ask your guests to dress in fun, tropical outfits.
Pro tip
If you have other friends planning a party on the same day and in that case your friends will be hopping parties and won't stay in one place for a long time. In such a case, you should host an open house graduation party.
You can also make your own theme according to the likes of your child. For instance, if your child wants admission in a college of England, then make a theme revolving around England.
READ MORE: Adoption Party Ideas
Creating a Budget for Graduation Party
Some important items that need to be included in your budget lists are:
Invitations and postage
Decorations
Food
Balloons
Centerpieces
Flowers
Tableware
Beverages
Caterer
Photography and video
Tent rental
Catering hall
Entertainment
Party favors
Equipment rental (such as chafing dishes, popcorn machine, karaoke machines, etc.)
Thank you notes and postage
READ MORE: How to Throw an Outdoor Party?
Hiring Entertainment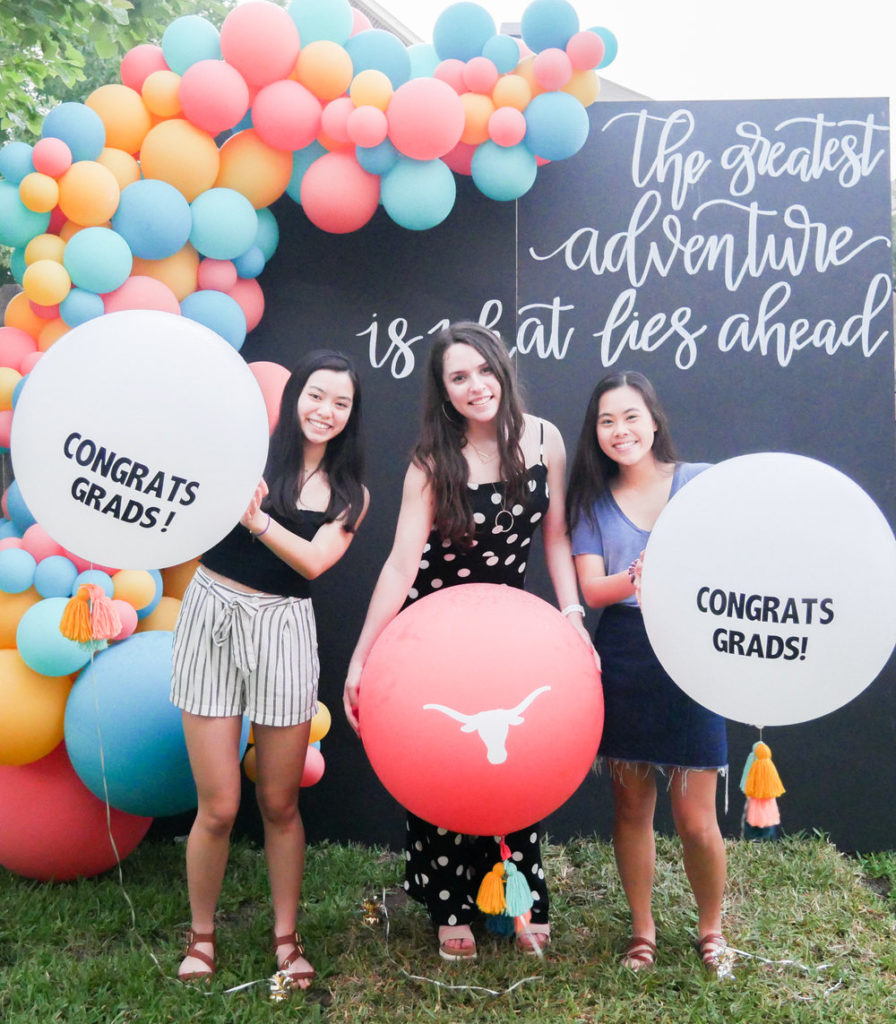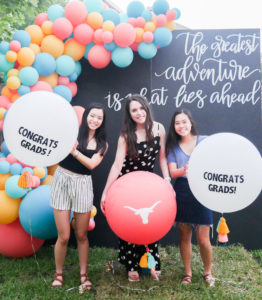 High school students love to party and dance on their favorite songs played by a DJ.
You can choose the source of entertainment based on your theme for the party.
If you don't have enough budget to call a professional artist, you can also make your own party playlist of all the songs that are loved by students.
Order, Send Invitations
You can send engraved and traditional invitation or something whimsical like a diploma look-alike invitation. You can order thank you notes along with your party invitations.
This way, you will have to thank you notes ready at hand and can be sent as soon as the party ends.
If you have a limited budget, you should rather stick to the electronic invitation and thank you notes.
READ MORE: Brunch Party Ideas
How to Plan a Graduation Party Menu?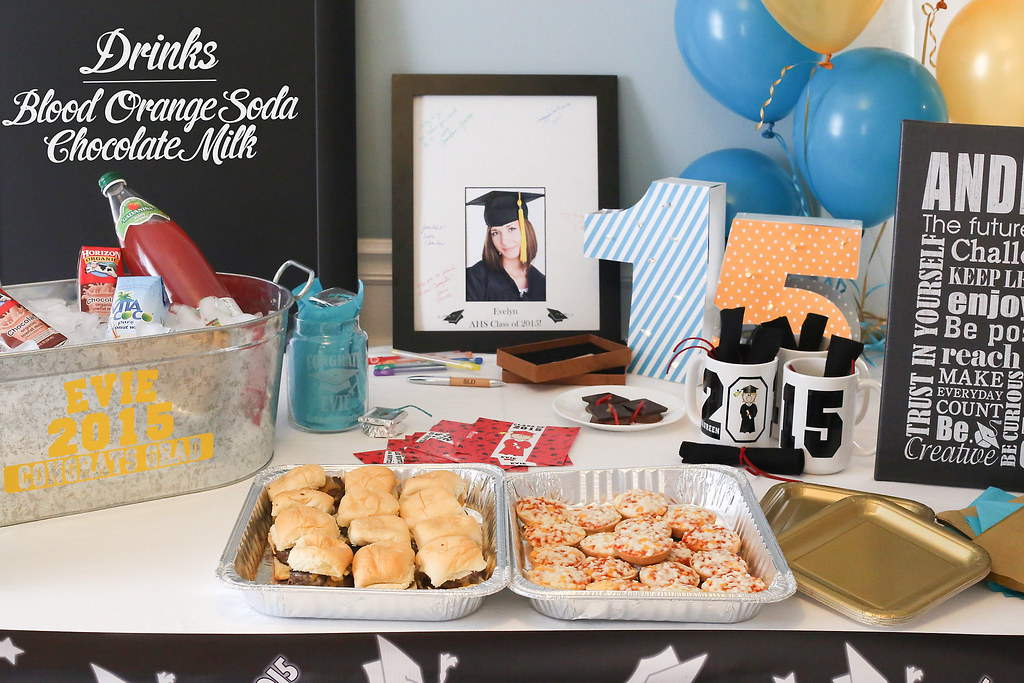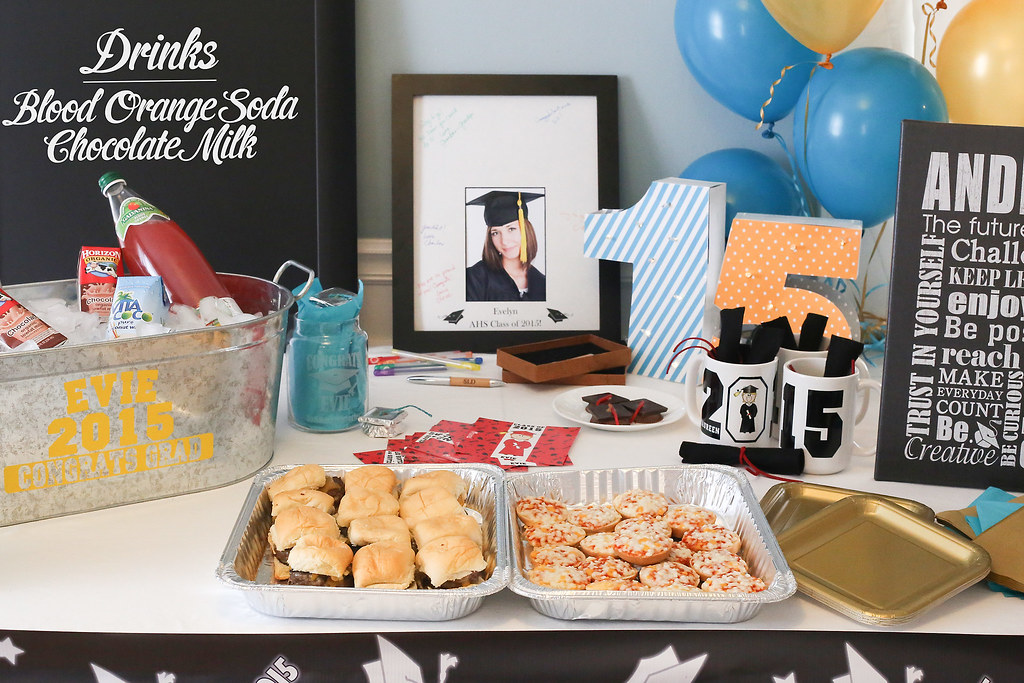 When you throw a graduation party, the first thing to figure out is whether you will cater to the food or cook at home.
If you are planning to hire a caterer, meet them a few days earlier so that you can plan the menu to match your party theme and also add some of the graduate's favorite dishes.
If you cook the food at home yourself, you need to make a detailed timetable for the party and list when to shop and when to start cooking.
Choosing the Decorations
If you are going with a theme and let the theme be the deciding factor for other elements of the party, graduation is also a theme in itself for the party.
You can use diplomas, caps for decorating. Also, use photos for decor, trophies, newspaper clips, and set them around the party area.
Make sure you first confirm with your child, you wouldn't want to embarrass them.
READ MORE: Tapas Party
Guestbooks and Messages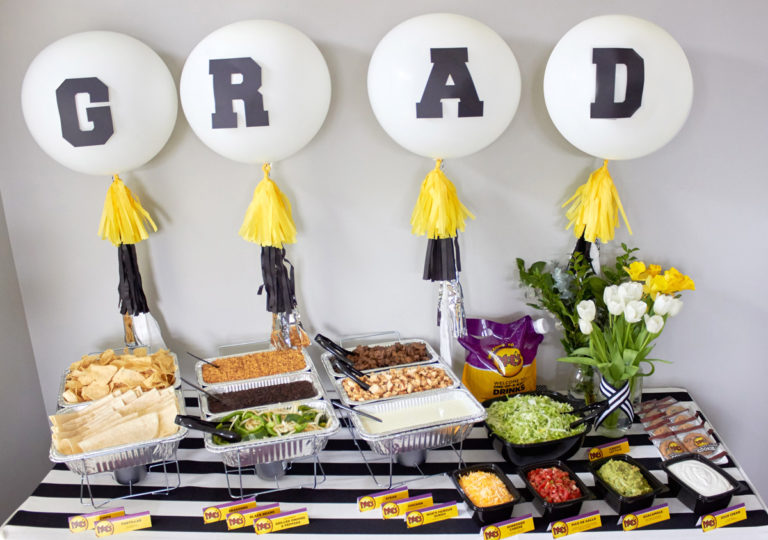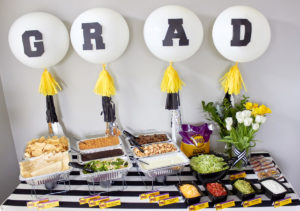 You can set a large board or poster where guests can sign with a note for the grad. Make some good memories with your friends to remember for the lifetime
Invite party-goers to make the party even more memorable in the guest book also make sure to include photos with the personal message.
Graduation party checklist
1+ Month Before
The date for the graduation party should be set at least one month in advance, so the guests get enough time to prepare for the event. Large rental things like tents should be ordered one month before.
3-4 Weeks Before
You should compile your guest list and send out an invitation for the graduation party at least three weeks in advance.
2-3 Weeks Before
Grocery lists, party supplies, and other small items and small tasks should be completed during this time.
1-3 Days Before
The last-minute preparation like cleaning the house, decorating preparing food should be completed one day before the party so that you are not surrounding the last minute.
If you can maintain a proper schedule your are graduation party prep will go smoothly and you will be able to enjoy the party.
Make friends, make memories; that's what life is all about. I have summed up about the graduation party ideas here. But if you have got any better idea of how to plan a graduation party, please feel free to write to us.
READ MORE
Kid's First Birthday Party on a Budget