An Ultimate Wedding Party Checklist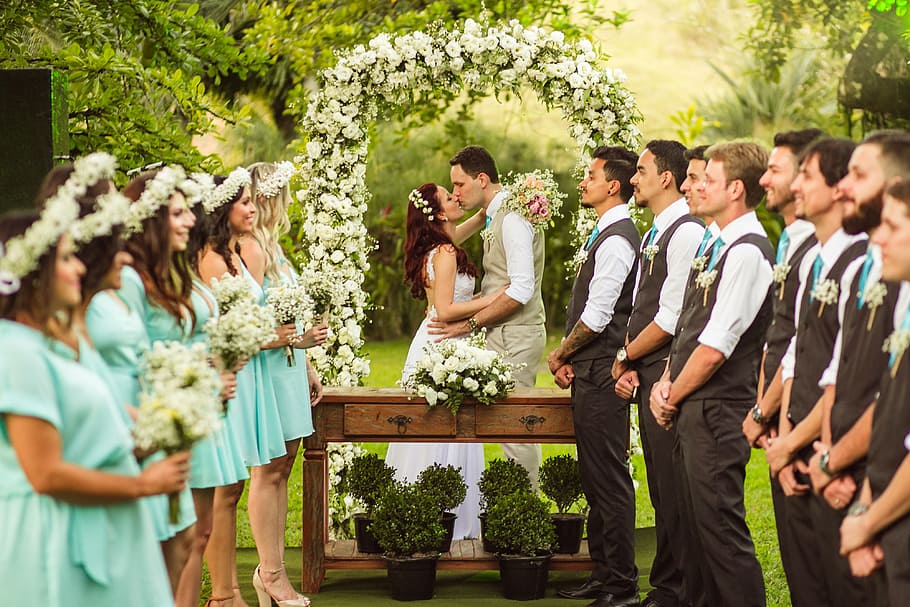 Have you planned for your wedding party? Not sure where to begin? Don't worry! In this article, we have listed the complete checklist of your bridal party. The wedding party is not less than a festival where people come together for a wedding partner's happy future. It is a custom where all people follow their traditions and cultural practices to celebrate the wedding day. 
Create a wedding attendant list to keep your guests informed about your wedding plans, such as the venue and timing of all events. 
Here we have prepared an ultimate guide of elements, weeding attendants and decoration aspects of your wedding party. 
Let's first discuss the various elements involved in a wedding party!
Elements of a Wedding Party 
Here we have listed the elements of a wedding party that are essential for making your day special. It includes-
The Cover
The cover of your wedding party is the most significant element. It includes crucial information such as the date, names of the couple, location, decoration, and ceremony's time.
To add some personalization, make the party theme match your wedding invitations to harmonize the efforts.
The Order of Events
If you haven't prepared invitations including your names, location, wedding date and time on the front cover, do make a list of useful information such as-
Greetings
Readings
Wedding music
Prayers
Ring ceremony rituals
Exchanging vow ceremony
Pronouncement of marriage
ceremony music
Recessional music
Thank yous
Memorials to honor wedding partners
Poems about love or marriage
Directions to the reception
You must consider the above mentioned-points as the significant element of your wedding bell. Do prepare a proper list to manage things smoothly without a panic attack at the last moment!
List of Significant Wedding Roles
A wedding is the most important day for marriage partners. It is the special day where all meet and greet to celebrate their happiness. Here is the list of significant members which includes-
Honor Attendants
Best Man
Bridesmaids
Maid/Matron of Honor
Bridesmen
Father of the Bride
Father of the Groom
Groomsmen
Groomswomen
Flower Girl/Child/Pet
Ring Bearer
Junior Bridesmaids
Mother of the Bride
Mother of the Groom
Chuppah Carriers
Shusha Vim
Koumbaro/Koumbara
Officiant
Ushers
Candle lighter
Flower Decoration for Wedding Party 
Choosing the right wedding flowers takes a lot of effort and planning. You must know how many flowers you will be requiring. Ensure the right selection of flowers for the different wedding ceremony.
Flower decoration is the most significant element required for a different ceremony. As you research wedding flowers, prepare a list within your floral budget. Here we have developed a flower list you may need to decorate at different spots for ceremonies.
The Bride's Wedding ceremony Flowers
Flowers for bride's hair
Bridal bouquet
Flower girl basket decorations
Bridesmaid's bouquets
Flower girl headpiece
Flower girl petals to toss
You must consider these flowers for different purposes.
Roses, lilies, and tulips are formal and right choices for bridal bouquets.
You can choose lighter colors for bridesmaid's bouquets.
Bride's bouquet must be fresh and vibrant.
A headpiece must be constructed of handcrafted flowers. It should involve light colors such as white, pink, green, and yellow that will grace your flower girl's head.
For the Ceremony
You must decorate the different locations with flowers-
Central arrangements
Chair decorations
Candles
Flowers to decorate: Daisies, Roses, and gardenia.
To decorate the reception
Cake decorations
Centerpieces for each table
Buffet table decorations
Entryway arrangements
Bar decorations
Flowers to decorate passed trays
Flowers for decoration- you may choose freshly picked blooming flowers to decorate the ceremony. You can choose flowers such as roses, peonies, and ombre flowers.
Checklist for the Preparation
Here is the checklist of wedding preparations-
A month before Your Wedding
Decide your wedding vows
Check trial hair and makeup
Final fitting of your gown
Decide your wedding rings
Start preparing DIY elements of your wedding
Make thank you cards
Decide a professional photographers
Get a facial and skincare routine.
A week before Your Wedding
Prepare a bridal kit of products such as lipstick, tissues, band-aids, safety pins, etc.
Make alternative plans to in case of the weather emergencies
Make a spa day to pamper yourself
The Wedding Day
Eat breakfast
Give the rings to the best man and maid of honor
Join makeup and hair appointments
Ready photographer in the wedding party process
Spend a lot of time getting ready for your special day
Exchange gifts
Get well dressed
Get married!
Final Words
Make your wedding party the most memorable day of your life. Follow this amazing bridal party checklist to start the preparation at least a month before your wedding. Invite all significant wedding attendants and show them sweet gesture for attending your special day. 
The wedding party must involve everything right from the invitation to the party gifts. Plan and prepare according to the above-mentioned list. It will help to ensure you don't miss anything at the wedding party. Come on, it's your wedding party! Splash Champagne and make it a blast.
Comment down below if you found this checklist helpful for your wedding party.