Best Rides at Hershey Park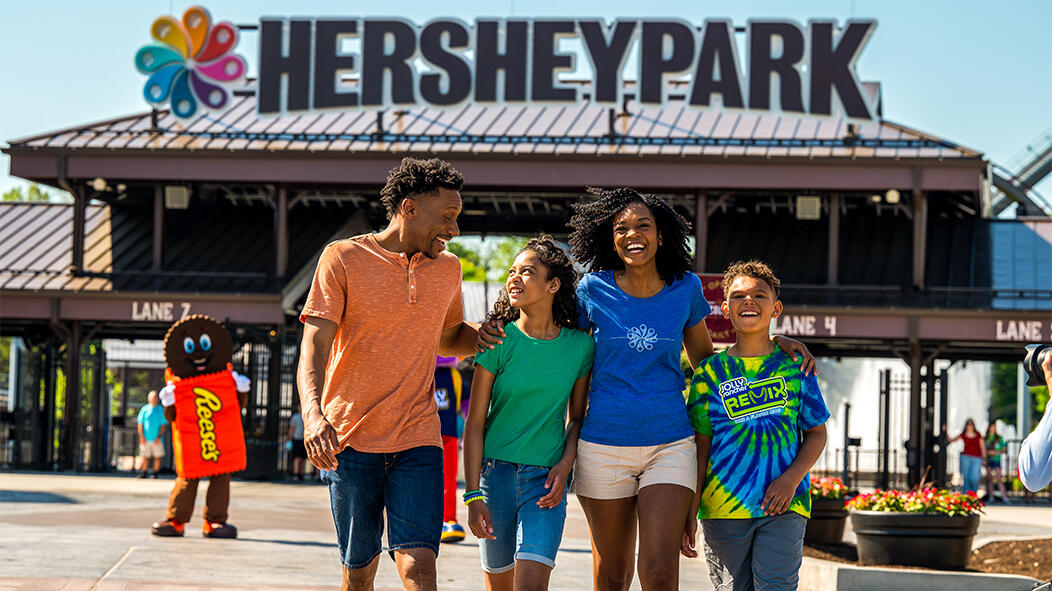 People from all over the world are flocking to Hersheypark, often referred to as the sweetest place on earth. People like Hershey Park rides because of its famous and unique collection of roller coasters.
Hersheypark covers 121 acres and features 70 attractions, with 15 different roller coasters to suit various preferences. These coasters range from gentle rides like Trailblazer and Cocoa Cruiser to heart-pounding experiences on Skyrush and Candymonium, making Hersheypark famous for its diverse coaster selection.
If you're looking for a comprehensive list of rides at Hershey Park, you're in the right spot. The upcoming season promises fun for the entire family, highlighted by the introduction of the brand-new roller coaster Wildcat's Revenge. It's an excellent time to explore the park's offerings, and you'll find that Hersheypark offers more than just delicious chocolate.
Do you know what are the best rides at Hersheypark, Pennsylvania? Keep reading because today, we'll take a closer look at each section of Hersheypark and highlight some of the rides at Hershey Park you can enjoy there. This is a fantastic opportunity to learn more about the park, its history, and what it has to offer.
Hersheypark, known for chocolate and exciting rides, is a sweet spot in Pennsylvania. It was Established over a century ago by the chocolate king himself, Milton S. Hershey. Hersheypark offers a dizzying assortment of attractions, from heart-pounding roller coasters to enjoyable, family-friendly rides. It's a recipe for fun that's just as enticing as the famous chocolate that made the town renowned.
Now, let's focus on the rides at Hershey Park. The park has something for everyone, from thrilling drops and loops to charming carousels and refreshing water rides. Every corner you turn in this delightful amusement park reveals a new adventure, whether it's a high-speed roller coaster or a peaceful ride on a whimsical Ferris wheel.
Hershey, Pennsylvania, offers more than candy bars; it's a town full of iconic treats and thrilling adventures. For history and sweets, visit Hershey's Chocolate World, but if you crave excitement, head to Hersheypark.
| Address | 100 Hersheypark Dr, Hershey, PA 17033, United States |
| --- | --- |
| Hours | Closed, opens at 5 PM on Fridays |
| Opened | May 30, 1906 |
| Area | 49 hectares (ha) |
| Phone | +1 800-437-7439 |
| Roller Coasters | 15 |
| Owner | Hershey Entertainment and Resorts Company |
| Water Rides | 16 |
| Slogan | Hersheypark Happy |
| Total Attractions | 75 (as of 2023) |
| General Manager | Vikki Hultquist |
| Operating Season | Easter Weekend, late April–mid-late September, Halloween, and Christmas |
| Other Rides | 45 |
Hersheypark's History
Hersheypark, which might seem new, has a long history linked to the town and the chocolate business. It all began when its founder, Milton Hershey, wanted to give his hardworking employees a place for leisure.
The park opened in 1906 but wasn't the amusement park we know today. Back then, it was a peaceful spot for picnics and canoe rides.
As time went on, the park started to change. They added a merry-go-round, and that marked the beginning of its transformation into the amusement park we love today.
Over the years, they added more attractions like an amphitheater, bowling alleys, and a scenic railroad.
In 1912, a big carousel joined, and a roller coaster came later. Soon, they had flume rides, fun houses, and penny arcades.
In the early 1970s, Hersheypark made a big shift from being known regionally to becoming a famous national attraction.
Then, in 2007, they added a water park to bring even more excitement. The park keeps growing with new and thrilling rides, so you can always find something fun to do there.
Hersheypark Hours & Dates
Hersheypark is a great place for people who like fun rides and tasty food. You should plan to spend a whole day there because there are many rides to enjoy.
The park usually opens at 11:00 a.m., so if you like to start your day early, you might have to wait a bit. But for some people, this is a good thing because you can have a relaxed morning at your hotel before you go to the park.
In the summer, the park opens a little earlier, which is nice if you want to avoid the big crowds and the hot weather.
Just like other theme parks, Hersheypark can get really busy on weekends. To make the most of your visit and not have to wait in long lines, it's better to go on a Tuesday or Wednesday.
Hershey Park Tickets – Where and When to Buy?
Hersheypark offers reasonably priced tickets that include access to the Boardwalk and ZooAmerica. It's smart to buy your tickets online to save time.
We'll talk more about the Fast Track program later, but for now, just know it's an option to help you make the most of your time.
You can also choose all-day dining and drink plans for a single, affordable price, which lets you eat and drink as much as you want during your visit. You can buy these online when you purchase your tickets, and don't forget the online photo pass voucher, too.
Now that we know all these details, we must move on to know the best rides at Hershey Park in the next section:
Chocolatetown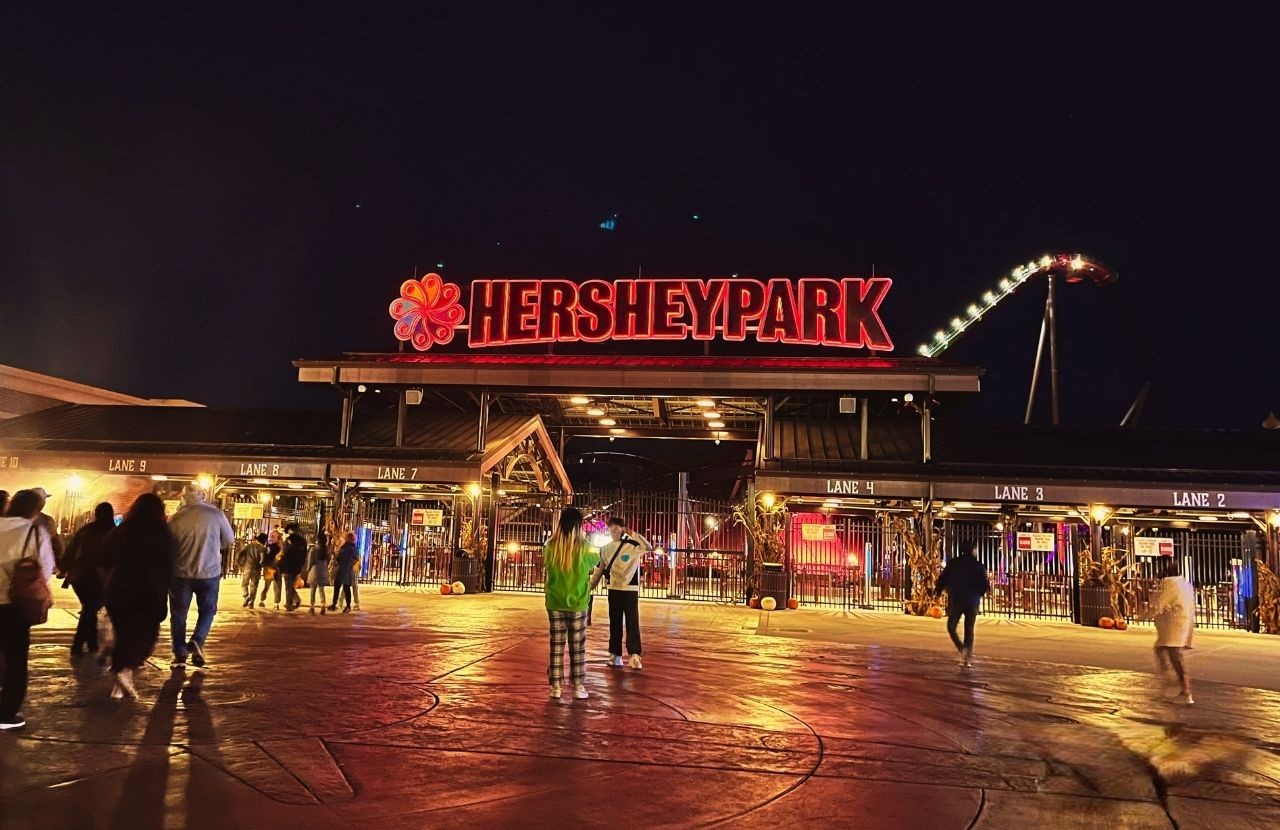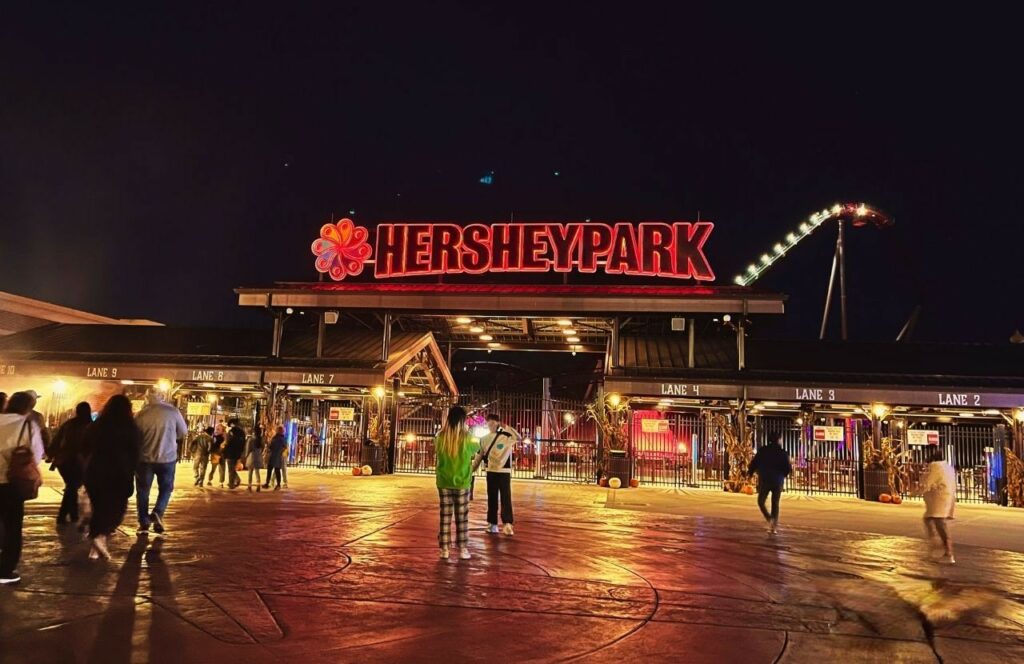 We start our tour of Hersheypark at the newest part of the park and its updated entrance.
The park's entrance was improved in the last few years with a major expansion, costing millions of dollars. It now includes two attractions that celebrate the park's history and what it has to offer today.
Best Rides at Hershey Park (Chocolatetown)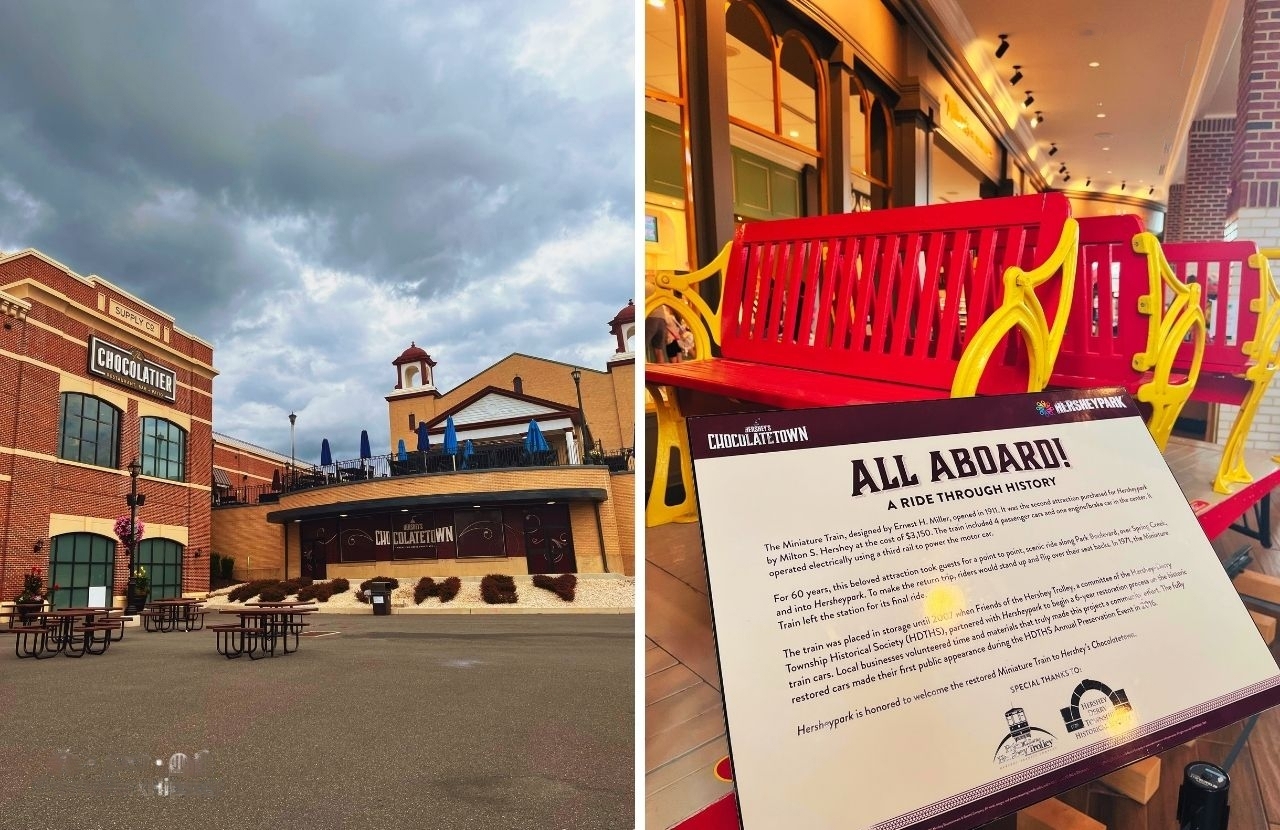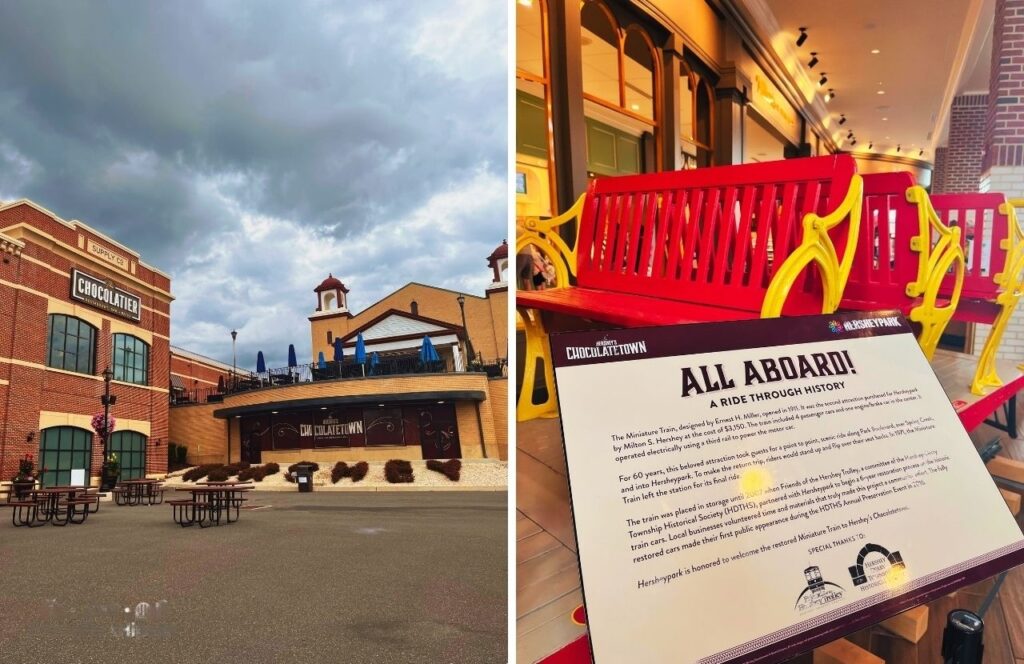 Let's take a simple and enjoyable journey through Hersheypark and discover its exciting past, its famous Carrousel, the sweet world of Candymonium, and the special place called Founders' Way.
The Carrousel
The Carrousel is like a time traveler. It started its adventures in 1919 in Maryland and New York, where it was known as PTC #47. But then, it found a forever home at Hersheypark.
Today, it's 104 years old and has a fantastic Wurlitzer military band organ with 164 pipes, 54 keys, and 16 bells. This special organ plays beautiful music for everyone to enjoy.
In 1978, they carefully fixed up the 66 original hand-carved horses, chariots, and decorations. In 2019, they gave the organ another makeover.
Now, when you visit the park, the Carrousel is one of the first things you'll see, right across from the newest ride, Candymonium.
Candymonium
Candymonium is not just any roller coaster; it's the biggest and fastest one in the park. It's called a "hypercoaster" because it's so big and exciting.
Candymonium is all about candy, like Hershey Kisses, Reese Peanut Butter Cups, and Twizzlers. It's been a hit with visitors and even won some big awards.
Founders' Way
Founders' Way is like a special part of the park. It was once even bigger and used to reach the park's front area before Chocolatetown was created.
At Halloween, this area has a pumpkin patch and a statue that makes the park feel mysterious and fun. It's a nice place to explore.
If you want to know more about the rides and fun stuff at Hersheypark, just keep reading.
Hersheypark has many exciting things to explore, and we've just started our journey. If you have any questions or want to know more, feel free to ask.
Best Rides at Hershey Park (Founder's Way)
In Founders' Way, there's a fantastic ride called Skyview, which is particularly enjoyable during the Christmas Candylane celebration.
Skyview
Skyview is a gondola ride that was constructed back in 1966. It offers a scenic round trip that takes you through the heart of the park, providing incredible views of Spring Creek and the beautiful hollow section.
Reese's Cupfusion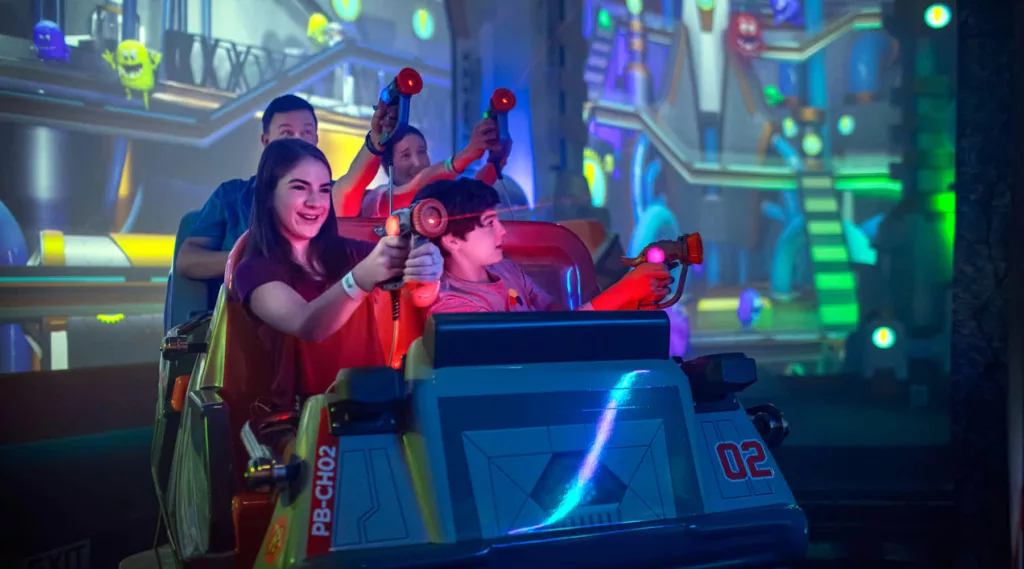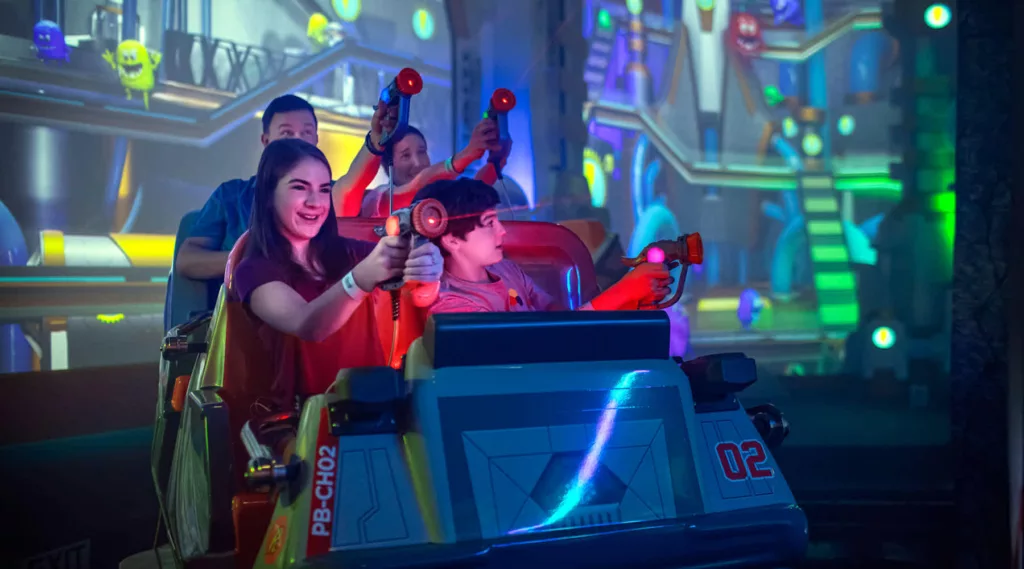 On solid ground, there's another fantastic attraction known as Reese's Cupfusion. This interactive dark ride made its debut in May 2019. During this exciting adventure, riders become security agents at Reese's Central.
Their mission, led by Commander Cup, is to protect Reese's Crystal Cup, which stores the love of chocolate and peanut butter known as Reese's Spirit, providing energy to the factory.
However, there's a villain named Mint the Merciless, along with his gang of candy misfits, trying to steal it for their evil plans. It's a highly popular choice among families for a thrilling experience.
The Hollow
Now, let's explore The Hollow, previously known as "Comet Hollow", due to the park's oldest operational roller coaster. This part of the park is not only the oldest but also one of the original sections.
Over the years, The Hollow has witnessed numerous changes, survived challenges like Hurricane Agnes, and even endured flooding.
So, there's much more history and excitement to discover as we continue our journey through Hersheypark.
Best Rides at Hershey Park (The Hollow)
Today, "The Hollow" stands as a favorite area in Hersheypark, boasting three roller coasters and a range of attractions suitable for families and thrill-seekers alike.
Comet
The Comet, an iconic wooden roller coaster, opened its gates to the public in 1946. This classic ride has earned itself a special place in the hearts of roller coaster enthusiasts.
It's famous for its unique double-back-and-out track layout and its ability to reach speeds of up to 50 miles per hour (MPH). Many young riders take on the Comet as their first "big kid" coaster.
SooperdooperLooper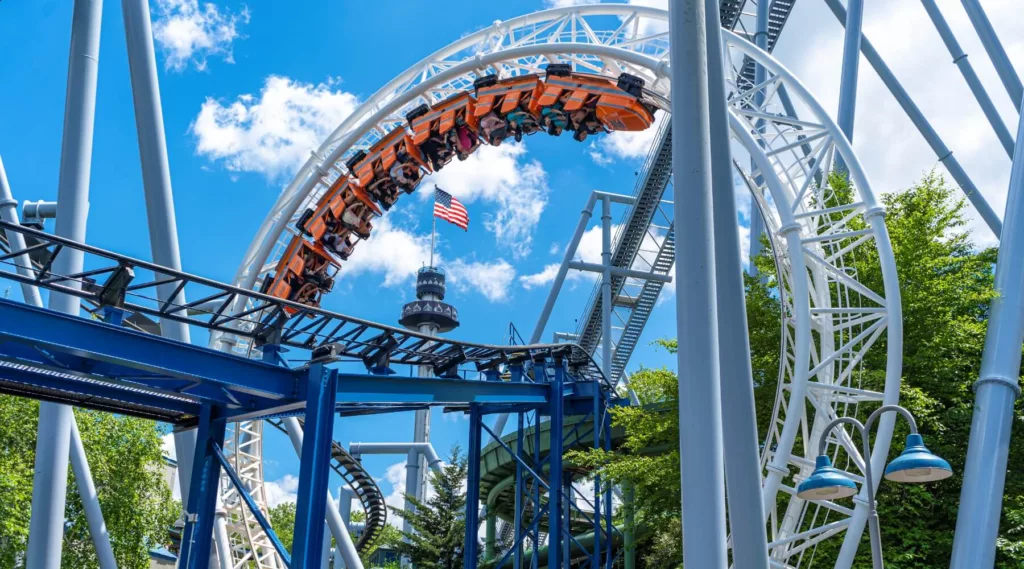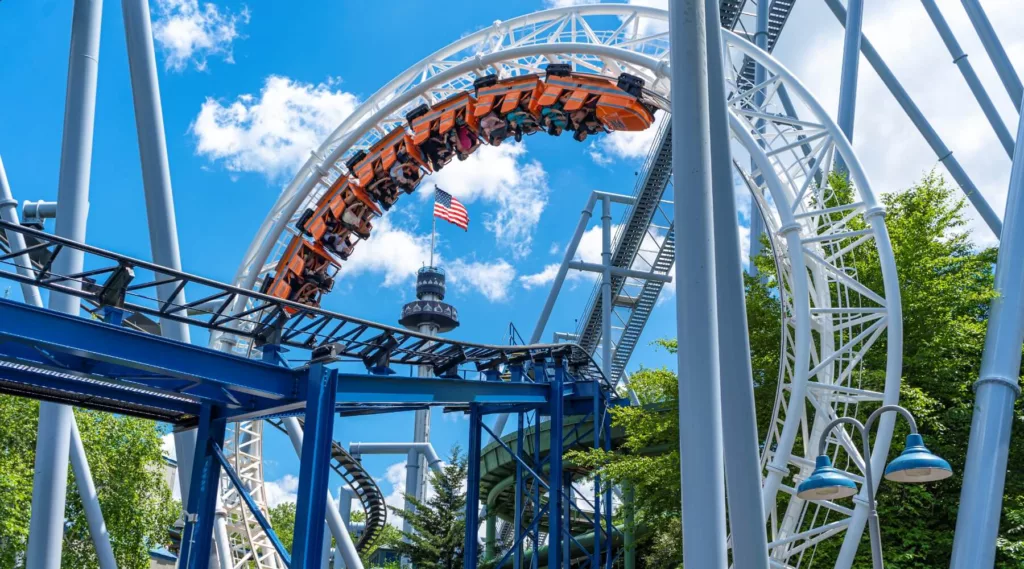 Further into The Hollow, you'll encounter the sooperdooperLooper, a steel looping coaster that became a part of Hersheypark in 1977.
Its arrival brought a surge in attendance, propelling the park into the ranks of the top three amusement parks in the nation. What set this coaster apart was its status as the first looping coaster in the park's history.
Even today, merchandise related to sooperdooperLooper continues to be popular, including unique items like a Barbie doll wearing a "sooperdooperlooper" tee.
Skyrush
Last but certainly not least, we have Skyrush, the latest addition to The Hollow and a must-try coaster at Hersheypark.
Skyrush joined the park's lineup in 2012, marking Hersheypark's third coaster designed by Intamin and the twelfth coaster overall.
It faced some delays before opening due to weather and foundation issues, but it was well worth the wait.
Skyrush is a wing roller coaster known for its thrilling twister layout, reaching speeds of 75 MPH and ascending to a maximum height of 200 feet in about 9 seconds.
During the Skyrush roller coaster ride at Hersheypark, you'll experience a heart-pounding 5 G-forces.
With few exceptions in 2016 and 2020, Skyrush has consistently secured a spot in the top 50 of the Golden Ticket Awards' list of Top Steel Coasters. It even claimed the title of Best New Ride when it first opened its doors.
Kissing Tower Hill
Climbing a slightly steep hill, we reach the top of Kissing Tower Hill, formerly named Minetown until the 2014 season.
The Kissing Tower, an iconic attraction at Hersheypark, has been open to visitors since 1990. It offers fantastic panoramic views of the park.
Best Rides at Hershey Park (Kissing Tower Hill)
Several of the original family-friendly rides were relocated to different parts of the park, like Red Baron.
Kissing Tower
This classic ride offers a full 360° view of Hersheypark. It's one of the best attractions in the park for a peaceful break from the crowds.
Great Bear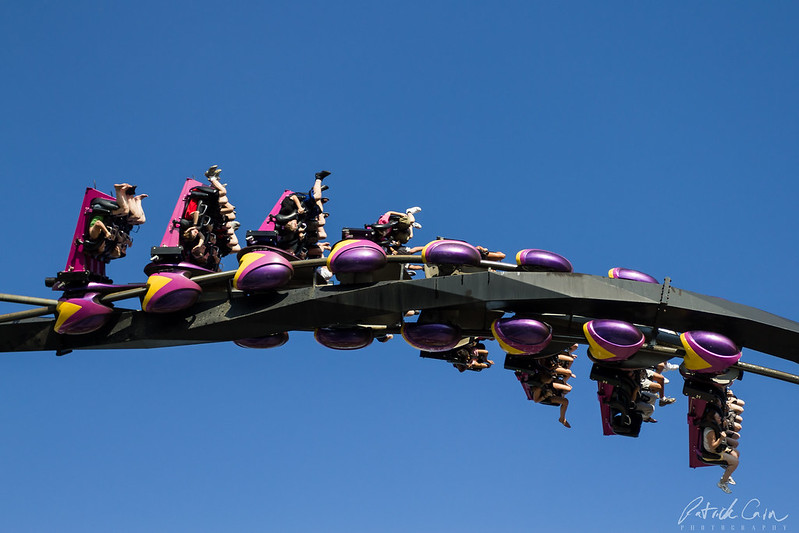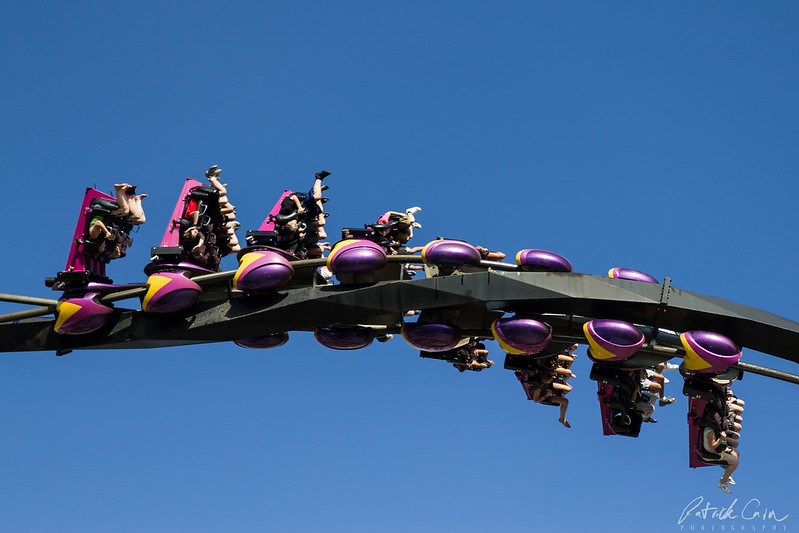 Apart from the Kissing Tower, one of the major highlights of the park is the Great Bear. It might be my personal favorite, but it's undoubtedly one of the best rides in the park.
It was introduced in 1998 as Pennsylvania's first looping, inverted coaster. At the time, it was also Hersheypark's sixth coaster and its fourth steel one.
The Great Bear roller coaster features a thrilling 124-foot drop and four inversions and reaches a top speed of 58 MPH.
When it first opened, it was so popular that Hersheypark had to raise admission prices to support its construction. Today, most visitors would agree that it was a worthwhile investment.
Coal Cracker
Another classic is the Coal Cracker, the park's oldest water ride. Built in 1973, it's a unique log flume ride due to its layout, specially designed to fit the park's distinctive terrain.
If you're not planning to visit the Boardwalk, which we'll talk about later, the Coal Cracker is the must-try water ride.
Pioneer Frontier
This part of the park is a fan favorite because of its thrilling coasters and attractions.
Best Rides at Hershey Park (Pioneer Frontier)
Pioneer Frontier is a part of the park that has a southwestern theme. In this area, you'll find four of the park's roller coasters.
Fahrenheit
Let's begin with Fahrenheit, which made its debut in 2008. It's famous for having six inversions and briefly held the record for the world's steepest roller coaster drop at 97 degrees. This record was soon surpassed by Steel Hawg a few weeks later.
Fahrenheit at Hersheypark is unique because it's one of the few roller coasters worldwide with a Norwegian loop.
The ride features a 121-foot vertical lift, airtime hills, high-speed banked curves, and a cobra roll. The most exciting part is the 97-degree drop on the first hill.
Moreover, there's a 107-foot-tall Norwegian loop with two inversions, starting with an Immelmann inversion followed by a dive loop. This makes it stand out from the standard vertical loops.
The track is approximately 2,700 feet long, and the ride can carry 850 riders per hour. The experience is a thrilling race through the course at a maximum speed of 58 miles per hour, lasting for 85 seconds.
Each train consists of three cars, seating four people each, so you might experience some wait times during the busy summer season.
Jolly Rancher Remix and Mix'd Flavored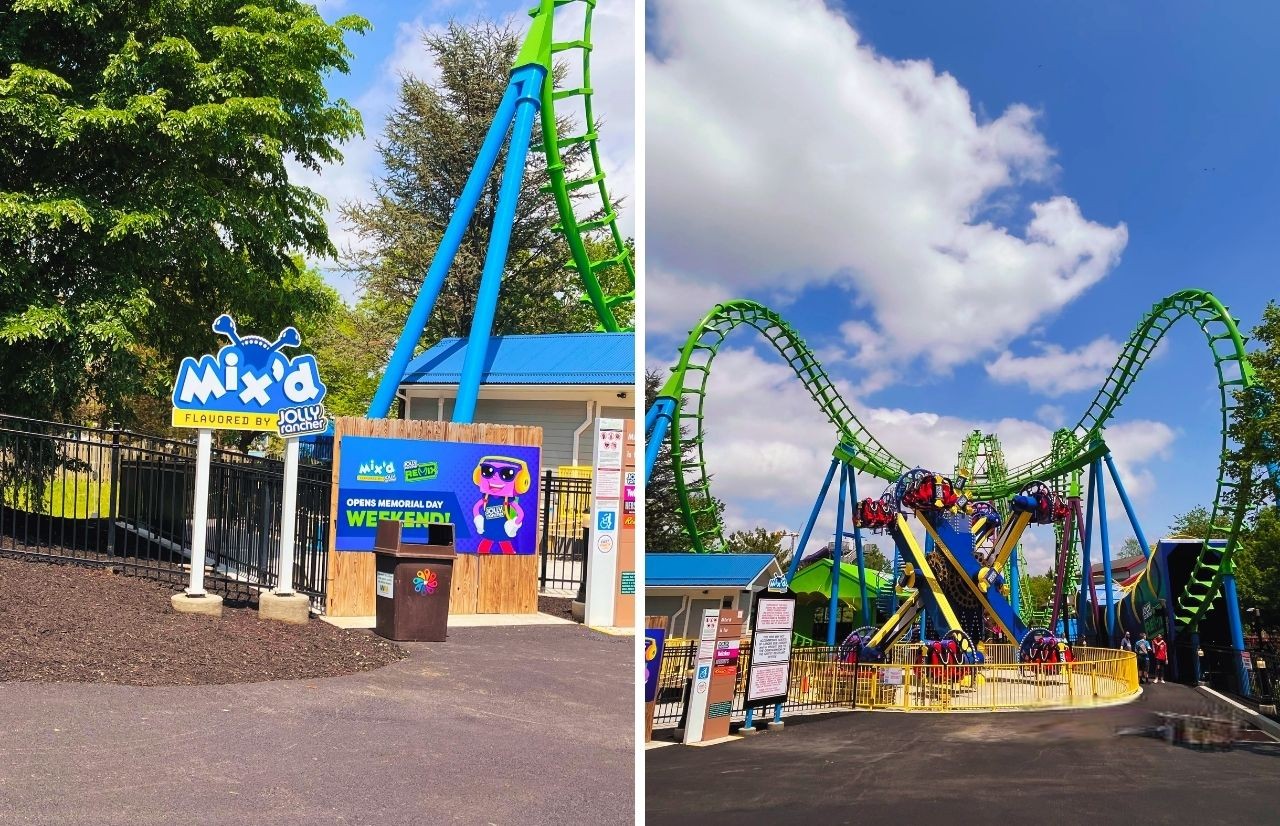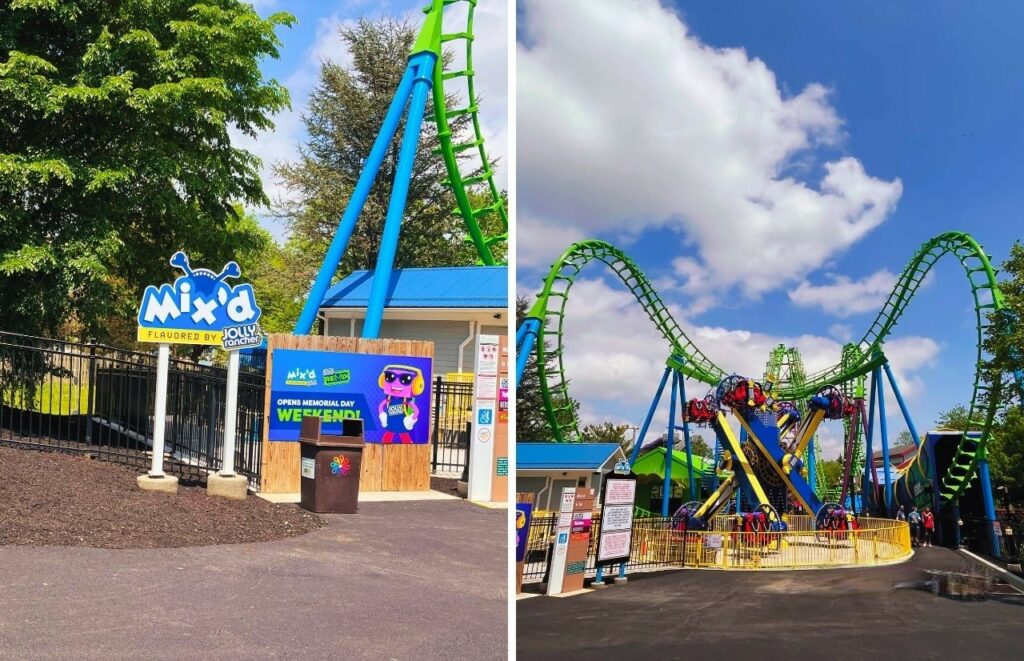 In 2022, the park introduced two exciting new rides: Jolly Rancher Remix and Mix'd Flavored.
Jolly Rancher Remix used to be known as Sidewinder, which opened in 1991. This Hersheypark ride is a boomerang roller coaster inspired by the famous candy.
It reaches speeds of 57 MPH and offers three thrilling inversions. Additionally, it has a special scent tunnel that allows riders to enjoy the delightful aroma of Jolly Rancher flavors as they speed through.
Mix'd Flavored By Jolly Rancher
Mix'd Flavored By Jolly Rancher is a fantastic family ride. It's a 360-degree Ferris wheel that lifts and drops, providing riders with breathtaking views of the park.
Storm Runner
Lastly, there's Storm Runner, and this coaster is a must-try for any thrill-seeker. It opened in 2004, and I had the pleasure of being there during its debut season.
The Storm Runner roller coaster stands at a towering 169 feet and propels riders from 0 to 72 MPH in just two seconds.
It also features a top hat element, three inversions, a dual loading station, and a magnetic braking system.
What sets it apart is that it was the first accelerator coaster to include inversions, making it a thrilling ride for everyone to enjoy.
The Boardwalk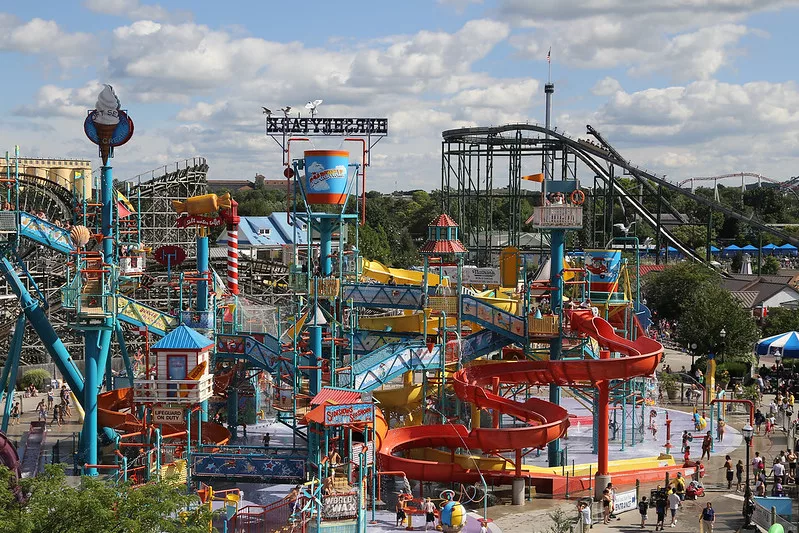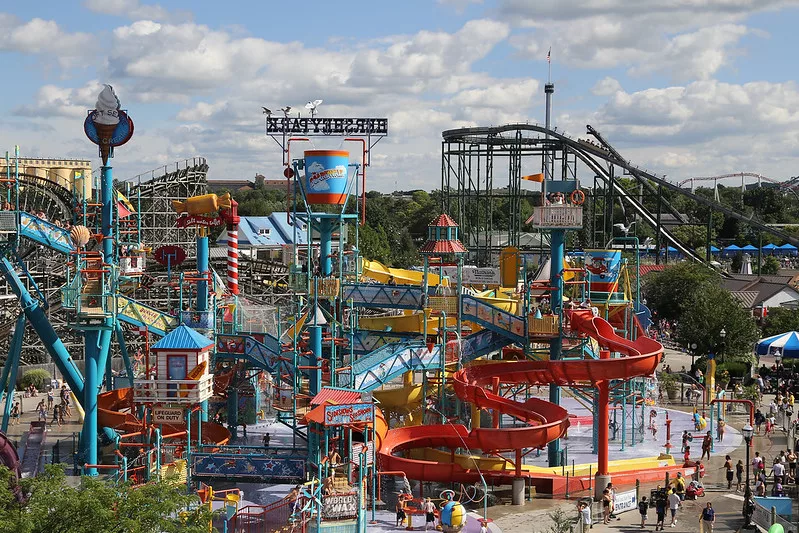 The Boardwalk is a special part of the park created in 2007 to celebrate the park's 100th anniversary. At first, it had five water attractions. But over the years, they added more exciting things to do.
Best Rides at Hershey Park (Boardwalk)
In the summertime, it's a favorite spot for visitors. People come early to be the first to enjoy rides like Breakers Edge Water Coaster, The Shore, and Intercoastal Waterway.
Breakers Edge is a water slide and a roller coaster combined into one. It's super fun, but sometimes you might have to wait in line for a while.
The Shore is a massive wave pool with a gradual entrance, perfect for everyone. It gets as deep as 6 feet, so you can enjoy it no matter how well you swim.
Then there's the Intercoastal Waterway, which is like a long, lazy river. You can float along peacefully because the water is always about 2.5 feet deep. They added this lazy river by replacing the old Canyon River Rapids ride.
Midway America
At the far end of the park, you'll discover an area that's like a nod to the old-time fairs. They call it Midway America, and it opened in 1996. This summer, they're even adding a new roller coaster called Wildcat's Revenge.
Best Rides at Hershey Park (Midway America)
Lightning Racer
This is a classic wooden coaster that's been here since 2000. It's extra fun because it's like two coasters racing each other.
Laff Trakk
This one's great for families, but be ready for lines – it's pretty popular. It's an indoor spinning steel coaster with colorful lights, and it's all about the funhouse vibes from way back when.
Ferris Wheel
You can't miss the Ferris Wheel; it's an icon of Hersheypark. It's been around for a while, and it's something everyone should ride at least once.
Things You Need to Know Before You Go to Hersheypark
So before ending this guide on the Rides at Hershey park, let me answer some of the commonly asked questions.
Q: Does Hersheypark Have Single Rider Lines?
A: Unfortunately, Hersheypark doesn't offer single rider lines at this time. It's not the best news for those of us who like to tackle theme parks solo, so keep this in mind when planning your visit.
Q: What are the 15 roller coasters at Hersheypark?
A: Read this full guide on roller coasters at Hershey Park.
Q: How many rides are in Hersheypark?
A: Hersheypark has seen a total of 142 different rides throughout its history. Today, visitors can enjoy 76 operational rides at the park. Over time, Hersheypark has introduced a total of 18 roller coasters. However, five of these roller coasters, namely Wild Cat, Wildcat, Twin Towers Toboggan, Mini Comet, and Roller Soaker, are no longer part of the park's attractions.
Q: What Rides Are Open At Hersheypark In The Winter?
A: Some of the rides at Hersheypark that are open in the winter are:
Candymonium
Ferris Wheel
Hershey Triple Tower
Jolly Rancher Remix
Laff Trakk
Mix'd Flavored By Jolly Rancher
Reese's Cupfusion
Wildcat's Revenge
Full List of Rides At Hershey Park And Other Attractions
Balloon Flite
Candymonium
Carrousel
Coal Cracker
Cocoa Cruiser
Comet
Convoy
Dizzy Drums
Dry Gulch Railroad
Fahrenheit
Fender Bender
Ferris Wheel
Frog Hopper
Frontier Flyers
Granny Bugs
Great Bear
Helicopters presented by Penn State Health
Hershey Triple Tower
Jolly Rancher Remix
Kissing Tower
Laff Trakk
Lightning Racer
Livery Stables
Mini Himalaya
Mini Pirate
Mini Scrambler
Minty Bees
Misfit Bug
Mix'd Flavored By Jolly Rancher
Monorail
Music Express
Pirate
Pony Parade
Red Baron
Reese's Cupfusion
Scrambler
Skyrush
Skyview
sooperdooperLooper
Space Age
Starship America
Storm Runner
Sweet Swing
Swing Thing
Tea Cups
The Claw
Tidal Force
The Howler
Tilt-A-Whirl
Tiny Tracks
Traffic Jam
Trailblazer
Twin Turnpike – Classic Cars presented by Sunoco
Wave Swinger
Twin Turnpike – Speedway presented by Sunoco
Wild Mouse
Wildcat's Revenge
Hersheypark Water Park Rides
Bayside Pier
Breakers Edge Water Coaster
Coastline Plunge – Hydro, Pipeline, Riptide, Surge, Vortex and Whirlwind
East Coast Waterworks
Intercoastal Waterway
Sandcastle Cove
Shoreline Sprayground
The Shore
Whitecap Racer
Recommendation
Niles Garden Circus Tickets 2023: Your Gateway to Thrills and Wonder
Everything You Need to Know About Drones
Final Statement on Rides at Hershey Park
I hope you found this guide on rides at Hershey Park enjoyable and easy to understand.
Hersheypark has a long history of 116 years, creating wonderful memories for families. Even today, Hersheypark provides thrills and family-friendly fun for everyone who visits.
The rides at Hershey Park I've talked about are just a small part of the park's many attractions, and I expect that Hersheypark will keep adding more in the future.
Hershey Park Full Tour Video 2023