10 Double Sided Fireplaces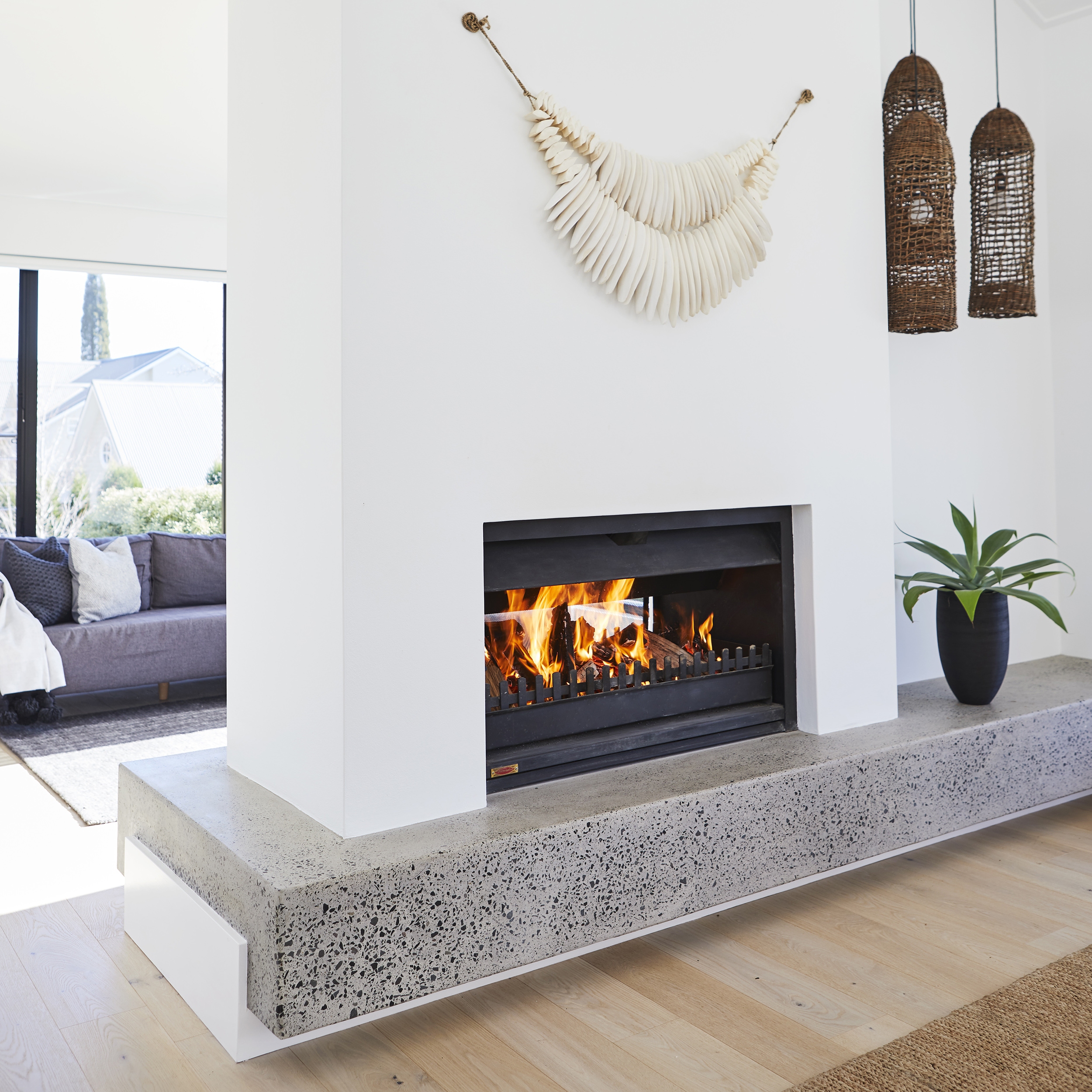 Double-sided fireplaces enhances the beauty of your home and makes it modern and cozy. A roaring fire can give you the utmost homey comfort and mental peace than any other equipment. No antique piece can give your home that looks, which an eye-catching and fierce fireplace can. Thus, what makes your home interior more lavishing than an attractive fireplace?
One of the most trending concepts of a fireplace these days is a double-sided fireplace that makes your house look bold and adds warmth to the adjoining rooms. A two-sided fireplace also allows the light to travel from one room to another even when there is no fire lighting up. 
What Is Double Sided Fireplace?
A double-sided wood fireplace is a type of modern fireplace in a house that offers the warmth double and requires space to set up double than the traditional fireplace.
As this is the modern design fireplace, 2 sided fireplace is the best modern home designing concept that requires enough area for installation and can be at the outdoor or indoor rooms that makes your fireplace aesthetically cohesive area that connects all rooms with fireplace wall. 
Thus it is a modern concept of fireplace that makes your look luxurious as well as keep your entire home warm and lighten up.
Some Modern Double Sided Fireplaces Concepts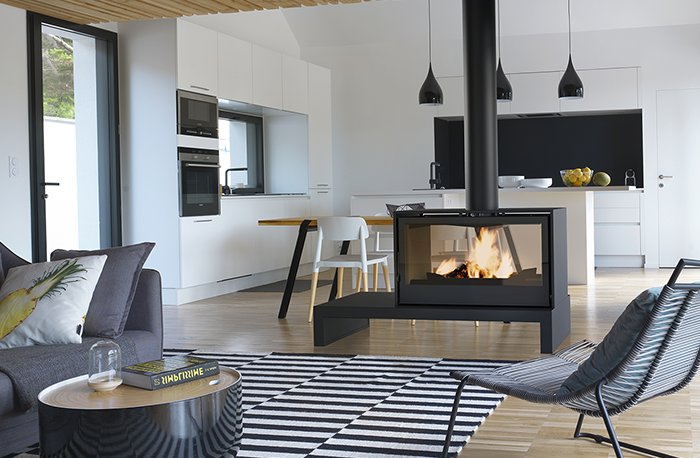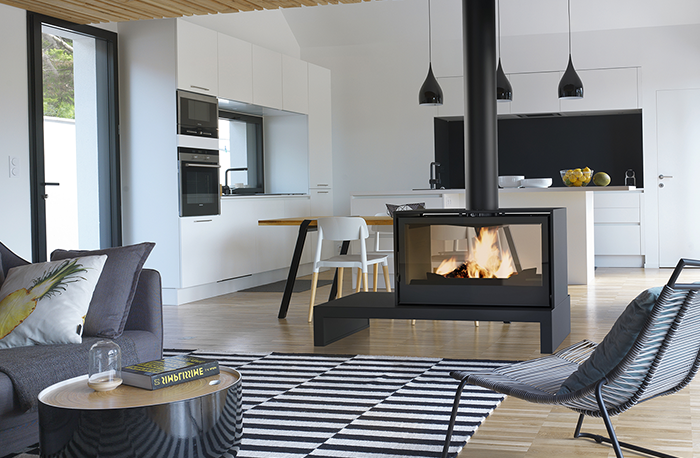 You may be curious about installing a modern double-sided fireplace in your home and convert your home interior into a lavish space. Here below are some contemporary two-sided fireplace designs that you can take into consideration:
Modern-Pop Two Sided Fireplace
With the poppy color living room walls like orange, green, red, and yellow, installing a double-sided fireplace can give your living a divider and add structure to the other space with a different color. This also gives your guest to explore the different sides of your living room.
Sleek & Luxurious Double-Sided Fireplaces
This textured and contemporary design will separate the kitchen and living room while offering warmth to the entire space. This design work as the room divider fireplace that is decorated with contemporary style and functionality, giving cohesive space between rooms.
In this fireplace design, the room remodeled with lower seating arrangements with grey fireplace walls and blue hue small round shaped seats. 
Music Room Two Sided Fireplaces
This modern fireplace design will separate the living room and your music room with the wall of the fireplace. This fireplace style not only adds lavish beauty to your living space but also add warmth and contemporary style to your house. A fireplace in your music room makes a great sense of comfort, and your guest will enjoy it allot.
The fireplace room divider also allows the music to easily and clearly pass to the living room where your guests are sitting. The fireplace light up both the rooms with the same intensity that gives it is lavish feeling. 
Minimalist Two Sided Fireplaces
If you have a little living room space, then this minimalistic fireplace design is perfect for you. It is a small fireplace between the living room that separates the living area and rooms. This minimalistic two-sided fireplace creates a visual effect of a crackling fire and adds literal warmth to all the adjoining rooms.
Pros. And Cons. Of Double-Sided Fireplaces
As you may already know, everything has its own pros and cons, so do double-sided fireplace has its own. The pros and the cons of a double-sided fireplace depends on the placement of it.
If the fireplace in your living room is at the end, then the heat may not reach the other rooms and kitchen appropriately, whereas, if the fireplace is at the right place or mid of the living room, warmth will reach every room equally. 
Here below are some pros. and cons. of installing a double-sided fireplace in your home.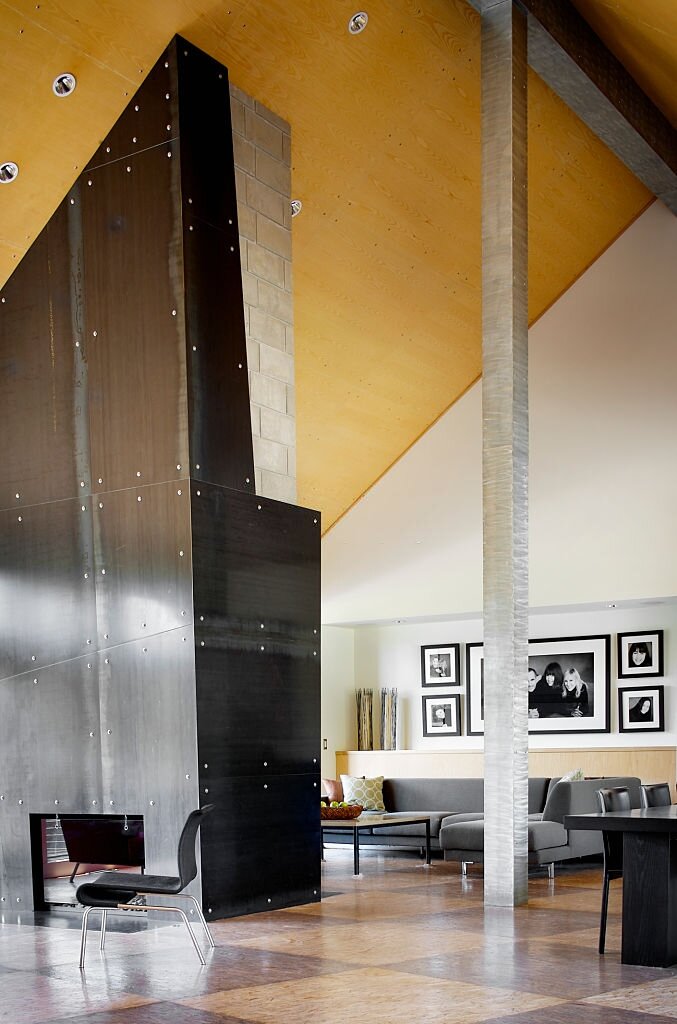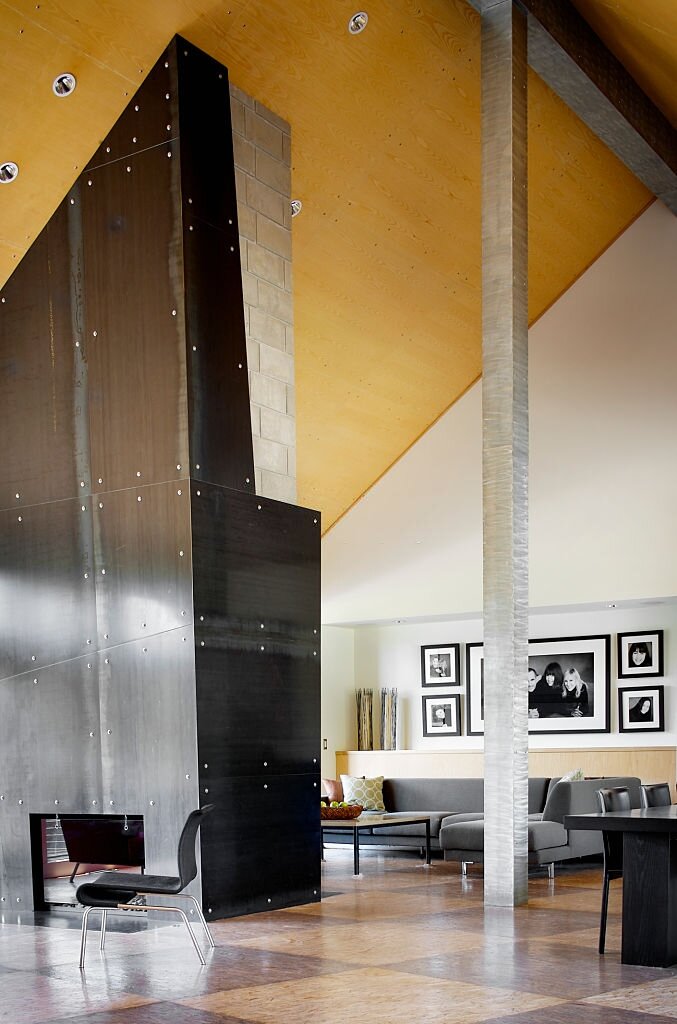 Pros. Of Double-Sided Fireplaces
Safe: Two-sided fireplace is much safer than any other type of fireplaces. This is enclosed by the fireproof and sturdy glasses that keep your child from getting near the fire. 

Evenly Distributes Warmth To Every Room:

Mostly, the two-sided fireplace installed between the large area that connects the rest of the rooms in the house. This makes the warmth evenly distribute throughout the rooms, which is not possible in the traditional fireplaces. 

Luxurious Centrepiece Of House:

This contemporary fireplace effectively distributes the warmth evenly in all parts of your house, but it also enhances the interior of your house. Every homeowner wants something in their house that is completely different and enhances their house's interior appearance. This contemporary and luxurious design fireplace makes your home look extremely stylish and grab the attention of all those who enter your home. 
Cons. Of Double-Sided Fireplaces
High Cost Of Installation:

This concept of the fireplace is still a new fireplace concept in the market, and not everyone knew about it. So whenever any new technology or ideas come into the market, the cost of purchasing them or using them is always high. Similar is with the double-sided fireplace; this new type of fireplace is a highly expensive concept. If you have extra savings and a good budget, you can surely spend your money on this investment and add a new design to your home. 

Mismatch Concept:

Fireplace installation is a mismatch concept in which your home design and fireplace won't go in a line. When people go for installing a two-sided fireplace, they usually try to give their interior a distinct design. Some people try their hands to add distinct designs for every wall that leads to ruin the entire design of the house. 

Less Wall Support:

If you are installing a 3 feet high two-sided fireplace, then that is good, and you do not require any accurate and sturdy wall support. If you are placing a two-sided fireplace up to the ceiling, make sure to get proper wall support to the fireplace. If there is not accurate and good wall support, then there are high chances that the fireplace will collapse any day.