Quick and Easy Thanksgiving Recipe Ideas for Thanksgiving Potluck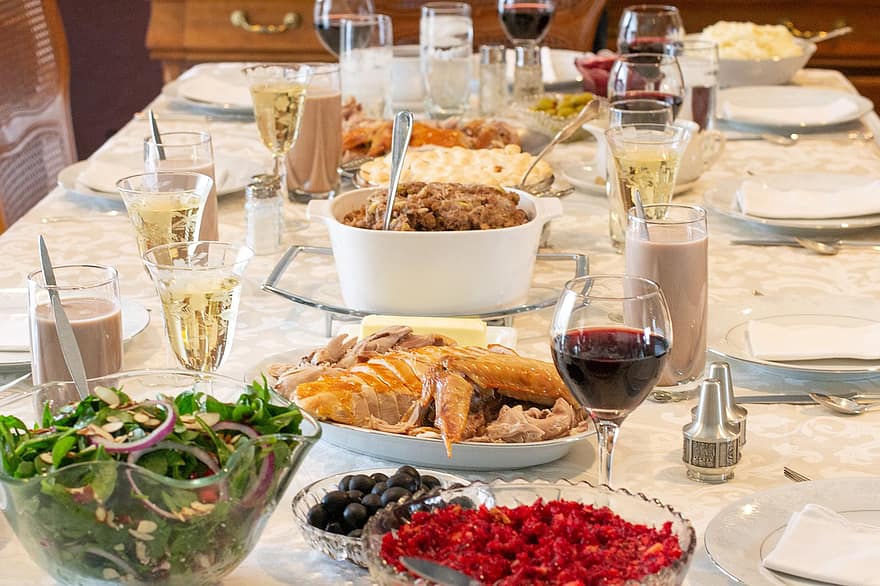 Thanksgiving potluck ideas may be the last thing in your mind if you are cooking your thanksgiving feast. Coming up with potluck ideas for friends or coworkers can seem overwhelming.
Don't worry, we have got you covered. Luckily we have put together some quick and easy last-minute thanksgiving recipes. These recipes can feed a crowd and transport easily without fuzz.
Let's have a look at the Thanksgiving potluck ideas:
Cheese ball bites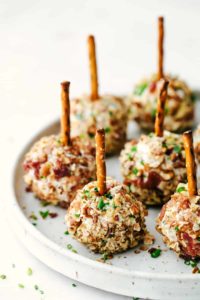 There is no occasion where cheezy bites do not fit.
Adding the little pretzel handles makes it easy to pick and eat.
If you are planning to make the night before, then refrigerate for 1 hour before serving and then take them out to sit at room temperature.
Everybody loves cheese ball bites no matter what the occasion is.
INGREDIENTS
1.

8 slices of bacon


2.

1 1/2 (8-oz.) blocks softened cream cheese


3.

1 tsp. garlic powder


4.

1 c. shredded cheddar


5.

Kosher salt

6.

1 tsp. paprika


7.

Freshly ground black pepper


8.

1/3 c. finely chopped pecans


9.

1/3 c. freshly chopped chives


10.

18 pretzels sticks
DIRECTIONS:
Cook bacon in a large skillet for 8 minutes until crispy.
Drain on a plate lined with a paper towel, and chop finely. Keep it aside.
Take a large bowl, and stir cheddar cheese, Cream cheese, paprika, garlic powder, salt, and pepper, together.
Use a cookie scoop to make small balls with the mixture and transfer on a baking sheet lined with parchment paper.
Refrigerate for 1 hour.
Take a shallow bowl and stir chives, bacon, and pecans.
Roll balls in this mixture and insert a pretzel stick into each ball.
Let them sit at room temperature for 15 minutes before serving.
READ MORE: Food Ideas for Tapas Party
Cranberry brie bombs
Biscuits, brie, and that too bite-sized. The best ever potluck dish idea for thanksgiving.
INGREDIENTS:
1.

Cooking spray


2.

All-purpose flour


3.

1 wheel brie


4.

1 tube biscuit dough


5.

4 tbsp. melted butter

6.

1/2 cup cranberry sauce 


7.

1 tsp. thyme leaves, chopped


8.

1 tsp. Pinch flaky sea salt


9.

1 tsp. Rosemary  chopped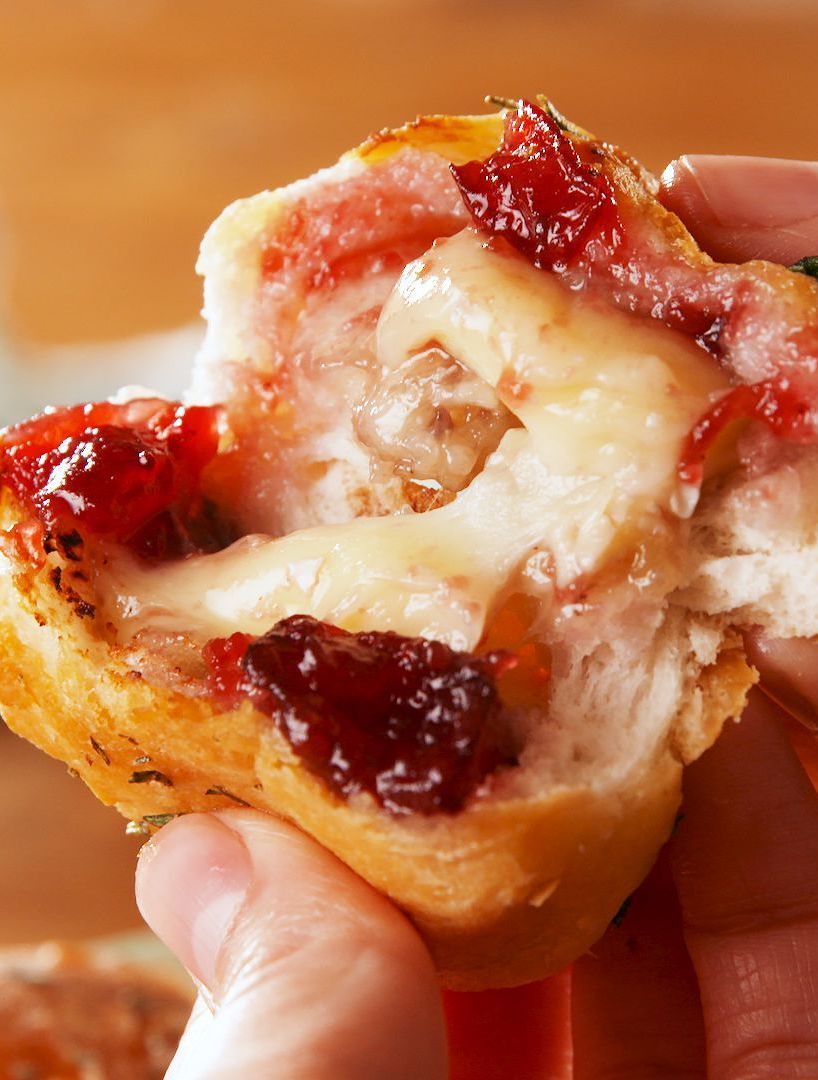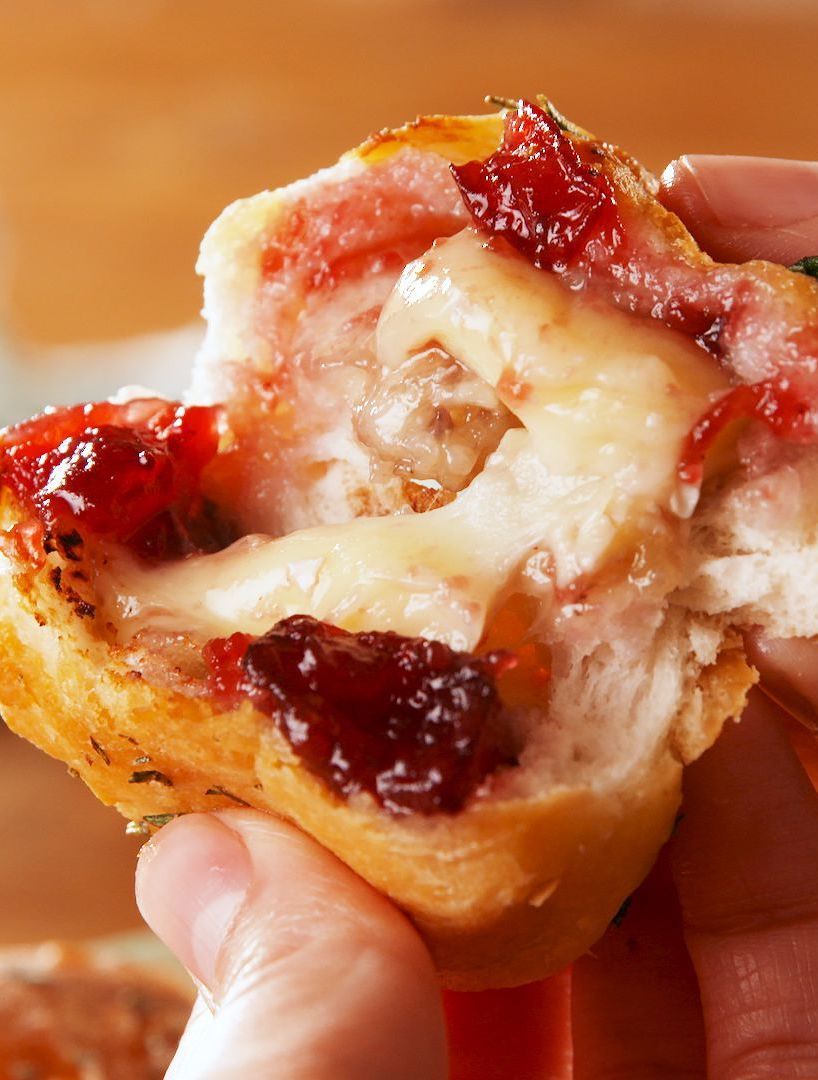 DIRECTIONS:
Preheat oven to 375 degrees and take a large baking sheet lined with parchment paper.
Cut the brie into 1' cubes.
Slice each biscuit to half and create thin rounds.
Fill each round with a dollop of cranberry sauce and top with brie piece. 
Bring up edges of the dough and seal it with a pinch.
Place them on the baking sheet side down.
 Start with the short side and roll each rectangle.
Pinch the edges to seal and then cut into 4 slices. Place the cut side facing up on the baking sheet.
Wisk thyme, butter, and salt in a small bowl until combined.
Brush this mixture over the rollups.
Bake them until golden for 20 minutes.
Caramel Apple Cheese Ball
This caramel apple won't make your jaw clutch in pain for sure.
INGREDIENTS
1. Two 8-oz. Blocks  cream cheese 


2.

One tbsp. lemon juice


3.

1/4 c. caramel, plus more for topping


4.

kosher salt


5.

1/2 tsp. ground cinnamon

6.

1 c. Granny Smith apple, finely chopped


7.

1 c. shredded Cheddar


8.

2 c. pecans, toasted and chopped


9.

RITZ Crackers, for serving
DIRECTIONS
Use a hand mixer to beat cream cheese with lemon juice, caramel, cinnamon, and salt.
Mix in green apples and cheddar. Transfer this mixture to a plastic wrap sheet and shape it into a ball. Freeze it for around 30 minutes until its firm.
Add pecans to a plate. Roll cheese balls in teh pecans and transfer to a serving platter.
Drizzle more caramel and sprinkle salt. Serve it with crackers.
Classic stuffing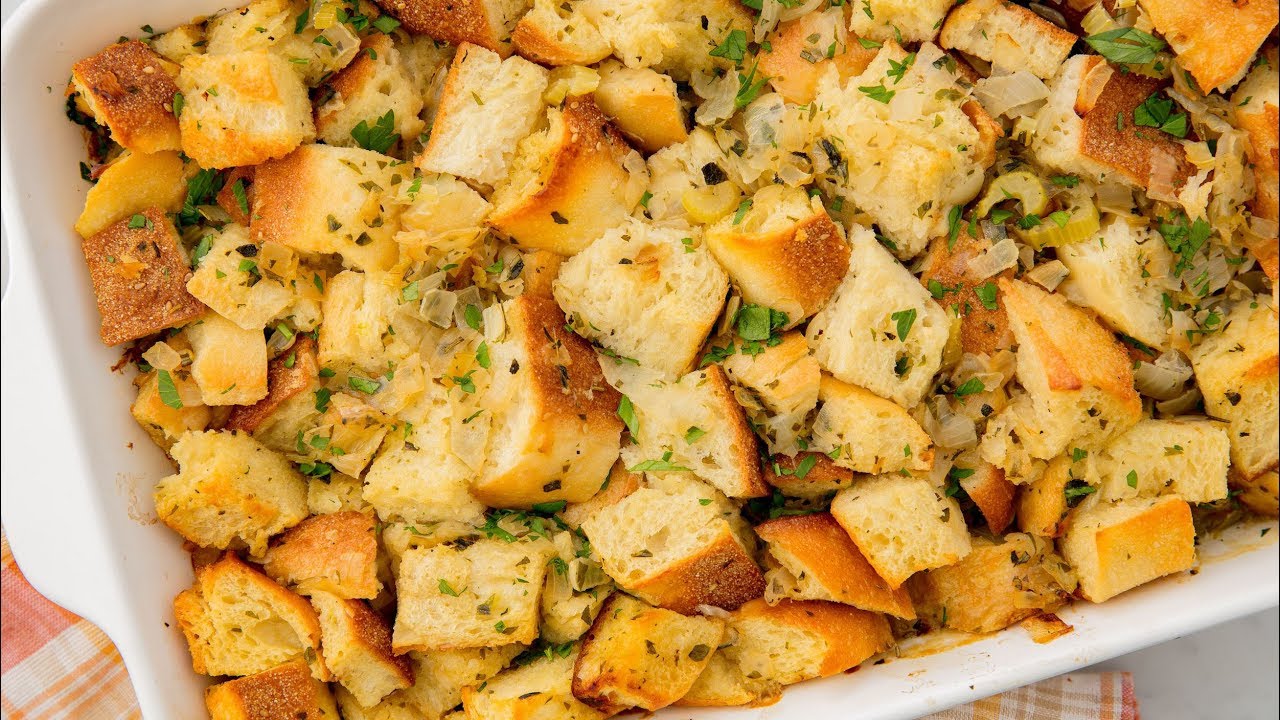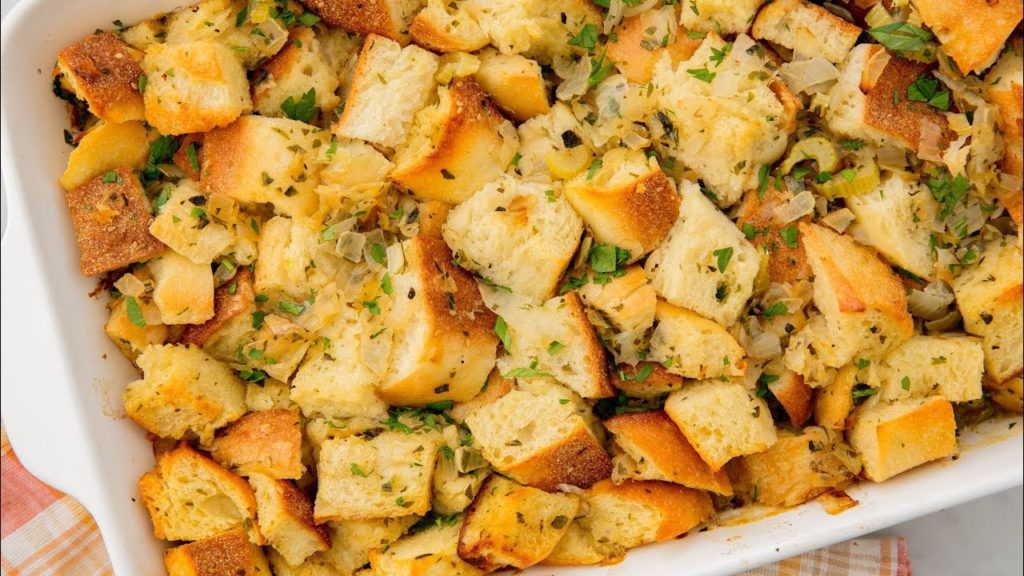 When it comes to thanksgiving feast a good stuffing can make or break the thanksgiving potluck dinner. This recipe will surely get you lots of compliments.
INGREDIENTS
1.

2 baguettes, country, or sourdough bread (1 pound)


2.

1 large onion, diced


3.

8 tbsp. butter, and more for baking dish


4.

Two cloves garlic, minced


5

. 4 stalks celery, thinly sliced


6.

1 tbsp. freshly chopped sage, minced

7.

1/2 c. freshly chopped parsley


8.

1/2 tbsp. freshly chopped rosemary


9.

1 tbsp. fresh thyme leaves, minced


10.

Kosher salt


11.

Freshly ground black pepper


12.

4 c. the low-sodium chicken (or vegetable) broth


13.

Two large eggs, beaten
DIRECTIONS
One day before: slice bread into ¼ cubes and leave them to dry overnight. Or you can also place the bread on a baking sheet and let them bake for about 20 minutes at 200 degrees.
Stuffing: preheat oven at 350 degrees and apply butter to a large baking sheet.
Melt butter in a large skillet over medium heat.
Add celery and onions to the skillet and cook them until fragrant and soft for about 8 minutes.
Stir in sage, garlic, parsley, rosemary, and thyme, and cook for one more minute.
Season it with pepper and salt.
Place the bread in a separate bowl and pour the skillet mixture.
Toss them nicely to combine. 
In a medium bowl, whisk beaten eggs, chicken broth, and bread mixture.
Season with pepper and salt generously.
Transfer the mixture to the baking dish and cover it with foil.
Bake this until properly cooked for 45 minutes.
Remove the foil and cook for 15-20 minutes more until golden. 
READ MORE: Brunch Party Food Ideas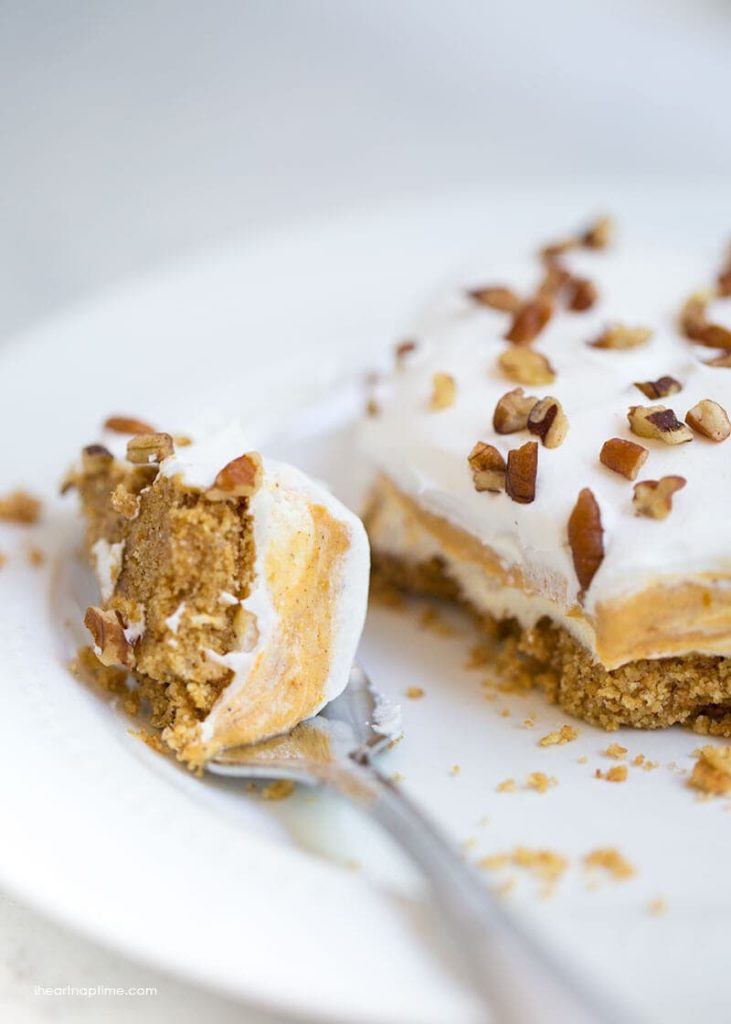 Pumpkin Cheesecake Lasagna
Pumpkin pie can make every mouth water, but spending hours to feed a crowd is not very feasible.
Well, this lasagna tastes equally good and quick and easy thanksgiving potluck recipe ideas.
The dish takes only 30 minutes to get ready.
You can make this dish a night before thanksgiving.
INGREDIENTS
1.

2 (8-oz.) softened blocks cream cheese


2.

1 cup heavy cream


3.

1/2 c. powdered sugar


4.

3 packages vanilla pudding mix


5.

2 cups whole milk


6.

1 cup pumpkin puree

7.

12 sheets of graham cracker 


8.

1 tsp. pumpkin pie spice


9.

1/2 cup caramel


10.

For garnish:
Chopped pecans
DIRECTIONS
Using a hand mixer or stand mixer whisk sugar and cream cheese until it becomes light and fluffy.
Keep adding cream slowly and beat until a stiff peak forms.
In a bowl, whisk pudding mix, mils, pumpkin pie spices, and pumpkin until the mixture is thick and smooth.
Assemble the lasagna.
Spread a mixture of cream cheese in a baking dish.
Top it with six graham crackers.
Then on top Add half pudding mixture and cream cheese mixture again.
Drizzle half caramel and repeat the entire process again, ending with a layer of cream cheese.
Keep it in the refrigerator for some time before serving.
Try these delicious recipes, and if you have got any good thanksgiving potluck ideas, please let us know below in the comments.