Where to Buy Giant Squishmallows?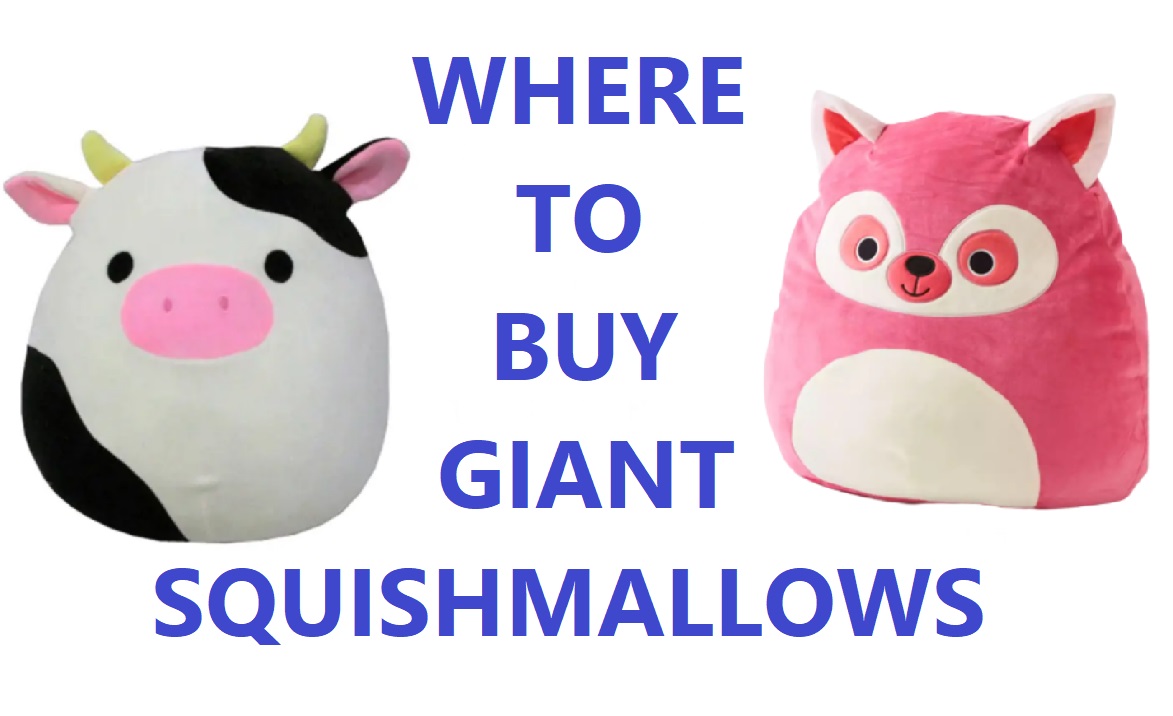 Do you want to know where to buy Giant Squishmallows? You're in luck! We've got the lowdown on where to find these huge, super-comfy plush toys, plus some handy tips to ensure you get the one you want!
Squishmallows are a big hit in the toy world because they're soft and cuddly and come in adorable designs. But if you're after an even bigger and cosier one, you might wonder where to get giant Squishmallows.
In this article, we'll show you the best places to find giant squishmallows and give you some great advice to help you pick the perfect one for you. Happy squishing!
Where Can You Buy Giant Squishmallows From?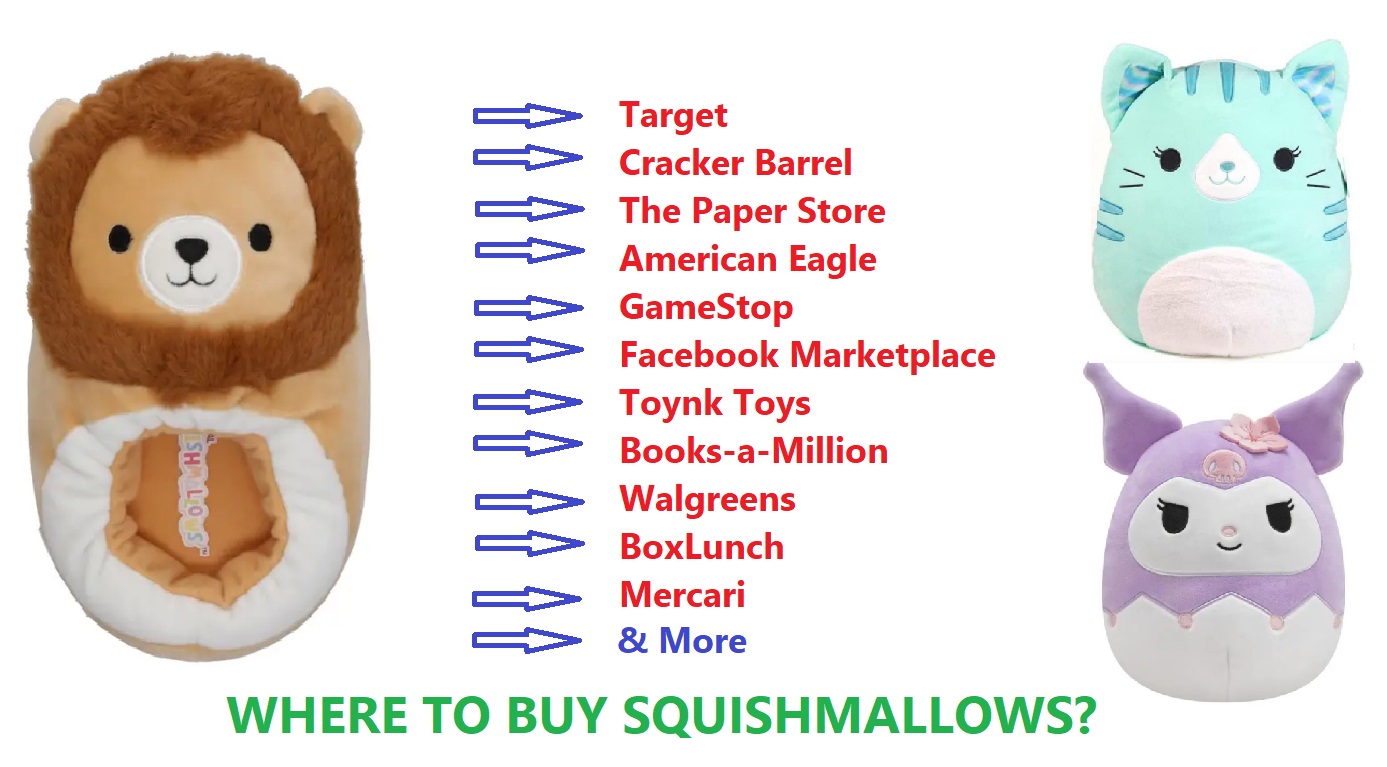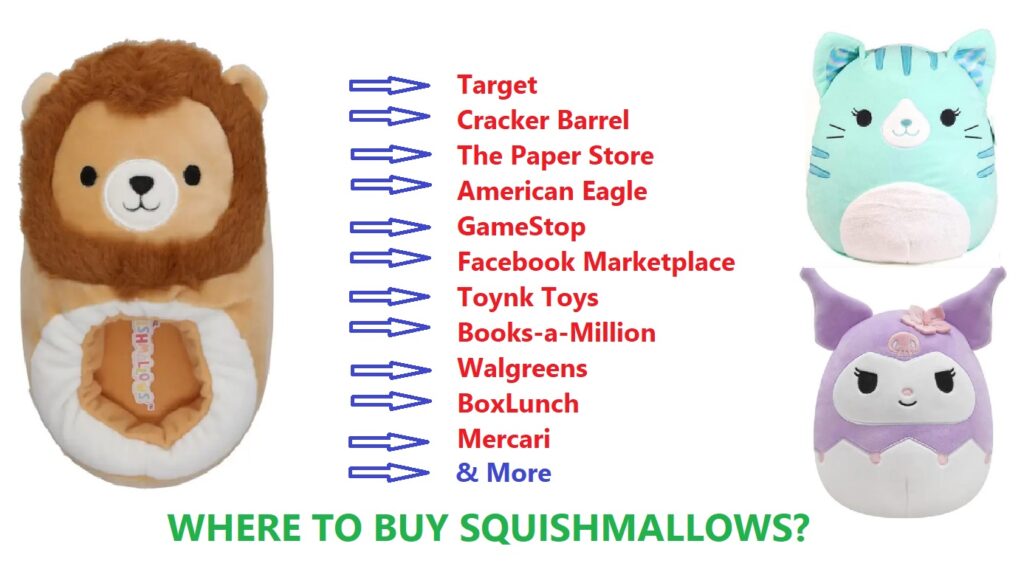 What Are Giant Squishmallows?
Giant Squishmallows are super-sized versions of the well-loved Squishmallow plush toys. While standard Squishmallows usually come in sizes from 5 to 16 inches, the giant ones can reach an impressive 24 inches.
If you're a Squishmallow fan, you might fondly like these larger editions. At 24 inches, they're like mini beanbags, making them incredibly comfy and perfect for hugging.
The most apparent difference between giant Squishmallows and the smaller ones is, of course, their size. Their bigger size means they are fantastic for relaxing, cuddling, or even using as a comfy pillow.
Giant Squishmallows often offer a wide range of unique designs and characters not found in the regular-sized versions. Collectors and fans highly seek after some of these exclusive designs.
In a nutshell, giant Squishmallows stand out from the regular ones because of their larger size and special designs, providing a unique level of comfort and cuteness.
Where to Buy Giant Squishmallows
If you want to buy Giant Squishmallows, you're in luck. These super-sized, ultra-soft plush toys are a big hit. Here's where you can get giant squishmallows:
Online Retailers: Websites like Amazon and Target often have a wide selection of Giant Squishmallows. You can easily browse through different sizes and designs from the comfort of your home.
Local Stores: You can also check out your local speciality stores, toy shops, and major retailers like Walmart or Walgreens. Sometimes, they have these jumbo Squishmallows in stock.
Unusual Places: Believe it or not, you might stumble upon Giant Squishmallows in surprising places like Claire's, CVS, Cracker Barrel, or even a bookstore like Books-a-Million.
Online Marketplaces: To expand your options and find unique designs, look at online marketplaces such as eBay, Facebook Marketplace, or Mercari. Here, individuals may be selling their own Giant Squishmallows.
By exploring these various sources, you can increase your chances of finding that perfect Giant Squishmallow to add to your collection.
CLICK ON THE LINK BELOW TO KNOW HOW TO WASH A DIRTY SQUISHMALLOW:
Online Stores Where You Can Buy Giant Squishmallows
Amazon is a fantastic place to purchase official Squishmallows. They have a well-organized storefront where you can easily browse through a wide range of options. Check out their bestsellers like Anastasia The Axolotl and use filters to explore categories like Disney characters, seasonal Squishmallows, and mini Squishville sets.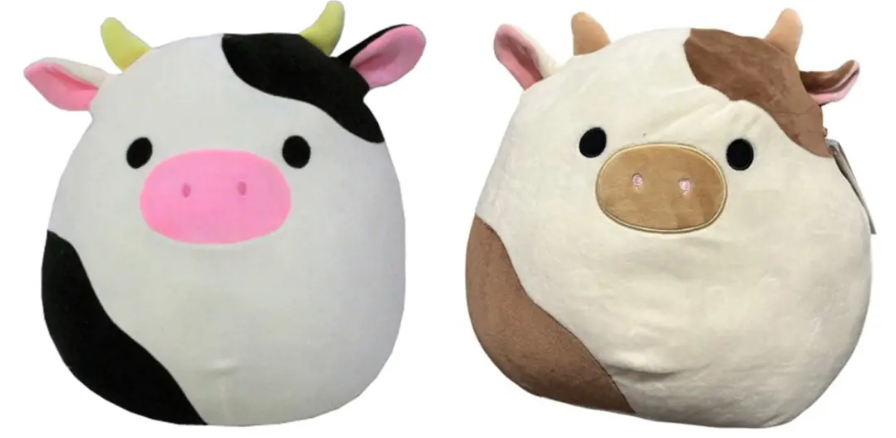 Walmart is another great option when you're on the hunt for your next giant Squishmallow. Their website makes it simple to find popular characters, including Cow Squishmallows like Connor, Ronnie, and the adorable pink Evangelica. You can also pick the size that suits you, whether it's 12, 16, or 20 inches.
Claire's not only offers ear-piercing services but also sells official Squishmallows. They have a diverse selection of rare and seasonal Squishmallows to choose from. Don't miss the chance to grab the sought-after Boba Tea plush and take a look at Austin the Avocado and Sinclair the Avocado Toast plushie for an adorable set.
Target is the go-to place if you want a variety of Squishmallows. They have an extensive online inventory featuring characters like Dexter the Dinosaur, Malcolm the Mushroom, and Corinna the Cat, among others.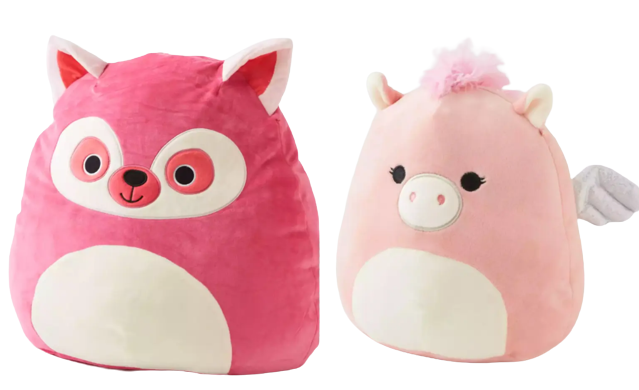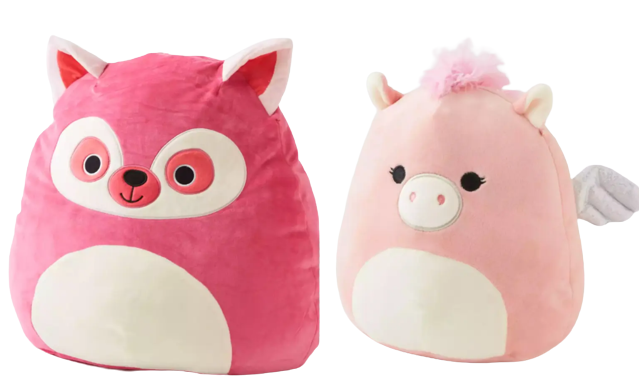 For unique Squishmallow finds, visit The Paper Store. They offer exclusive characters like Barika the Bearded Dragon and Havin the Bee. Additionally, they have plush keychains, stickers, and other Squishmallow merchandise to enhance your collection.
American Eagle, known for jeans and tops, surprisingly offers a great variety of Squishmallow toys. Check out their selection, which includes the beloved Lucia the Red Fox and other must-have Squishmallows.
If you're a gaming enthusiast, head to GameStop's website for Squishmallows. They carry plushies and even feature unique console-themed characters like Galia the Handheld Game and Adin the Arcade Game. You can also find Sanrio Squishmallows here, such as Sanrio Kuromi Purple Hood and Sanrio Pompompurin Beach.
Toynk Toys is your destination for rare and lovable Squishmallows, including Winnie the Pooh characters, Halloween-themed plushies, and much more.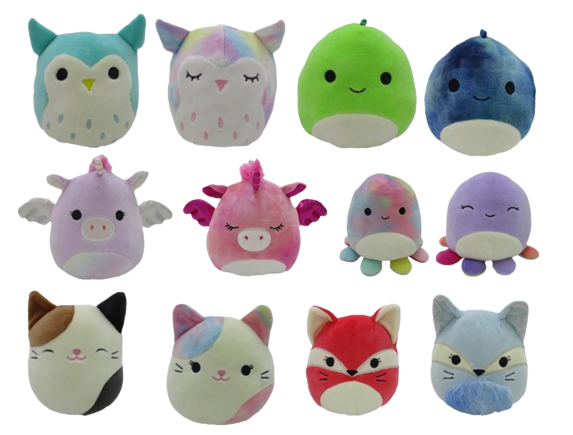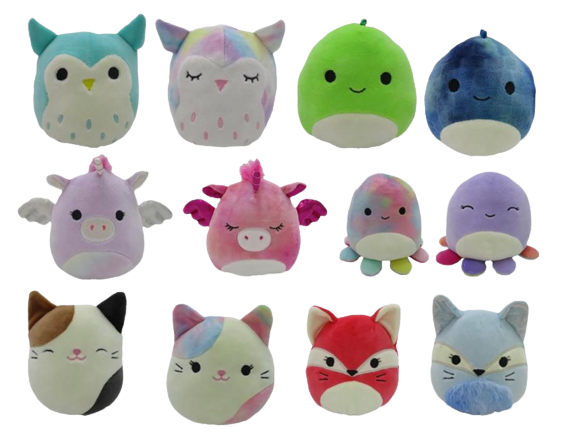 At Books-a-Million, you can not only purchase Squishmallow stuffed toys but also The Official Collector's Guide book to keep track of your collecting progress.
Get cozy with Squishmallows and matching Squishmallow slippers, both available at Walgreens. Their online store offers classic stuffed toys and comfy slippers featuring characters like cows, lions, and more.
BoxLunch is the place to go for even more Squishmallow fun. They sell a variety of full-sized Squishies and also offer mixed mystery bags of mini plush toys for added excitement in your collection.
What is the biggest squishmallow you can buy? Check below:
Does Costco sell giant Squishmallows?
Costco is a great place to shop for giant Squishmallows. However, the largest Squishmallows I've ever seen at Costco are 16 inches. So, if you're looking for the super-sized ones, you should explore other options or stores.
Popular Giant Squishmallows
If you're a fan of giant Squishmallows, you'll be delighted to know that some beloved characters are available in 24-inch sizes. Here's a list of these favourites:
Sunshine the Rainbow
Hectico the Cobra
Mila the Elephant
Detra the Octopus
Tinley the Axolotl
Caeli, the Tie Dye Cat
Tina the Tiger
Ham the Alligator
Ronnie the Cow
Omar the Bear
These giant Squishmallows are highly sought after for their charming designs and cuddly appeal. If you want to add a super-sized friend to your collection, these are some great options.
DO YOU WANT TO KNOW WHAT SQUISHMALLOWS ARE MADE OF? CLICK ON THE LINK BELOW:
Tips for Getting the Squishmallow You Want
Big Squishmallows are hot and tend to disappear from shelves quickly. Here are some valuable tips to help you get your hands on that giant squashmallow you've been dreaming of.
Giant Squishmallows are incredibly popular and often sell out fast. To make sure you can grab the huge Squishmallow you've always wanted, here are some helpful tips:
Stay Informed: Keep an eye on the latest releases and restocks from your favourite retailers, both online and in stores.
Set Alerts: Some websites and stores offer email or notification alerts for restocks. Use these to get instant updates.
Follow on Social Media: Many Squishmallow sellers and retailers announce restocks or new arrivals on their social media pages. Please give them a follow to stay in the loop.
Check Multiple Sources: Explore various stores and online marketplaces. Sometimes, you might find your desired Giant Squishmallow in an unexpected place.
Act Quickly: When you spot a restock or a new listing, don't hesitate. These toys can sell out rapidly, so make your move swiftly.
By following these tips, you can increase your chances of getting a Giant Squishmallow to your collection.
FAQs
Q: How big are the jumbo Squishmallows?
A: Jumbo Squishmallows typically come in a larger size, ranging from 16 to 24 inches. These oversized Squishmallows provide even more huggable softness and cuddly comfort for those who can't get enough of these lovable plush characters. The exact size may vary depending on the specific design or collection, but they are considerably larger than the standard-sized Squishmallows, making them perfect for snuggling and decorating.
Q: What is the biggest Squishmallow you can get?
A: The largest Squishmallows you can typically get are the jumbo-sized ones, which measure around 24 inches in height. These oversized Squishmallows offer extra huggable softness and are often highly sought after by collectors and those who enjoy the comfort and cuteness of these plush characters. While the size can vary slightly depending on the design, 24 inches is generally the maximum size available for Squishmallows, making them the biggest and most cuddly option in the Squishmallow range.
Final Words
In conclusion, for those wondering where to buy giant Squishmallows, there are several reputable online options available. Retailers like Amazon, Walmart, Claire's, Target, The Paper Store, American Eagle, GameStop, Toynk Toys, Books-a-Million, Walgreens, and BoxLunch offer an array of these delightful oversized Squishmallows. Whether you're seeking popular characters or unique, rare finds, these trusted online stores have you covered in your quest to find giant Squishmallows that will surely add a touch of comfort and cuteness to your life.
If you know any place where to buy giant squishmallows , please let us know so that we can include the place in the list.